The IUPUI Center for Research and Learning hosted its annual awards luncheon Feb. 16 at the University Club, honoring several students for excellence in undergraduate research as well as a faculty mentor.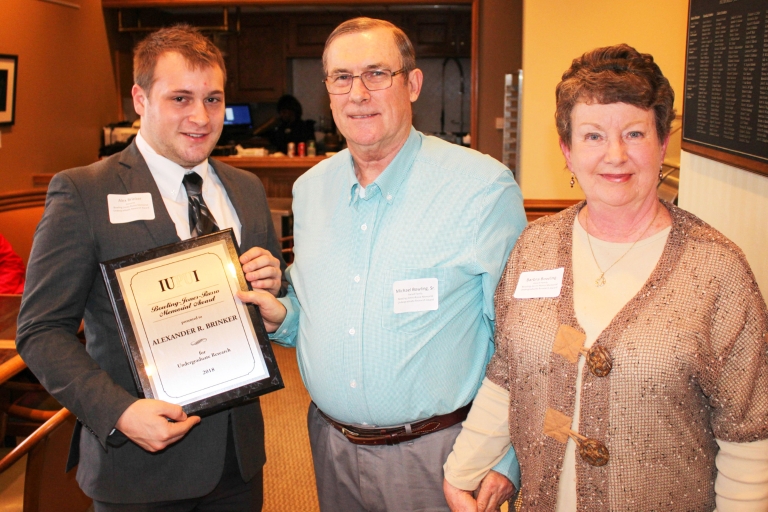 The Bowling-Jones-Russo Memorial Undergraduate Research Award consisting of $1,000 and a plaque was presented to Alexander R. Brinker by Mr. and Mrs. Michael L. Bowling Sr. This award has been made possible by donations honoring the memory of Michael Bowling Jr. and Christopher Jones, two IUPUI biology students who lost their lives in a tragic vehicular accident, and Raymond Russo, their faculty mentor, who passed away shortly thereafter. Alex, a senior in exercise science, studies the effects of launch simulation and hind limb unloading on mouse bone healing under the guidance of Melissa Kacena. He has been engaged in research since the summer of 2015 and has three articles in press.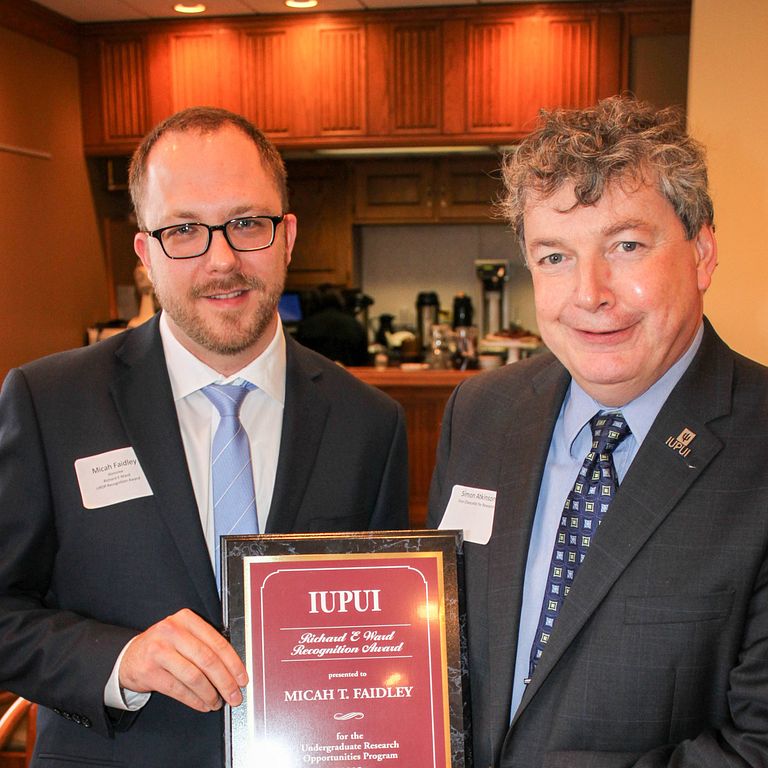 Vice Chancellor for Research Simon J. Atkinson presented the second plaque and a $1,000 award to Micah T. Faidley, the recipient of the Richard E Ward Undergraduate Research Opportunities Program Recognition Award. A psychology major, Faidley has conducted research under the mentorship of Tamika Zapolski for the past two-and-a-half years. His research interest is in the area of prevention research in substance use and minority health. He is a co-author on three manuscripts that are currently under review or under revision.
Julie E. Goodspeed-Chadwick, a professor of English and affiliate faculty in women's studies at IUPUC and the founding director of the Office of Student Research at the Columbus campus, was the recipient of the Kathryn J. Wilson Award for Outstanding Leadership and Mentoring of Undergraduate Research. She was presented with a plaque and a $1,000 monetary award by Wilson, the founding director of CRL.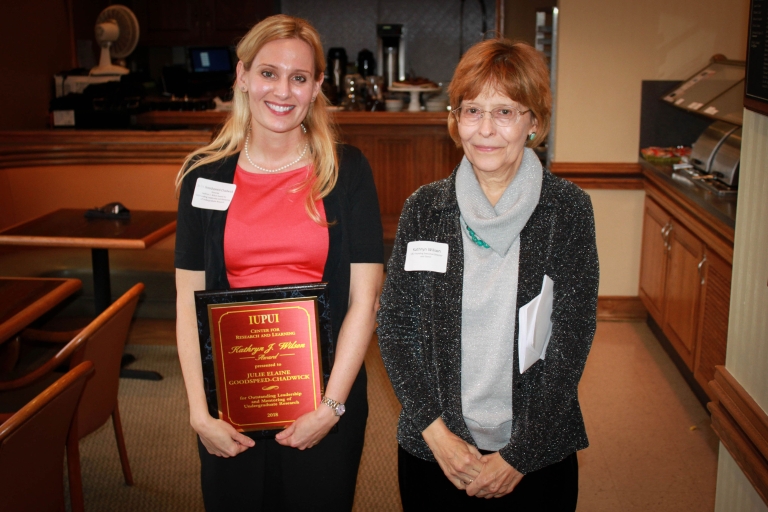 This award has been made possible by a generous gift from Wilson and her husband, Daniel R. Wilson. Goodspeed-Chadwick's research focuses on identity politics, namely those inherent in identity constructions, and responses to trauma in modern and contemporary literature. She has been the primary research mentor for 24 undergraduate students, with some of them presenting their work at statewide and international conferences. In addition, six of her undergraduate students co-authored a book chapter.
The CRL RISE to the IUPUI Challenge Undergraduate Research Scholarship Awards are designed to bring new students into the research and creative enterprise. These awards, in the amount of $1,500 each, are also funded by Daniel and Kathryn Wilson. The five scholars recognized this year were Brittany D. Bogan (neuroscience), Renee C. Cook (mathematics), Jovana Dodevska (biomedical engineering), Rebecca Gorman (environmental health science) and Andrew P. Zervos (sociology).