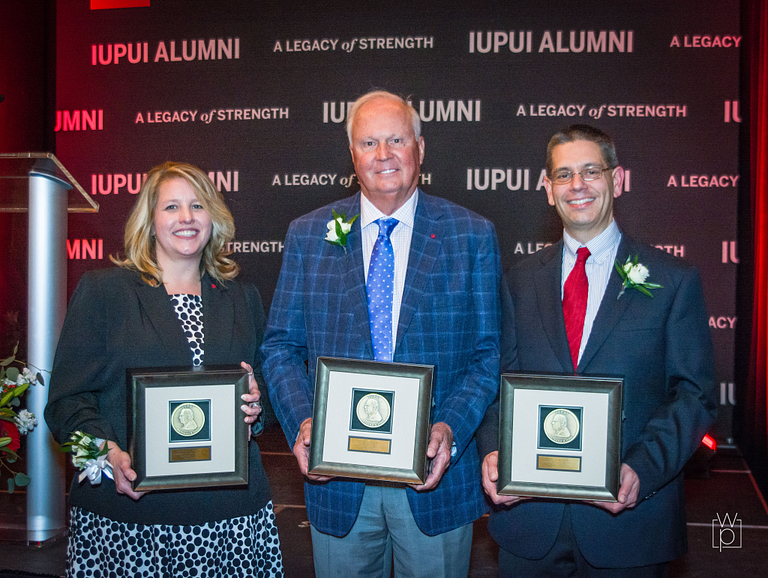 The presentation of the Maynard K. Hine Medal during the IUPUI Alumni Leaders Dinner on Feb. 22 recognized three alumni for their contributions in support of the campus and its alumni programs.
The recipients were Kathryn P. Koehler of Indianapolis, James W. Hutchins of Carmel and Dr. Roland R. Ditto of Lafayette.
The Hine Medal, given annually since 1974, is named for the first chancellor of the IUPUI campus, Maynard K. Hine, who maintained that a strong alumni program was essential for the university. Each recipient received a bronze medal engraved with Hine's profile.
Kathy Koehler, who received her Master of Public Affairs degree in 1998, has more than 20 years of experience working with public, nonprofit and private organizations to improve their services. In 2010, she founded Koehler Partners, an Indianapolis-based consulting firm specializing in team building, program evaluation, project management, public outreach, training and technical assistance. Clients have included Conduent, Crowe Horwath LLP, EmployIndy, the Indiana State Department of Health, the Indianapolis-Marion County Information Services Agency and the Maryland State Department of Education. Koehler previously spent 10 years with Crowe Horwath LLP.
She earned her MPA degree from the Indiana University School of Public and Environmental Affairs in Indianapolis. In addition to her consulting work, she has served as interim director of SPEA's executive education program and the IU Public Policy Institute. She frequently speaks to SPEA classes and students, has served as an adjunct professor, and just completed her term as board president for the IU SPEA Alumni Association. Koehler is an active community volunteer and serves as board chair for Covering Kids and Families of Indiana, and she is also a member of the board of Reach for Youth. 
Jim Hutchins has been passionate about technology, electronics and computers since childhood and has focused his entire professional career on technology solutions. Hutchins, who received his IUPUI degree in computer science in 1994, started his career in 1988, working for Indianapolis-based RDS in operations and software-development roles.
In 2000, Hutchins moved from a technical role into technology leadership and has been growing high-performing technology teams ever since. In 2004, RDS was acquired, and Hutchins took on the role of general manager of the acquired company. He joined T2 Systems as the chief information officer in 2007 and was promoted to chief technology officer and executive vice president in 2013. T2 Systems was acquired in late 2016. In 2017, Hutchins took on a new challenge as chief operating officer of Indianapolis-based Earthwave Technologies.
Since 1999, Hutchins has been active with the IUPUI Science Alumni Board of Directors, where he helped build the alumni organization and worked to help create the IUPUI School of Science Alumni Association Academic Achievement Scholarship. He has been married to fellow IUPUI alum Lilia Hutchins since 2006. They have two children, Allison and Conner.
Dr. Roland "Ron" Ditto received his Doctor of Dental Surgery in 1969 and his Master of Science in Dentistry in 1974. He began his career in dentistry as a captain in the U.S. Army Dental Corps at Fort Jackson, South Carolina, treating children on the base. Later, his master's thesis won an award from the American Academy of Pediatric Dentistry. In 1973, Ditto started a practice in Lafayette, where he still practices part-time. He has been president of the Indiana Society of Pediatric Dentistry, president of the IU School of Dentistry Alumni Association board of directors and chair of the Indiana Section of the American College of Dentists.
Ditto is a diplomate of the American Board of Pediatric Dentistry and a fellow of the American Academy of Pediatric Dentistry. For 14 years, he has volunteered in the graduate department of pediatric dentistry at IU and the Riley Hospital for Children residency program. He is a member of the IU Presidents Circle and the Hine Legacy Society, and he has received the IU School of Dentistry's Distinguished Service Award and the IUPUI Spirit of Philanthropy Award. Ditto and his wife, Jan, who received her Bachelor of Science in 1968, have four children and 12 grandchildren.