Description of the following video:
Video transcript
"IUPUC Ukulele Players" video on https://youtu.be/h6zYaBG-S_I
[Video: Ukulele Players practicing together]
[Words appear: IUPUI Presents]
[Emily Edwards speaks: And F.]
[Words appear: Emily Edwards, Psychology, senior, IUPUC.]
[Emily speaks: It's like unity. Everybody is in sync, and we are like a team. And I thought it sounded really beautiful.]
[Video: Ladies strum their ukuleles.]
[Aimee Zoeller speaks: So, the ukulele seems really easy to play, to learn the chords and to strum. And it's much easier because of the strings. It's much easier to hold down than guitar strings.
[Words appear: Aimee Zoeller, Lecturer of sociology, IUPUC]
[Aimee speaks: These nylon strings are very easy. So, it's just a process of learning the different chords. But it's not difficult to hold them down and you don't have callouses on your fingers or nothing.]
[Video: More strumming]
[Aimee speaks: The next Christmas or in the holiday season we'll go and play songs for the folks in the nursing home when we go with the gifts.
And I'm really hopeful that we could just start walking around campus and surprising people with a little music. Because you're right, who doesn't like a little ukulele tune?]
[Video: Group playing music.]
[Emily speaks: I think that this class is a really good place for people of all departments, students, faculty, staff members. Everybody on campus, even in the community, people who aren't a part of campus.
This is a place and a time for people to come together and have fun. I know that I've talked to some of the students and they say this is the most fun I've ever had on campus. I think I would agree for myself.]
[Words appear: IUPUI Fulfilling the Promise, iupui.edu]
[End of transcript]
"You are my sunshine, my only sunshine / You make me happy when skies are gray." 
The chorus of the familiar tune written by Jimmie Davis and Charles Mitchell and made popular by the likes of Gene Autry, Wayne King, Doris Day and many more brightly rose from a second-floor office in IUPUC's Campus Center, defying the real gray skies on a gloomy February morning in Columbus. The refrain was sung and strummed by the Ukulele Players, an informal group formed in January that is open to anyone with an interest in the diminutive but popular instrument.
Ukulele 101
About a dozen staff, faculty and students fill the office from 11 a.m. to noon every other Thursday. The next jam is March 8 in Room 235 of the IUPUC Campus Center.
Despite only a handful of sessions so far, the gathering is picking up a lot of steam. Almost 20 different players have come to sessions. The informal nature allows the uke crew to come when they can.
"I'm interested in how music builds community," said Aimee Zoeller, who hosts the meetings in her office and teaches the Music in Social Change class at IUPUC. "I thought this was something the students would be interested in, and I love music."
Most players have some previous musical instrument experience – guitar, violin and piano, for the most part – while others are new to music. Veteran or rookie, players are supportive. A recent meeting saw more-seasoned musicians tuning instruments for others. The teaching of chords and discussion of whether to buy a ukulele strap or case dominated the room while the group got settled in to play.
"It's like unity when everyone is in sync. We are like a team," said Emily Edwards, a psychology senior and an unofficial instructor for the Ukulele Players. "It sounds very beautiful."
"You'll never know, dear, … "
A shared love for music and the desire to get the IUPUC community to meet were the combined impetus for the Ukulele Players. Zoeller and Edwards met around the same time Chuck Sturgeon, a HVAC tech at IUPUC, expressed his interest to the lecturer after years of playing guitar. His first instrument was the mandolin at the age of 5. These days, his instrument of choice is a Gibson Les Paul look-alike ukulele.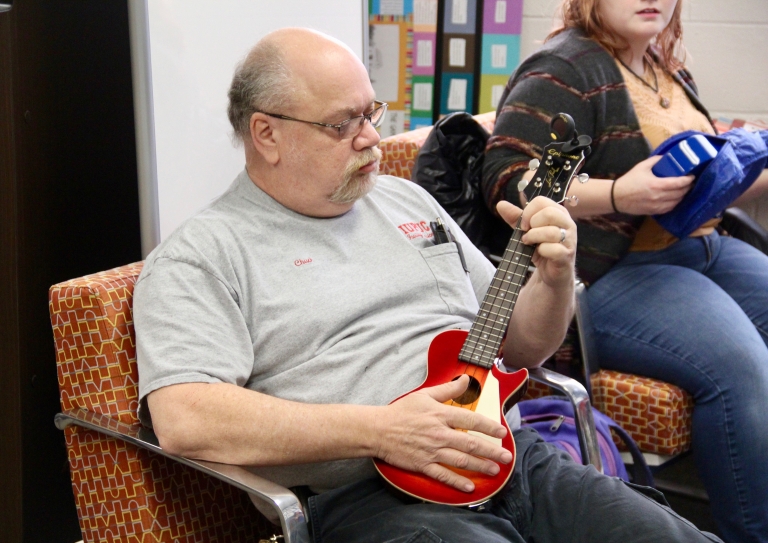 "It feels different than a guitar. Some of the chord shapes are the same, but they're in different places on a uke," Sturgeon explained. "I'm really happy the way things are turning out. It's a chance to get away from the day-to-day grind and play some music. Everyone likes music of some kind." 
Edwards graduates in May and has quickly taken the lead. Growing up in a musical family, she gravitated to ukulele at age 14. During sessions, she prints out charts, gives tips on strumming and helps lead the tunes, assuring everyone comes in on time. Her trained ear can immediately pick up a wrong chord or an out-of-tune instrument. 
 "They are coming along really well," Edwards said. "They pretty much all started as beginners, but they've already come really far with the chords and strumming patterns we're learning." 
Each session has had at least a dozen players. After just a couple of months, the musicians have noticed their skills improve. Goals of getting out of the office and into some performances around IUPUC and beyond could be near.
"Our plan is to learn songs from start to finish and play community events and places like nursing homes," Zoeller said. "I'm really hopeful we can start walking around campus and surprising people with a little music. Who doesn't like a ukulele tune?"
" … How much I love you" 
According to an article from The Atlantic, early television host Arthur Godfrey would give on-air ukulele lessons. Plastic versions of the instrument were less than $6 in 1950, and stars like Bing Crosby, Betty Grable and Elvis Presley (mainly in "Blue Hawaii") were often seen with a uke. Some years later, Tiny Tim's ukulele and bizarre falsetto singing voice drew millions of curious listeners.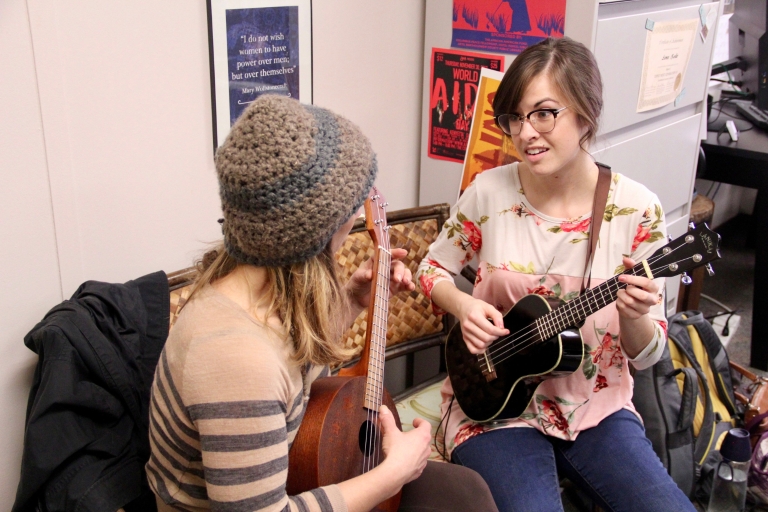 The ukulele has had a 21st-century resurgence. While not quite as hot as the instrument's post-World War II popularity, pop acts like Taylor Swift, Jason Mraz and Train have utilized the uke in hit songs. Then there are artists like Jake Shimabukuro and Grace VanderWaal, who use the ukulele as their primary instrument. The accessibility, ease of play and cheerful sound has helped sales.
"I love this ukulele. It's a very standard, straightforward ukulele," Zoeller said. "It's much easier to hold down the strings. It's just a process of learning all the different chords."
"Please don't take my sunshine away"
Pamela Morris, an assistant professor at IUPUC, joined the Ukulele Players to meet more members of campus. Now in her second year, she has met friends and picked up some chops on her crimson uke.
Cynthia Scott's work as a registrar services representative and veterans affairs school certification official keeps her plenty busy, but she is sure to carve out an hour in her schedule to play some music. 
"I've thought about playing ukulele the last several years," Scott said. "The last musical instrument I played was violin, when I was teenager. I thought ukulele would be easier and more fun. I came to the first meeting here before I even bought my ukulele." 
Before a successful session of leading the players through "You Are My Sunshine," Edwards said the fellowship that permeates the room is as important as the music.
"I think this is a great way for people to come together," she said. "It's a chance to get to know people from different departments who I wouldn't have known otherwise.
"This is something I've always wanted to do here, so I'm glad I can at least get it started."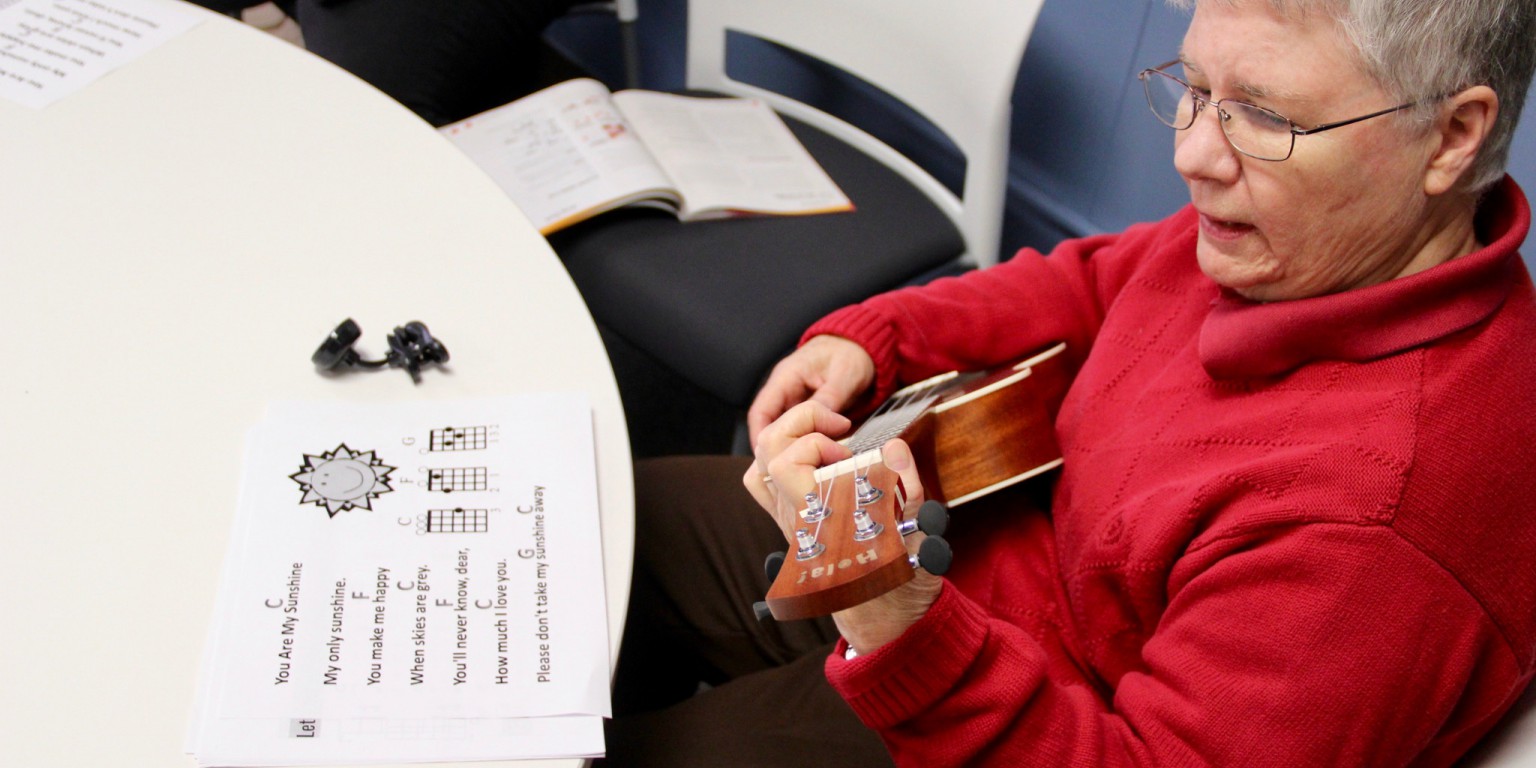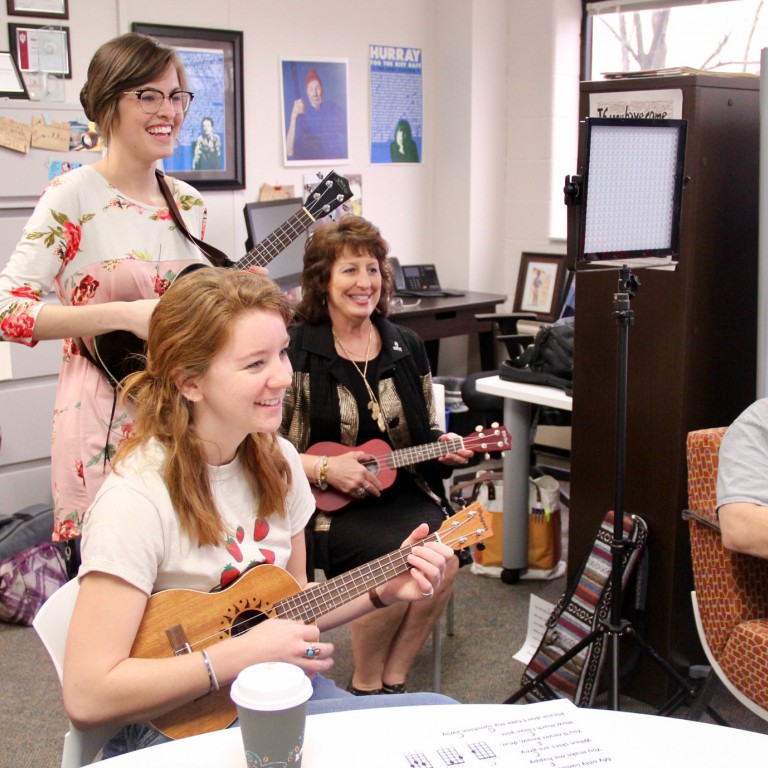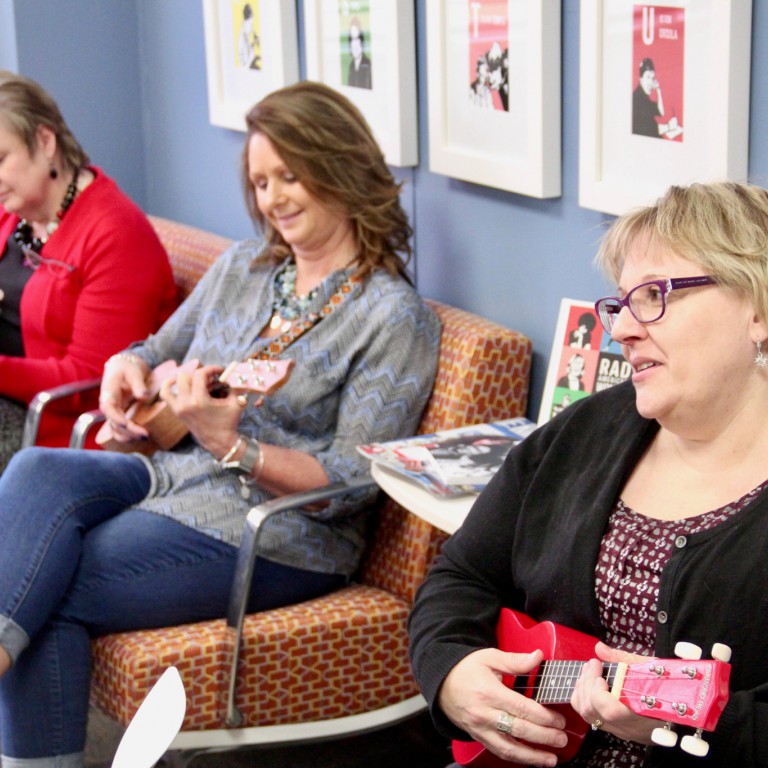 Photos by Tim Brouk