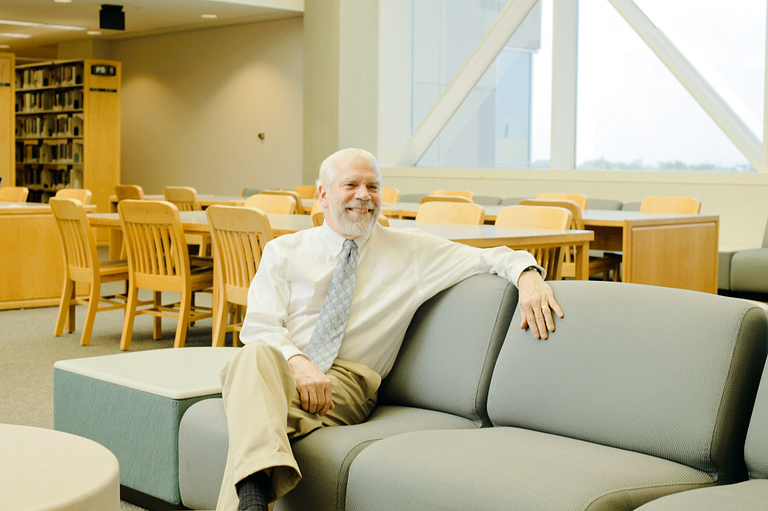 David Lewis, dean of the University Library at IUPUI, was named 2018 Academic/Research Librarian of the Year by the Association of College and Research Libraries – one of the highest honors in the field. Hailed as a visionary and an innovator, Lewis has a list of accomplishments in the areas of academic technologies and open access to scholarly and educational resources that have helped maintain University Library's status as one of the best in higher education – just as it was when it opened. Lewis sat down with IU Communications to discuss the award, how University Library was 25 years ago and might be 25 years from now, and plans for his upcoming retirement.
Q: In the press release for your award, the Association of College and Research Libraries called you a "champion of disruption," which is an interesting compliment. What does that mean to you?
David Lewis: I have long championed the work of Clayton Christensen, a business theorist most noted for a book called The Innovator's Dilemma, which talks about disruption as a fairly specific business concept. It's about how organizations need to change when confronted with certain kinds of technology and new business models. What I have argued is that libraries need to fundamentally change the way they look at what they do – academic libraries in particular. So the things I have been arguing for are disruptive changes in practice. And I haven't been particularly shy about it.
As I've thought about the recognition, I realize what I've been able to do is to provide a way of thinking about the changes that are required in academic libraries, given the technology and economics of information, and to point a way through what is otherwise a fairly hard-to-understand situation in terms of the way library collections work.
Q: You wrote a landmark paper, "Inventing the Electronic University," 30 years ago. Does it feel like that long ago?
DL: It does. That article was an early piece of mine that was recognized a couple of years ago as one of the seven most distinguished from the 75 years of the College and Research Libraries' journal. There were probably more significant articles, but at that time with the technology infusion, automated catalogs were just starting to happen. The bibliographic apparatus – catalogs, indexes – were being computerized, and now, all information is digital and networked. That is the big change. Thirty years ago I was projecting forward, and I was reasonably right. But the world now is a whole lot different.
Q: Did it happen faster than you expected?
DL: It's hard to say. There has been consistent change throughout my career, which started in the mid-'70s. For the first half of my career, we were digitizing the library apparatus, and since the late '90s, the content has increasingly become digital. Around 1993-94 is when the web really began, so the notion that anyone anywhere can get content, if you structure and situate it correctly, is really pretty remarkable.
One way of thinking about digital content is that it's free, perfect and instant. So after you cover the first copy cost, there's fundamentally no cost to sending that document to anybody in the world – or everybody in the world. Particularly around scholarship, that really makes a difference because it's in the interest of the university and of the faculty member to have their work be available to everyone who could conceivably want to use it. But in the economic structures, particularly for scientific literature and journal articles, that literature has been captured by a small number of for-profit publishers that now charge exorbitant amounts of money to acquire that same literature that was produced by us. If the price of gasoline had gone up at the same rate as chemistry and physics journals since I started in libraries in 1975, it would now cost $35 a gallon. So that's the trap we need to escape from. I have argued about ways of doing that; that's part of what this recognition is about.
Q: So how do you get around that?
DL: There are really two steps. The first is to figure out how to contain the costs in reasonable ways, which here is probably a purchase-on-demand arrangement. In a paper world, the only reasonable thing for a library to do was to try to guess what journals and books people wanted. We brought them to campus, arranged them on shelves and helped people try to find them – you had to do that because moving books around takes time and is expensive. In the digital world, we load records in the catalog for the books we're prepared to buy, but we don't buy them. We don't spend any money. If you go to the catalog and say, "I want this book," as soon as you press the button to open it, we buy it. We're beginning to look at doing that with paper books, because the mechanisms for acquiring paper books – Amazon is the best case – are really fast. You can also buy journal articles that way; the service we buy them from guarantees a two-hour delivery. For faculty, we've set that up as an unmediated service. The article costs $25 to $35, depending on the publisher. If you have a chemistry journal that costs $10,000 or $20,000, and you have just 50 uses a year, it's a whole lot cheaper to buy the articles than to subscribe to the journal.
That's the short-term piece that manages costs in the now and the next few years, but ultimately what you want to do is change the system so that all of the work is published in an open-access arrangement. Open-access is fundamentally a different business arrangement, in which rather than paying for the costs of publishing the object through subscriptions or purchases, you pay for the first copy costs, and once the first copy cost and the cost of the infrastructure are covered, you make it freely available to everybody in the world. Often, that's done by the author paying a small fee, or you can get an institutional subsidy to host the journal. Our library has a system that hosts about 12 journals, adding two or three a year, so the library pays for the infrastructure, and the school or the organization pays for the editorial costs, which for small academic journals is how it gets done anyway. Then we give away the journal to anyone who wants it.
Q: What are the metrics of success in a library? How do you know if you're doing your job and serving everyone?
DL: That's an important question. Traditionally, the ultimate metric for libraries has been collection size. In a print environment, how much stuff you had wasn't a bad metric, because that was what was available. People recognize now that it's not really a good metric, because collections are really expensive. You don't think about the opportunity cost of the shelves that are upstairs. So in terms of the collection, we withdrew enough print material to add 400 new seats that they're building as we speak. The decision we made in conjunction with campus leadership was that it was more important to have the seats for the students. How many seats we can accommodate to provide study space is another metric.
One of the ways I talk about the change in libraries is that in a paper world, we brought things from the world to the campus. And that was an important thing for libraries to do. In the digital world, where lots of content is available freely on the internet, the role is less about bringing stuff to the campus, because everybody can find it anyway. What we really need to do is take the material that is produced on campus, that the campus cares about, and collect it, preserve it and make it available to the world. A good example is theses and dissertations – in the old world, we'd get a couple of paper copies and stick them on the shelves, and nobody would ever see them. Now we put that material online, and lots of people can see it. And that content gets used a lot.
A really interesting example is Bob White, a sociologist in the School of Liberal Arts who studies Irish Republicanism. He had a collection of Irish Republican newspapers and other content that documented that movement, and he asked if we could digitize it. I told him if he could get the copyright clearances, we would. And he did. So we have a collection that this faculty member put together on Irish Republicanism that is reasonably well-used and often cited, so if you were to search for Irish Republican newspapers, you would find our site. We're making that available to everybody in the world because we have a faculty member who cares about it. We have a lot of philanthropy collections that are similar. Our role, then, becomes to take some little piece of a scholarly universe that IUPUI cares about, make sure it's available, make sure it's documentable and findable. Preserving bits is a nontrivial task. Collectively, with other universities, we'll manage the scholarly literature rather than letting some for-profit organizations manage big pieces of it.
Q: So the IUPUI Center for Digital Scholarship – that's almost synonymous with the library, isn't it? In 50 years, won't all these places be called centers for digital scholarship?
DL: That work will become an increasingly important and larger part of what the library does. We'll inevitably buy some books, and we'll inevitably continue to subscribe to some databases that you can't get otherwise, but it'll be more of the Center for Digital Scholarship stuff and less of the purchasing over time. That would be my hope.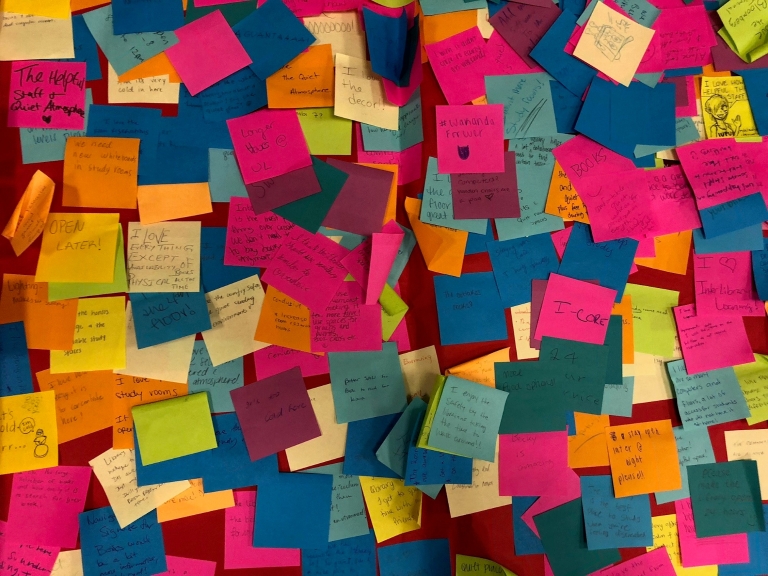 Q: On the way here, I stopped on the second floor where a bulletin board of Post-It Notes is used for people to say what they love and hate about the library. On more than one was, "More e-books!" and "I hate e-books!" That's it in a nutshell, isn't it?
DL: We're in a time of change and transition between formats. There's a great cartoon posted somewhere around the library. It's a mother and her child. The kid has her book, and the mother says, "It's a book, dear; you don't need a battery." Books are really remarkable technology, but in a lot of situations, the digital is as useful. If you want a book to search for a dozen paragraphs that relate to the particular information you want, the digital piece is much better. And you can read it on your phone. The fact that we get both comments doesn't surprise me. I would bet that if you were to come back five years from now, the proportion would be less "I hate e-books" and more "They're great, get more." And again, we can acquire them when we want, so they're more economical for us to deal with.
You asked about how we know if we're doing well. That Post-It Notes project is one of the ways we do that. We actually won a prize that we're not supposed to talk about yet for that project in terms of getting feedback for what we do. There are things that show up there that are sometimes quite minor, to which we can say, "Yeah, we can fix that immediately." And we would have never thought about it without the Post-Its. It's a great, great assessment tool.
Q: Do you use an e-reader?
DL: I don't. In my personal life, I'm fairly Luddite. Much to my wife's chagrin, I buy lots of books. Paper books.
Q: You arrived here in 1993 as the head of public services. What was the library environment like then? What do you remember about being here for the first time?
DL: When I interviewed for the position, the library was in Taylor Hall, and this building was nearing completion. The decision made by Executive Vice Chancellor Bill Plater, Chancellor Jerry Bepko and Barbara Fischler, who was then the library director, was that the library was going to be good based on its technology and not on its collections. We were leading edge in terms of the technology. We put more workstations in a library than anybody had ever installed. They were developing an interface to all these computers that would not only provide access to library resources but also have word processing and spreadsheets and PowerPoint and those kinds of things. That was really unique. So the library at that time was leading-edge technology, and very exciting in that way. That's what really drew me here.
We've always been technologically in front of the curve. We have more tech talent than most libraries our size. When this library was new, we would get people to come see us all the time because it really was the most technologically sophisticated library in the country. It was a really exciting place to be.
Q: I was going to ask if you could build the library from scratch, if you'd do anything differently. Maybe you wouldn't.
DL: There are some things you would do differently, sure, but the vision that went into building this building and bringing the technology into it was really quite exceptional. I can say that because it wasn't my doing. The building project cost about $37 million, and something like $2 million was the data infrastructure. At every level, that's a really bold thing to do.
Q: That was 25 years ago. What will this look like 25 years from now?
DL: That's a pretty dangerous thing to make a prediction on, because you don't know what higher ed is going to look like 25 years from now. So, if there's a campus, which I would expect there will be, I would expect that the library will be a physical place. What we do as a physical place now is often just to give students and, to a lesser extent, faculty, a place to do their academic work. I think that will not go away. We'll have a few books around – there's some really interesting research showing that even though students don't use printed books, being around them makes them feel more scholarly. The library is also the place where you can have common tools that are available to the whole campus. We got a small grant to get a couple of 3-D printers, and we just got one to put in a small virtual reality lab.
Librarians will be much more engaged in the research process and still be engaged with instructional activities. Information literacy is about combating fake news at some level, whether that fake news is in Facebook or old historical documents. It will undoubtedly be more technologically mediated, though it's hard to know how much artificial intelligence will impact the ability of people to find information. When I started out as a reference librarian in the '70s, we would take calls in the evening to settle bar bets. You tell that to people coming up these days, they just laugh. Why didn't they ask their phones?  
Q: So, what does a retired librarian do? Are you going to stay out of libraries for a while?
DL: (Laughs) Not initially. I have a bunch of speaking gigs lined up for the next six months or so, and I have a couple of projects. The kinds of changes in the scholarly environment that I talked about are probably things I'll continue to work on. I probably won't do it 40 or 50 hours a week, but I won't walk away entirely. I've seen Facebook posts that say "retired, playing golf." I'm not going there.
Q: And you'll keep swimming? I understand you're a masters swimmer.
DL: It's one of the reasons I stayed at IUPUI, because we have the best pool in the world and probably one of the better masters clubs in the country. It's a useful way to keep yourself sane. I'm a much less pleasant person if I don't swim.
Q: So when you're turning laps, you're not thinking about journal budgets.
DL: You can do that a little, but if you get too involved in what you're thinking, you run into the end of the pool.