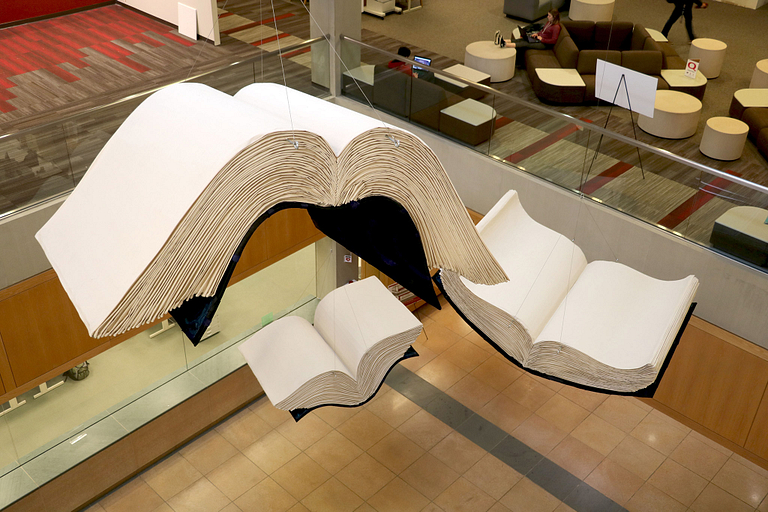 For 15 years, usually in the fall, the atrium in IUPUI University Library gets adorned with a newly created sculpture. It's most often a hanging sculpture that spans vertically across the three floors of the library, but not always. Benches have also been installed twice over the years.
Greg Hull and Eric Nordgulen are the two full-time faculty members in sculpture in the Herron School of Art and Design who help make this happen. But they are just facilitating the art; it's the Herron sculpture students who actually do the creating. 
The cycle generally works like this: In the fall, students in HER-301 start off the year taking down the previous artwork and installing the new one. The actual installation – and any potential danger – is undertaken by Hull and Nordgulen. The students then go back and begin working on new projects to submit for the following year. Once they have a design, sometime around Thanksgiving, they present them to a committee that usually involves University Library Dean David Lewis, Herron librarian Sonja Staum Lehman and a variety of others. The committee selects a project winner, and the spring semester in HER-302 is spent creating that design.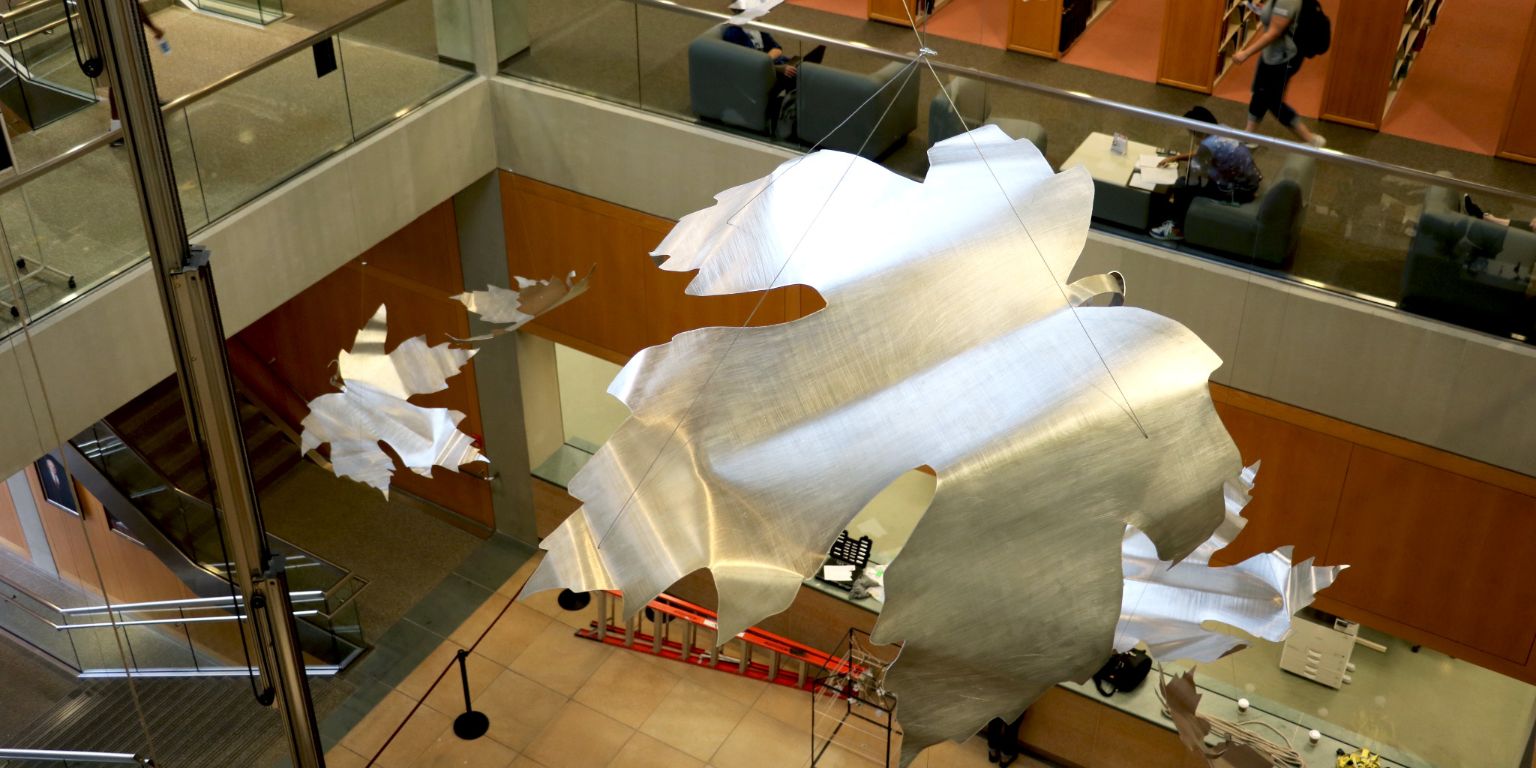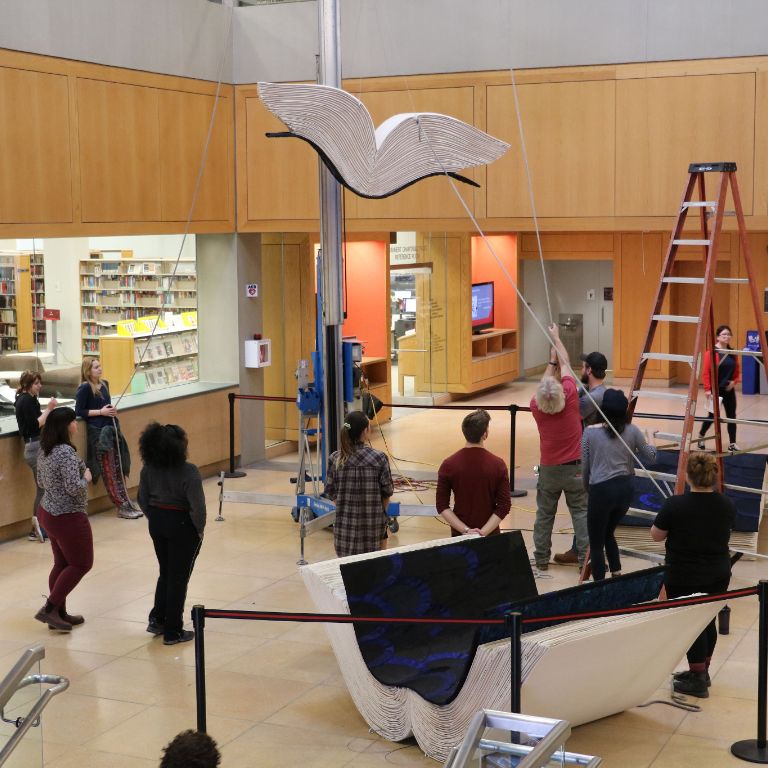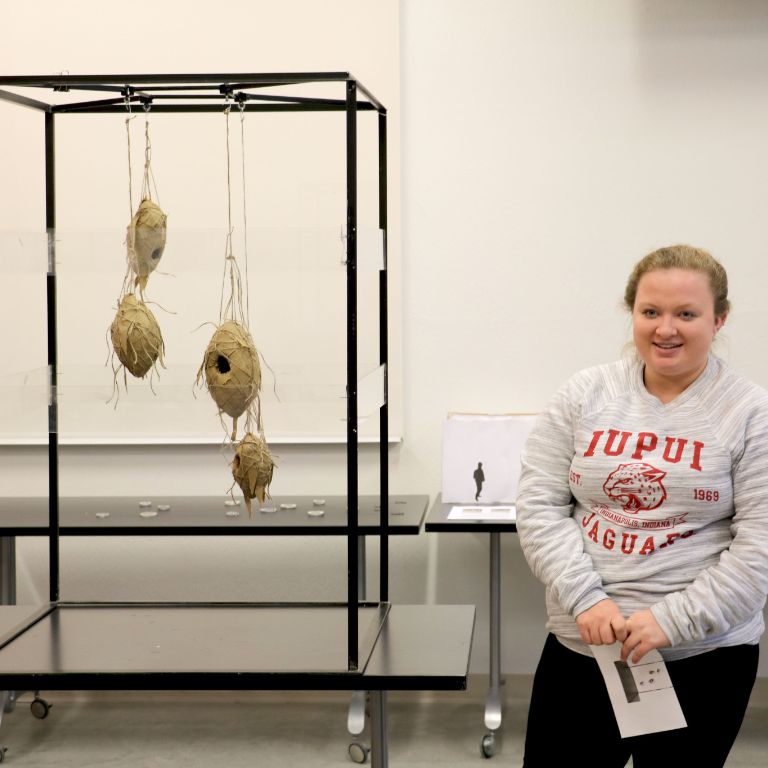 Photos courtesy of IUPUI University Library
"The entire process – from design to fabrication to installation and to de-installation – is a great extension of our studio classroom and provides students with a unique opportunity to develop, propose and ultimately realize and install a large-scale work of public art," Hull said. "It's a great learning tool for the students to work with real stakeholders and to work within a fixed budget and timeline."
This year, the sculpture – "Biblio Corvidae," by Joelle Stille – was installed in February, a little later than normal. It replaced "Changing of Seasons" by Jesus Nava. Up next will be "Nest," by Shelby Lahne.
Hull credits the library's leadership with the continued success of the sculpture display. "Dean David Lewis has been a real champion for the entire 15-year history of this project. We really can't thank him enough for his ongoing support. Sonja Staum Lehman and her staff have also been a great help with the process every year."
Check out the atrium today to see the new sculpture, and look for the next one sometime in the fall semester.