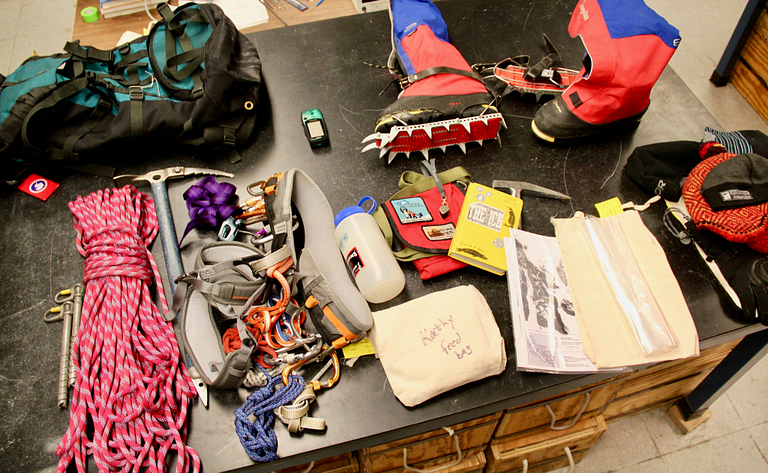 Kathy Licht has conducted field research in Antarctica for almost 25 years, first as a geological sciences graduate student at the University of Colorado and now as an associate professor of earth science at IUPUI.
Most expeditions require camping in wind chills of 60 degrees below zero, so being prepared and packing the right equipment is a matter of life and death. While some gear is provided by expedition organizers, Licht is always sure to pack a bag with essentials for survival as well as for her learning about Antarctica's ice sheet and geologic history. The work can then be applied to improve understanding of climate change in the region.
"We're either picking up sediments transported by the glaciers, bits of the glaciers themselves or the rocks along the sides," said Licht, who just returned from a monthlong "summer trip" to Antarctica in December. "Our job is to reconstruct the history of the ice sheet, and that provides context for the changes we see today. Has it changed dramatically in the past? How quickly does it change?"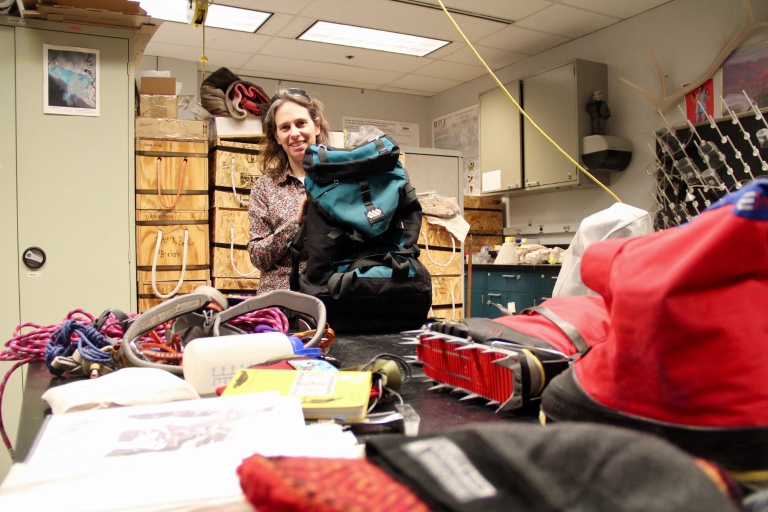 Licht's lab in the basement of the Engineering, Science and Technology Building contains dozens of wooden crates that contain Antarctic sediment and rock samples. Getting these samples was a lot of work. Here are the tools she used to achieve her research.
Field backpack
Licht bought this bag while in graduate school. It holds a huge amount of data-collecting and lifesaving equipment.
Global positioning system
The small, handheld piece of equipment is well-traveled but essential in finding your way in the snow, ice and wind of Antarctica. It's also used to pinpoint sample sites.
Crampons
The sharp metal spikes on these traction devices are essential in navigating the ice. They attach to plastic mountaineering boots, designed like rigid ski boots.
Ice screws
These screws are used for safety to anchor Licht to the ice when traveling down a slope. She attaches her rope to the hole at the top of the screw.
Climbing rope
Brightly colored to ensure contrast in the snow, the rope is used for travel across crevassed glacier surfaces and sometimes for climbing to collect samples.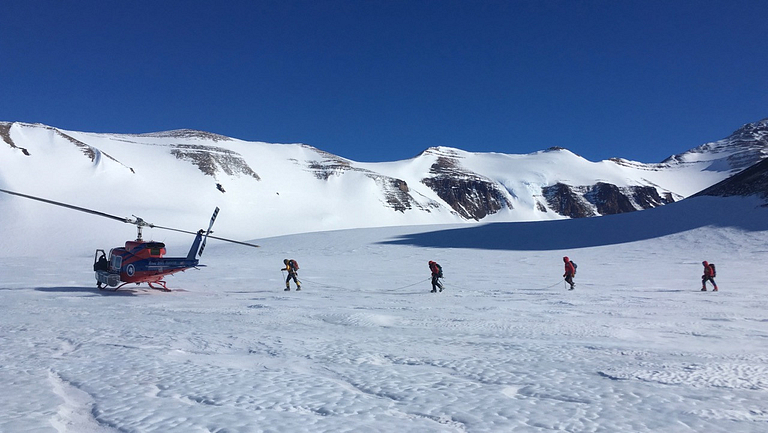 Ice ax
The ax is used for finding crevasses in the ice and snow; it can also be helpful as a sort of cane while walking. Licht uses it to "chip steps" into steep slopes to climb.
Climbing harness
The heavy belt is loaded with several carabiners and Prusik loops, which apply friction against the rope in case of a fail.
Lunch
Licht always carries a water container and food high in calories ("lots of chocolate") during research expeditions. The body naturally burns through calories quickly when in extreme cold. 
Field book and pouch 
Licht's observations and field data go in here. The book shows off the professor's special SPOA status – Short People of Antarctica. (Licht stands 5 feet 1 inch tall.) The pouch also contains Licht's trusty Swiss army knife
Rock hammer
This hammer is used for breaking up rock samples. 
Field maps 
These vital maps are printed out, laminated and bunched together for protection against snow and wind. Licht uses a small magnifying lens worn around her neck for easier map analysis. 
Sample bags 
The plastic bags carry soil and rock samples back to camp and, eventually, to IUPUI.
Extra warm gear
Licht is always sure to bring an extra neck gaiter, a wind-stopping balaclava for the face, gloves, wool liner for around the face and a fleece hat with earflaps. Licht said she often wears two or three layers on her head and six or seven layers on her upper body when researching in Antarctica.