A new JagNews!
A refreshed JagNews is launching April 4, with a goal of delivering timely and relevant news to IUPUI students. All students will be included in the weekly send. Students can opt out, and the list will be refreshed each August with all those currently enrolled in undergraduate or graduate classes.
Not a student but interested in receiving the new JagNews? Sign up with your name and email address if you want to receive JagNews, a student newsletter.
Making history at Riley Children's Health
Preparations begin in April for the renovation of a building on the campus of Riley Children's Health and the fourth floor of the Riley Outpatient Center for Riley Maternity and Newborn Health. The project will take two years to complete, but visible changes will occur in just a few weeks.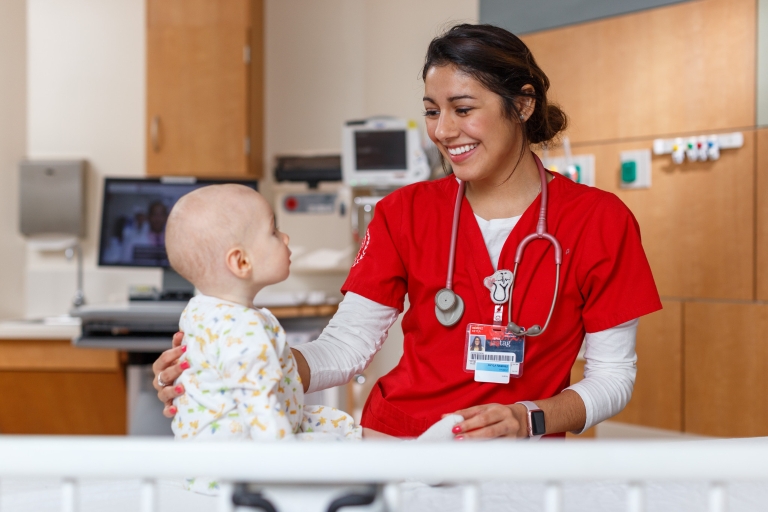 The week of April 9, crews will erect temporary walls to protect team members, patients, families and visitors throughout the construction phase. You'll see foot-traffic pattern changes, temporary signage and even some construction equipment on-site as work begins. 
The circle driveway on Barnhill Drive will close to all traffic, including drop-offs and deliveries. The Riley Atrium Lobby entrance and glass elevators will no longer be accessible. Entry from the People Mover will be rerouted to the cafeteria hallway. The Riley cafeteria, Nature's Table and Copper Moon will remain open and accessible during construction.
Project planners and construction team members will make every effort to minimize inconveniences for patients, families, visitors and Riley team members. 
When finished in 2020, the Maternity and Newborn Health strategic building project will allow Riley to provide comprehensive maternity and newborn health services and operate one of only two Level 4 perinatal centers in the state. Importantly, moms and babies will be together during their hospital stay, improving the patient experience. Riley will be able to accommodate more than 3,800 deliveries each year, including those for the highest-risk moms and babies with known congenital anomalies. The new space will also house a 45-bed Level 3 NICU. When combined with the 60-bed Level 4 NICU in the Simon Family Tower, Riley will be home to the largest NICU in Indiana and among the largest in the country.
Stay tuned for regular updates on construction plans and progress throughout the project. 
Best staff deserve the B.E.S.T. training 
The Department of Human Resources at the IU School of Medicine is offering a training series called Basic Essentials of Supervision Training, or B.E.S.T., for faculty and staff beginning April 3. This series is designed to provide supervisors with information and resources to get accustomed to the IU culture of supervising employees. 
Aspiring, new and seasoned supervisors will be provided the opportunity to learn from HR experts within the IU School of Medicine and the IU School of Dentistry. The training sessions offer experiential learning through case studies, focus groups and networking with colleagues on campus. 
This training is offered free of charge and runs through July 17. Registered participants have access to webinars associated with each session, so hurry and register now! 
Research grant to fund STEM projects
The STEM Education Innovation and Research Institute will host an information session for faculty and staff interested in the second SEIRI Seed Grant Competition. Awardees will receive funding to implement – and explore the impacts of – curricular transformations on undergraduate students in STEM courses. The information session will be from 3 to 4:30 p.m. April 11 in UL 1116. A list of previously awarded projects is available online.
Donate blood with IUPUI Staff Council 
IUPUI Staff Council will be hosting a blood drive for the Indiana Blood Center. The drive will take place from 10 a.m. to 3 p.m. Wednesday, April 4, in Taylor Courtyard. Make some time and give to a good cause!
IUPUI Drug Take Back Day 
The Center for Public Health Practice at the Richard M. Fairbanks School of Public Health will host a the semiannual IUPUI Drug Take Back Day from 9 a.m. to 2 p.m. Tuesday, April 3, on the first floor of the Campus Center in recognition of National Public Health Week.
Drug Take Back Days aim to offer a safe and convenient method of disposing of unused or expired prescription and over-the-counter medications and to educate the Indianapolis community about the importance of preventing accidental drug poisoning, drug theft, addiction and environmental degradation. All-day security will be provided by the campus police department. All medications collected during the event are considered anonymous and will be incinerated by the Drug Enforcement Administration. 
Prescription drugs, including controlled substances, over-the-counter medications and veterinary medications, will be accepted at the Drug Take Back. No sharps – needles, etc. – will be accepted at this time. All items must be delivered in a bag.
Please do not dispose of medications by flushing them, as that can harm the environment and contaminate waterways.
Those donating will be eligible for prizes, including box seats to an upcoming Indianapolis Indians game.