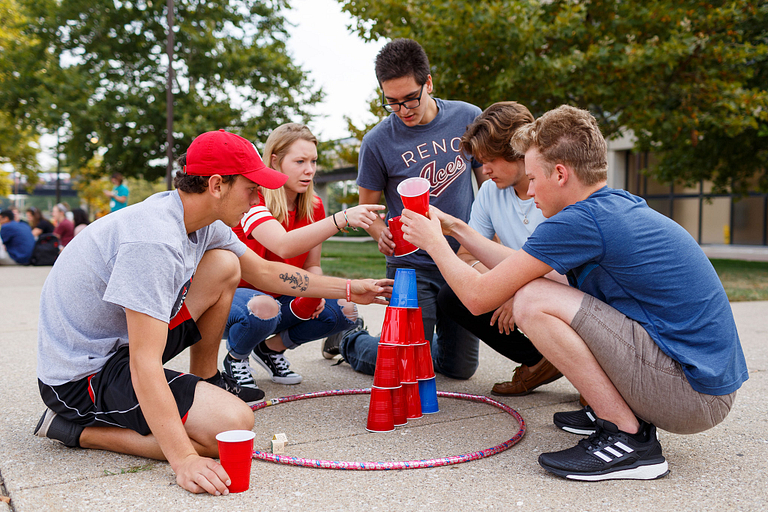 No matter how many conferences or retreats you've been to in your career, you've probably never been to one with a name as exciting as this. But what does the Big Wahooie mean? 
The Big Wahooie is an event for faculty and staff who care deeply about students' first-year experience. Taking place from 9:30 a.m. to 3 p.m. Friday, April 6, the event is a consolidation of all the usual functions, conferences and retreats that relate to the first-year experience. Combining these is an opportunity to embrace connections and networking outside the usual faculty/staff groups without having to feel overwhelmed by so many functions. That's why they decided to call it the Big Wahooie – this is the one that can't be missed.
The first year can be a make-or-break period in a college career, as organizers Amy Powell and Heather Bowman can attest. Powell is director of themed learning communities, and Bowman is director of first-year programs. They remember how difficult it can be to walk into the new world of college as a freshman, and they hope to help faculty and staff make sure their students have the support they need. Of course, it doesn't hurt that Powell and Bowman love working with first-year students. They say that the boundless energy and potential for growth make this group of kids a dream to work with. If you feel the same way, this is an event for you.
Participants of the Big Wahooie can expect a full day of research, knowledge and best practices for creating meaningful experiences with students. Representatives from such programs as Gateway to Graduation, Summer Bridge, learning communities and others will attend. There will be multiple tracks to choose from, as well as breakout sessions, ensuring a personal experience applicable to any position. Jay Gladden, the associate vice chancellor of undergraduate education, will be speaking, providing his insight to the group. 
The keynote speaker for the event is Michael Prince, a professor of chemical engineering at Bucknell University. He's dedicated to researching how students learn and using that information to become a better teacher. His talks focus on making faculty aware of new ideas and research without forcing them to adopt any particular teaching strategy.
The Big Wahooie, at its heart, is a day to bring together those on campus who love to teach. It's an opportunity to make connections with other instructors who enjoy working with freshmen, and to come away energized with new ideas. Registration is open, so sign up now! We know you don't want to miss it.