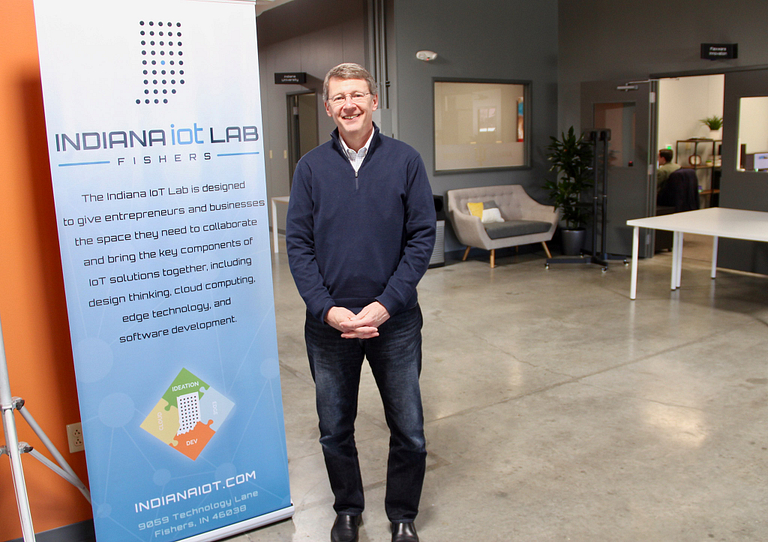 Meet Lou 2.0.
After 36 years of design experience at companies like IBM, Thomson/RCA and GE, Lou Lenzi brought his user experience expertise to the School of Informatics and Computing at IUPUI in 2016. Now a professor of practice, he has helped students see the growing, wide-ranging realm of human-computer interaction with physical products that utilize online technology.
The recently coined term "internet of things" sums up Lenzi's careers. Both of them.
"I've never taught before," he said, "but taking my industry experience into the classroom has given me the opportunity to take the students into this world of business – in a way that they will benefit from when they graduate."
Lenzi was a clear choice to represent Indiana University at the new, state-of-the-art Indiana IoT Lab in Fishers. The 24,000-square-foot facility opened March 21. The grand-opening event drew more than 700 visitors, featuring a keynote address from IU's first lady Laurie Burns McRobbie and representation from 10 tech companies that already call the space home. More companies are expected to join soon.
IU's presence comes in the form of an office and meeting space across from a sponsored conference room, offering a large, wall-mounted flat screen and tables that roll across the concrete to allow easier networking during meetings.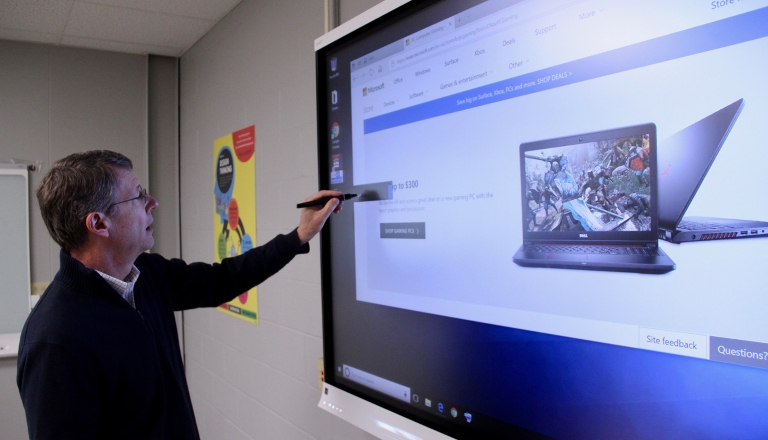 Thanks to IU's sponsorship, IUPUI staff, faculty members and students can utilize the entire lab. From 3-D printers to touch-screen IQ-Walls in the ideation center, there is cutting-edge equipment available. There are also some pieces that would be at home in a shop class: Table saws and jigsaws are on hand to create fast, wooden mock-ups of product designs.
Lenzi said the workshop area will be expanded and separated to keep noise, paint fumes and wood shavings away from the quieter parts of making the next tech advancement.
"One-third of Indiana's economy is still manufacturing-driven," Lenzi said. "We can prototype and build out minimum viable products here."
New to teaching but not to IoT
The student projects Lenzi has seen in his IoT design and business model innovation classes showed that a lab like Indiana IoT could move ideas from the classroom into the marketplace. He said his students get five weeks per assignment. The five weeks are enough for a class project, but more time – and help – could make a great idea into a profitable one for an informatics student.
"I saw at least 20-some great ideas in those classes, and a few of them could hit as a great entrepreneurial opportunity," Lenzi said with pride. "This is a very unique hybrid of industry and academia, with a focus of driving our economy forward."
The potential natural comingling of students with industry professionals helps differentiate Indiana IoT Lab from other co-working spaces, according to Lenzi. 
"This is a wonderful opportunity for industry-academia partnership," he explained. "We have this beautiful vehicle to do that. This becomes a very dynamic and agile learning center. You have the opportunity for our students to participate in the work that's taking place here. 
"There could be internships, project activities, externships. We believe having a footprint here will enable our students to get very involved at an early stage and learn from these young companies here in the facility. This is just a great opportunity, too, for the informatics school to extend its reach into industry and for industry to extend its reach into the School of Informatics." 
Strong start
With 10 companies in the house by the grand opening, the lab is already on the Indianapolis tech map. Those companies include Outside Source, Flexware Innovation and Clear Object, an internet of things specialization company that utilizes big data to problem-solve information technology issues.
Internet of things events
"The number of companies here seems to increase daily," Lenzi remarked.
To help fuel ideas and to keep the lights on, dozens of companies have bought into the lab via sponsorships. Joining IU are Comcast, Beck's, Allegion, KSM Consulting and Volktek, just to name a few.
Tony Armstrong, president and CEO of the IU Research and Technology Corp., has kept tabs on the Indiana IoT Lab since the beginning. He wrote in January that IU's presence at the facility is essential.
"The importance of IU's connection as the exclusive university partner of the Indiana IoT Lab cannot be understated," he said. "It provides yet another opportunity for the university to interact with companies around the state. It is a convergence of the industrial sectors where the state is strong: We make things (manufacturing), grow things (agriculture) and move things (logistics). Connecting these with the internet, the state has a definite advantage."