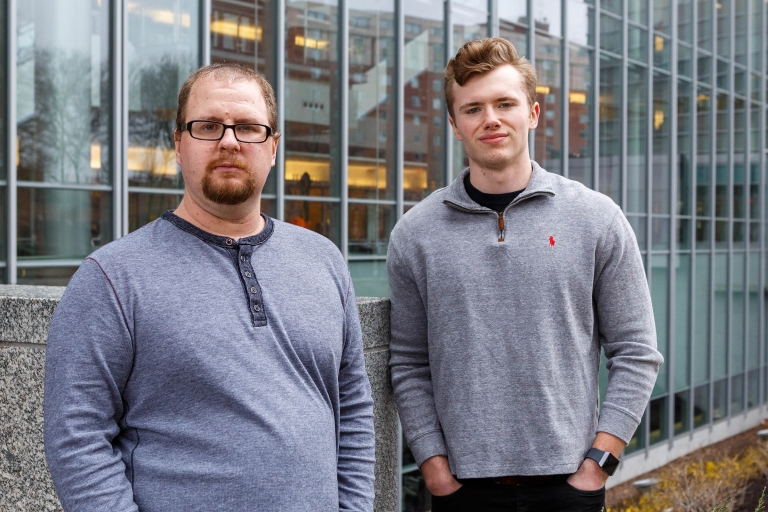 INDIANAPOLIS – The eyes of the college basketball world will be on San Antonio, Texas, this weekend for the NCAA men's Final Four.
IUPUI students will be there to chronicle everything that happens.
The Sports Capital Journalism Program in the Indiana University School of Liberal Arts at IUPUI is continuing its remarkable run of sending students to cover sports' biggest events, as senior Michael Williams and junior Aidan Wilkins will be on hand to work Saturday's semifinals and Monday's national championship game. IUPUI is the only school to have covered the Final Four for seven consecutive years.
"Everybody in the country loves the NCAA men's tournament, and being given the chance to write on some of the biggest stories from that is a huge opportunity," said Wilkins, a junior majoring in journalism.
Wilkins and Williams will post stories and updates on the program's website and Twitter feed while also filing stories for NCAA.com – an even more valuable experience for the students.
Students in the Sports Capital Journalism Program, part of the Department of Journalism and Public Relations, have had more than 50 opportunities in the past three years to cover events both locally and around the world. From Indianapolis Colts games and the Indianapolis 500 to the College Football Playoff and the Olympic Games in Rio de Janeiro, no school has offered as many chances for hands-on training in sports reporting.
And just like the events themselves, the work can take interesting twists. While on-site at the recent NFL Scouting Combine in Indianapolis, Sports Capital Journalism Program students were able to file stories for papers across the country that couldn't staff the event.
"Whatever we can do to create more exposure for the students makes it an even better opportunity," said Malcolm Moran, director of the Sports Capital Journalism Program and a veteran sports journalist. "Each success creates the next opportunity."
While in San Antonio, the Sports Capital Journalism Program is organizing Friday's annual United States Basketball Writers Association sportswriting seminar and scholarship competition. The event provides opportunities for students interested in a career in sports journalism to cover events the day before the national semifinals and enter a writing contest.
A panel discussion will include Nick Moyle, an IUPUI graduate and Sports Capital Journalism Program alumnus who now covers University of Texas sports for the San Antonio Express-News. Moran, a past USBWA president and Hall of Fame member, will moderate.
Wilkins and Williams will attend the seminar before continuing their work duties at the Final Four. For Williams, this will mark his second NCAA Tournament assignment in a little more than a year – he also covered the first and second rounds in 2017 at Bankers Life Fieldhouse in Indianapolis.
"Last year prepared me for this a little bit, so I'm not going in blind," said Williams, a journalism major. "This, quite literally, is a dream come true."