Last year, Indiana University graduated about 20,000 students, nearly half of all four-year and advanced degree recipients in the state. Some of those graduates were native Hoosiers, while others came from all over the United States and the world. As IU continues to see growth in the diversity and number of students it serves, its academic structure has adapted to offer a more comprehensive education.
In IU President Michael A. McRobbie's recent remarks to the Rotary Club of Bloomington, he described how the creation of 10 new schools has produced dramatic changes in the academic structure and operation of IU's core campuses, ensuring that the university meets the evolving needs of students and the communities it serves.
"IU is now a truly comprehensive university," McRobbie said.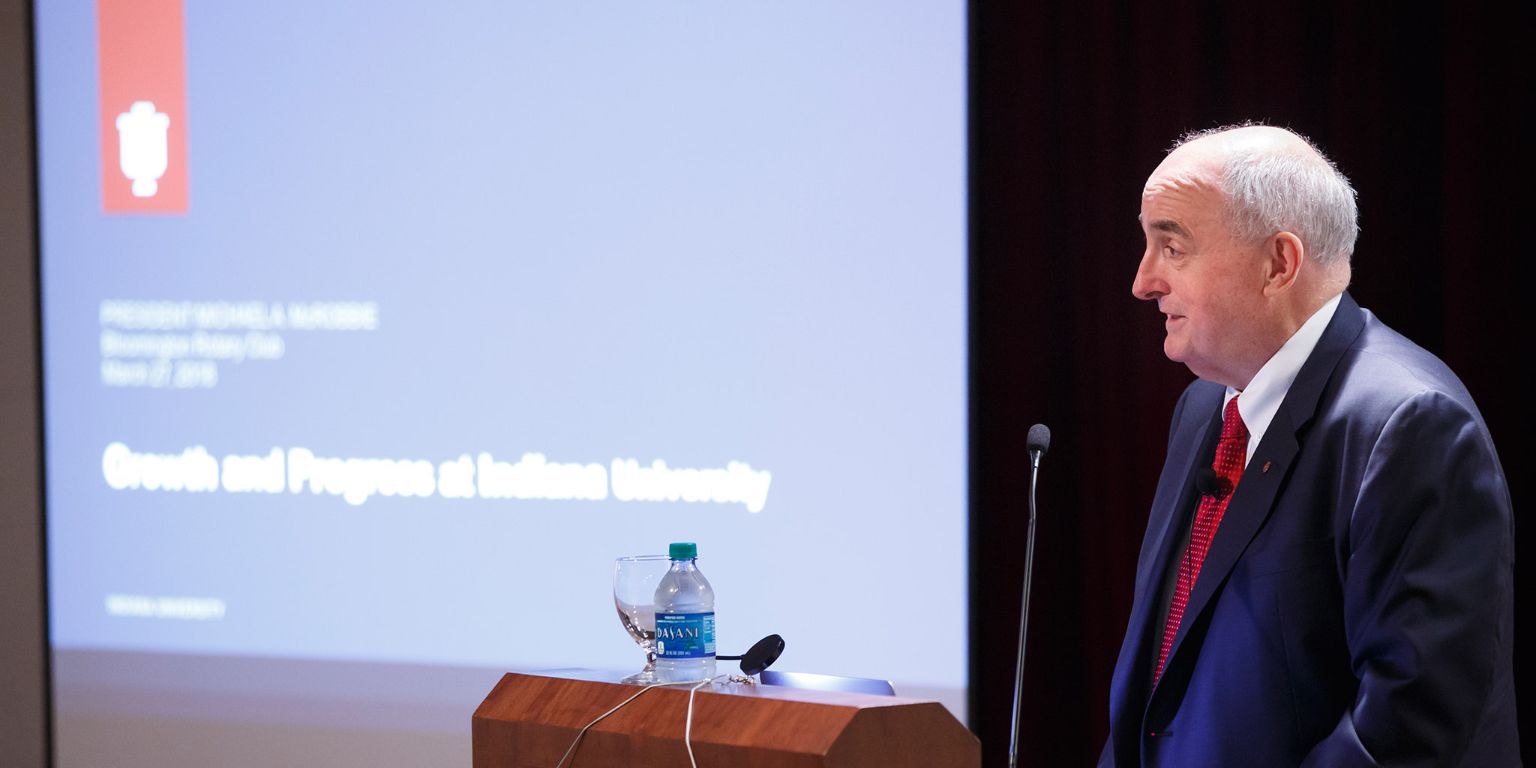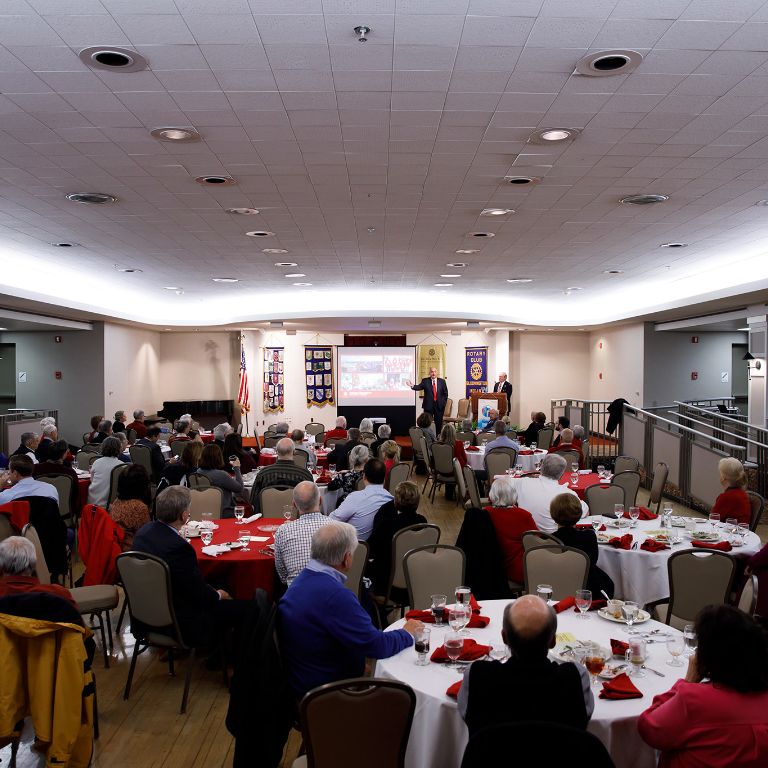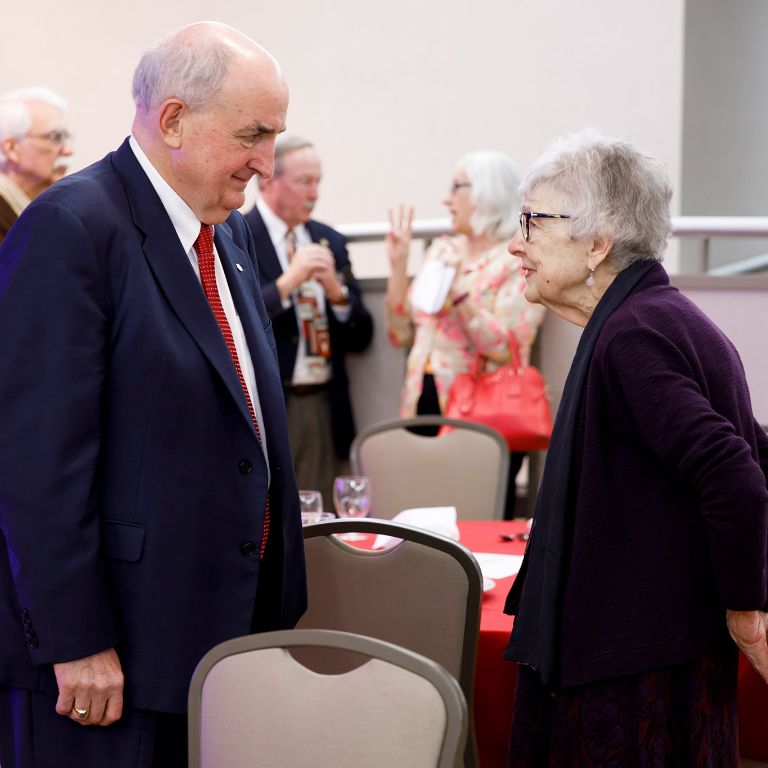 Photos by James Brosher, IU Communications
This shift in IU's academic landscape is the largest change since the days of IU's 10th president, William Lowe Bryan. During his term from 1902 to 1937, Bryan presided over IU's transformation from a small, traditional liberal arts college into a modern research university.
Over McRobbie's 10 years at IU, two new schools of public health have been established, one in Bloomington and the Fairbanks School of Public Health at IUPUI. These schools, along with the School of Health and Human Sciences at IUPUI, make IU the home of eight health science schools, which prepare health care professionals who serve residents of Indiana and beyond.
In his talk with Bloomington's Rotarians, McRobbie emphasized IU's focus on offering an interprofessional education in health sciences, which enables students to train and work together across programs . The new $400 million IU Health Regional Academic Health Center in Bloomington will give students within most of IU's extensive academic health science programs the opportunity to train together in the new facility's IU Academic Health Sciences Building. As noted in McRobbie's recent President's Update, the colocation of these academic health science programs is expected to increase the number of medical and nursing students by over 50 percent in the coming years.
"IU is the prime mover in life and health sciences across Indiana," he said.
Another school created under McRobbie's leadership, the School of Global and International Studies, offers more than 70 languages, the most foreign languages courses of any college or university in the country. In addition, IU has expanded study abroad opportunities, which have resulted in transformative experiences for students and prepared them to be more internationally minded and diplomatically skillful citizens in an increasingly interconnected world.
IU's strengthened academic structure is also represented in the School of Informatics, Computing and Engineering from which IU's first students in the new Department of Intelligent Systems Engineering will graduate in 2020, IU's bicentennial year. The School of Art, Architecture + Design will hold its first classes for students seeking a Master of Architecture degree in the fall of 2018.
Among the 10 new schools that have made IU a more comprehensive university are the Lilly Family School of Philanthropy, established in 2012 at IUPUI, which was the first of its kind in the nation; The Media School, established in 2014 at IU Bloomington, merging telecommunications, journalism, communication and culture; and IU's two independent Schools of Education, one in Bloomington and the other at IUPUI, created in 2017.
This new academic direction represented by the establishment of these 10 schools continues the mission IU began when it opened nearly 200 years ago to offer students a world-class education.
As the university's student population becomes larger and more diverse, McRobbie expects IU will continue to evolve to meet students' needs in the future.
"Our campuses have handled the growth well, and we expect continued growth," he said.