Ambassadors from Indiana University's far-flung Global Gateway Network in China, Europe and India visited Bloomington in the fall, marking the first time all were physically together in one location.
The gateways – and the people who staff them – connect the broader IU community with resources that make international programs, projects and other activities possible.
"The Global Gateway Network represents IU's strong commitment to innovative international engagement," gateway offices director Ally Batten said. "Our offices in Beijing, Berlin and New Delhi provide an infrastructure and set of resources that help faculty develop and sustain collaborative research activities in the most politically, culturally and economically dynamic regions of the world. Over the coming year, we are excited to be growing the network with new offices opening in Mexico City and Bangkok."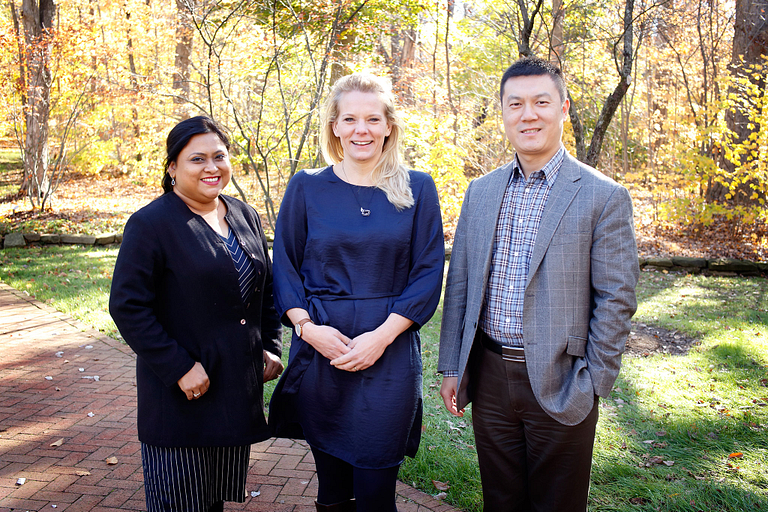 And that's what makes it so important that the leaders of these gateways stay closely connected to each other and to the university's core campuses in Bloomington and Indianapolis, where academic directors for each gateway are located, Batten said.
"This was my third trip to Bloomington, and these trips are very educational for me," India gateway administrative director Shalini Choubey said. "I work alone in my office, so I enjoy the opportunity to meet people and share experiences. Connecting with colleagues from various IU units raises my knowledge about the university and helps me understand the expectations and differences in our respective countries. It also helps increase the interest and confidence of IU faculty to come and work in India."
Choubey said her office organized myriad events in 2017, including hosting research symposia on a variety of topics, such as crimes against women, police reform and research and technologies for the blind and visually impaired. This year, the office is connecting the Kelley MBA's Global Business and Social Enterprise program and three New Delhi-based alumni entrepreneurs to solve business cases, and hosting a series of guest lectures. 
Andrea Adam Moore, director of the IU Europe Gateway based in Berlin, said the office hosted multiple events in 2017 with faculty from the College of Arts and Sciences, School of Global and International Studies and the Indiana University Lilly Family School of Philanthropy at IUPUI, including a two-day symposium that connected the Fairbanks School of Public Health at IUPUI with several European schools of health. The office works closely with the university's language faculty too and will host an event series focused on the role of social media in the digital age throughout 2018.
"While there's an incredible amount of faculty and researchers who work through our office, since we're so centrally located, it's very nice to be here in the U.S. and to see my colleagues in Bloomington and Indianapolis face to face," she said. 
IU China Gateway director Steven Yin said he also enjoyed the chance to meet with his fellow gateway colleagues as well other university colleagues.
"I'm happy to see through these meetings that IU has both increased and diversified its international engagement through study abroad and alumni activities, cross-border collaborative research events and projects, and global partnership-building with other leading higher education institutions overseas," he said. "I feel gratified that our Global Gateway Network and myself are playing an invaluable role in supporting IU's international activities."
In 2017, he said, the IU China Gateway hosted 20 types of events that attracted nearly 500 participants. The office already has big plans for 2018, including President Michael A. McRobbie's expected visit in the fall, a career fair that will be expanded to three locations in China and a regional alumni event in September.
But there's something about being able to visit Bloomington and Indianapolis in person that helps cement his connection, he said.
"The annual visit is a great chance for me to be back at the 'mothership,' and actually see and feel IU for myself," he said. "It makes me feel I am really a part of this great university, and helps establish and maintain the bond between myself and IU. I'm very familiar with both the Bloomington and IUPUI campus now, and even served as a campus tour guide for a group of visitors from Beijing Normal University who were visiting at the same time I was."