The Indiana University India Gateway has moved its operations to a new centrally located office in Defence Colony, New Delhi, to support IU faculty research and student-focused activities in India. With a prominent location on the south ring-road, the new office provides a highly visible and accessible presence for IU in India.
"This new location in the heart of Delhi will allow IU to significantly expand its outreach and recruitment efforts and participate more fully in the intellectual and cultural life of India's capital city," said Michael Dodson, academic director of the IU India Gateway.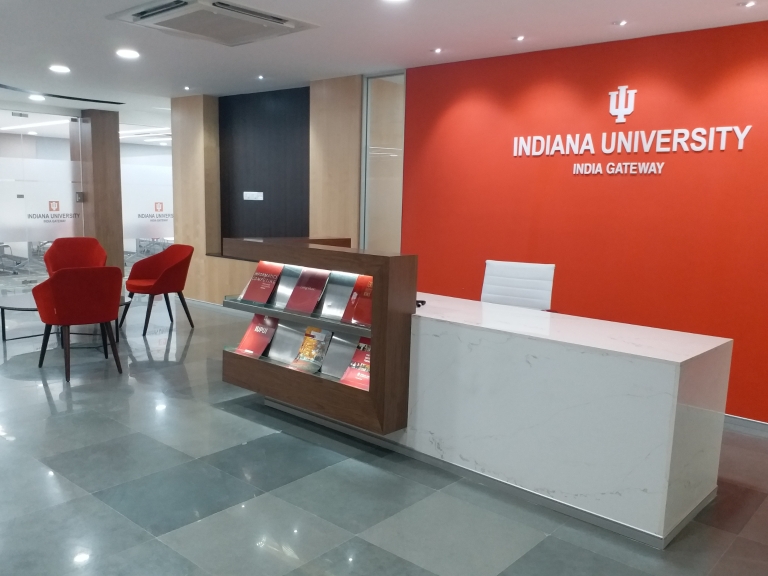 The new purpose-built facility provides 5,000 square feet of office space including a 30-seat conference/seminar room, a 22-seat video conference room, a commons area, two meeting/study rooms and a shaded terrace.
Since opening in 2014, the IU India Gateway has hosted over 60 events including academic conferences, workshops, public outreach and overseas study programs.
A reception to dedicate the new IU India Gateway office space will be hosted by the IU Office of the Vice President for International Affairs on April 7, for members of the IU academic community, alumni and friends of the university.
The IU India Gateway is one of four offices in IU's Global Gateway Network, which serve to connect IU faculty, students, staff and alumni with resources to help further their academic and professional interests around the globe. IU's other gateways are in Beijing, China, and Berlin, Germany, and its newest gateway in Mexico City will be formally dedicated by IU President Michael A. McRobbie on May 28.