Brad Wheeler, Indiana University vice president for information technology and chief information officer, provided the IU Board of Trustees with an update on the 2009 Network Master Plan, which is renewing IU's digital infrastructure in over 350 buildings at IU Bloomington and IUPUI.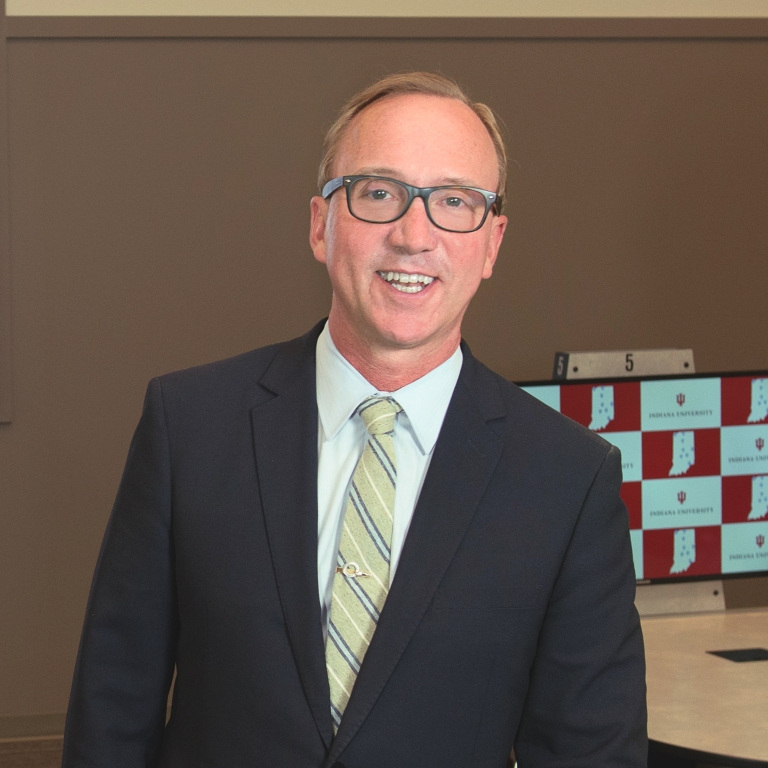 The previous comprehensive wire and cable update dated back to 1987. Jacks for phones, computers, cable TV and the networks that connect the campus have very long lifespans, but changes in capacity needs and technology require a periodic refresh.
On the Bloomington campus alone, the project has already installed 16.4 million feet of cable – or enough cable to reach from Boston to Los Angeles. Both IU Bloomington and IUPUI have already had more than 200,000 data jacks upgraded and have twice expanded their Wi-Fi.
In 2009, Wheeler and his team – including David Jent, associate vice president for networks – presented a plan to renew 351 buildings on the core campuses at an estimated cost of $172.4 million, including rehabilitation and securing many wiring closets. The 10-year project was to be funded from reserves and revenue (45 percent), efficiency (28 percent) and internal loans (27 percent), with no increased charges to the schools.
By insourcing much of the design expertise and small-project rewiring work to IU staff, combined with favorable bid prices and the large scale, the budget was recast at $127 million with no loans by 2013. Wheeler said he expects UITS staff to complete the full plan by the 2020 IU Bicentennial for about $95 million.
"A highly resilient and capable network facilitates research, education and operations of the university," Wheeler said. "IU's pay-as-you-go model for IT and networks is working well to enable a comprehensive refresh of the mission of IU."
Some facts about the Network Master Plan:
Since 2009, rates of network traffic in and out of IU have increased six-fold: from 600 terabytes per month to nearly 4,000 terabytes in February 2018.
From 2008 to 2017, the number of videoconferencing hours per year has increased nearly five-fold, from 37,000 hours to 179,780 hours.
Since 2014, average wireless traffic has nearly quadrupled.
"I commend Kirt Guinn, director of telecommunication infrastructure at University Information Technology Services, and his staff for their exceptional job implementing the Network Master Plan," Wheeler said. "It is thanks to their talents, IU Capital Planning and Facilities, and many Indiana companies that we were able to save the university tens of millions of dollars while ensuring a modern, updated network at IU for decades to come."
Likewise, Elizabeth Van Gordon, IU regional campus chief information officer, and UITS are now working to implement a similar network renewal at each IU regional campus.
Ceci Jones is a media relations manager with the Office of the Vice President for Information Technology and Chief Information Officer.