Members of the Indiana University Board of Trustees heard updates about several broad-ranging student retention efforts at campuses across the state during today's meeting on the IU Bloomington campus.
"With a lot of the tools and technology the university is making available to students, we're being very deliberate that we want students to be in the driver's seat," said Rebecca Torstrick, senior assistant vice president for university academic affairs and director of the Office of Completion and Student Success. "Our real focus here is helping students take charge of their own journey, learn how to plan and make good decisions. We're trying to set them up for success for the future."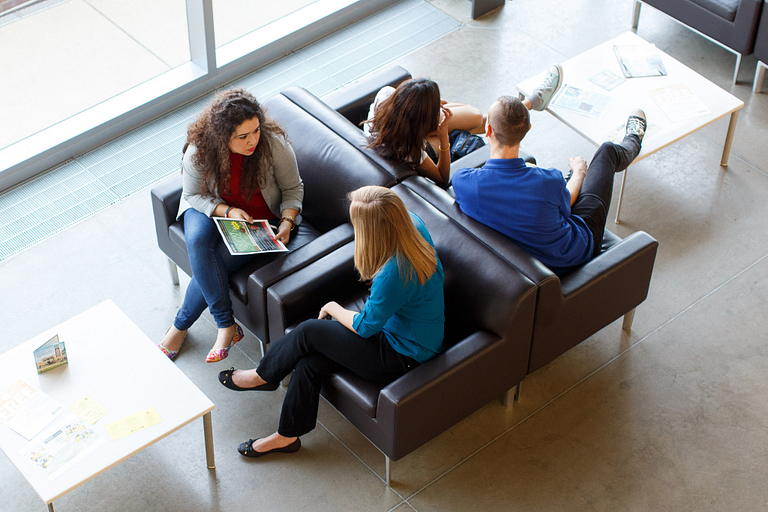 She spoke alongside Jay Gladden, IUPUI's associate vice chancellor for undergraduate education; Dennis Groth, IU Bloomington's vice provost for undergraduate education; and Christina Downey, IU Kokomo's assistant vice chancellor for academic affairs for student success.
Torstrick said her office has spent the past year training nearly half of IU's 500 academic advisors in the methodology and theory behind life coaching. That gives advisors a richer, deeper relationship with students, who in turn can take more ownership in their academic progress.
She said the training has been expanded to staffers who handle student services, tutoring, financial aid and peer mentoring, in addition to some faculty members.
"Part of why we're so excited about this at IU is that we think we're one of the few institutions of higher education that's made an effort to embed this within the normal practice across all campuses," Torstrick said. "When we've looked at other universities, it's often something that's done in one particular office or an office that serves a particular group – underrepresented populations, for example – so it can end up isolated and doesn't percolate out into the full range of advising services."
Gladden said the IUPUI campus was an early adopter and leader in using many of higher education's best practices surrounding retention over the past two decades. Now, he said, the campus is honing its focus using data to better understand areas needing attention.
That includes the Diversity Enrichment and Achievement Program. Specifically aimed at African-American and Latino students, the program has seen retention of participants rise from 64 percent to 84 percent, as well as higher grade-point averages.
"So we're moving the needle, reaching about 30 percent of students with what we're doing now," he said. "We hope to expand to reach more than 400 students over the next two years and are really focusing in on those strategies that work best."
For IU Bloomington, Groth described Bloomington Assessment and Research's recently created Course Recommender, which draws from student enrollment data from the past 10 years, distills the complexity of student performance in different courses and uses the data to make predictions about how a student might perform in a new course.
The system is designed for academic advisors' use so that the Course Recommender's results can be interpreted and coupled with important contextual information that advisors can provide. Students maintain the freedom to select their preferred courses while being well-informed of the potential opportunities and challenges each course might bring. This is particularly useful for supporting students in the pursuit of their academic goals.
"When students make informed, data-based decisions with the help of academic advisors, students are empowered to do their best work, making them more likely to succeed at IU," Groth said.
Downey spoke about IU regional campuses' participation in the American Association of State Colleges and University's Re-imagining the First Year project, aimed at ensuring success for all students, particularly low-income students, first-generation students and students of color.
"While the IU regionals have been working on a variety of retention activities for a long while, the RFY project has brought us into closer collaboration with one another," she said. "It's also exposed us to the resources of the AASCU and the other campuses across the country which were selected to participate in the three-year project."
Downey described the project as an "institutional learning community," detailing that approaches attempted on one campus as part of the project are available in terms of personnel, structure and outcomes to the other participants.
"The ultimate goal is to develop a set of components to the first year of college that are validated in improving retention to the second year," she said. "Some of the efforts we're engaged in under that RFY umbrella are redesigning orientation and welcome programs, reviewing and redesigning some of our first-year gateway courses – think math, writing, social sciences – and revising student-directed communication so that instructions are clear, supportive and jargon-free."