BLOOMINGTON, Ind. – Indiana University will celebrate its third annual IU Day on Wednesday, April 18. The worldwide, social-sharing, IU-wearing, gift-giving day of engagement will kick off at midnight, uniting students, alumni, faculty, staff and friends of the university in a 24-hour celebration of all things IU.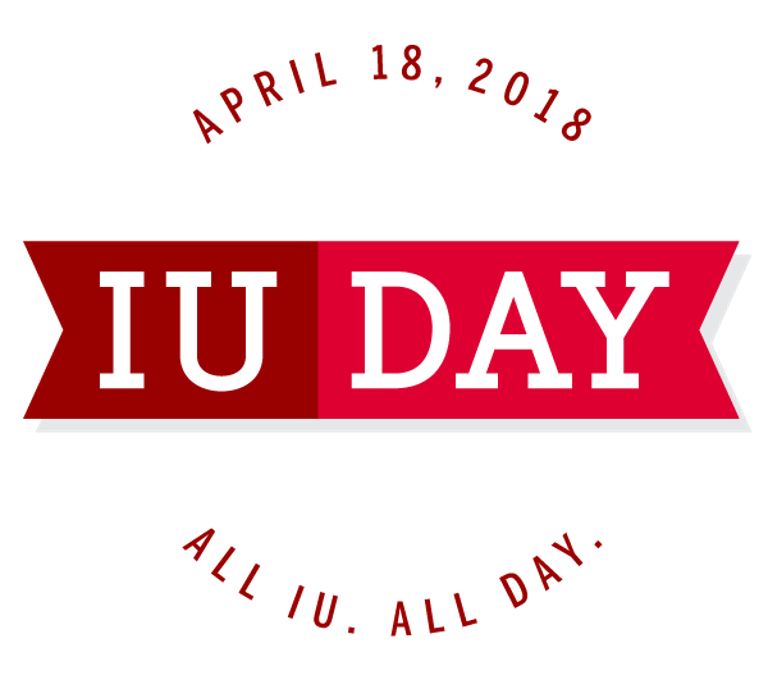 "IU Day is a time of special meaning for those with ties to our great university," said Dan Smith, president and CEO of the IU Foundation. "It is a celebration of memories as well as possibilities and cause for reflection on the relationships, opportunities and future successes shaped by this extraordinary place called IU."
IU Day activities will include live events across the university's seven campuses, entertaining virtual programming, online social and giving challenges, and alumni gatherings around the globe. Notable among these are:
Philanthropy-themed scavenger hunts on the Bloomington and IUPUI campuses.
On-the-go trivia inside an IU Bloomington campus bus.
An exclusive IU Day halftime show, featuring mascots from IUPUI and IU's regional campuses.
A lunch-time student and alumni meet-up on Monument Circle in downtown Indianapolis.
"Rufus in the Wild" – IU East mascot appearances around Richmond and Wayne County, Indiana.
ICAN "Puppy Love" puppies onsite at IU's Kelley School of Business in Bloomington in partnership with the Indiana Canine Assistance Network.
"Campus Gems" videos from all seven IU campuses highlighting a unique story or aspect of each campus.
In addition, individual alumni and official IU Alumni Association chapters are organizing IU Day celebrations around the world. This year, about 40 domestic chapters and 12 international chapters are coordinating local IU Day events. IU students, alumni and friends can search for events and activities near them by visiting iuday.iu.edu/attend.
"IU Day is a great way to celebrate IU causes, connections and relationships," said J T. Forbes, CEO of the IU Alumni Association. "While every day is an IU Day for alumni, April 18 will afford those who love IU an opportunity to 'sing in praise of Indiana' through both informal and organized activities designed to deepen IU relationships."
Additional IU Day celebrations will take place in more than 179 unique locations domestically and abroad. And anyone who loves IU is encouraged to share their university pride using the hashtag #IUday. Social media challenges throughout the day will include social-sharing contests and fun photo challenges like best-dressed future alum and best-dressed pet.
In addition to engaging programming, IU Day will feature a giving component, emphasizing the message that every gift matters. Students, alumni and friends of the university can chose how they want to support IU by giving funds to a specific campus or unit funds or exploring unique crowdfunding opportunities at iuday.iu.edu/give. Gifts of any size may be boosted by various IU Day giving and social media challenges.
These challenges provide opportunities to engage students, alumni, staff, faculty, friends and fans around common goals. Last year, IU's Marching Hundred surpassed the modest crowdfunding campaign goal of $1,500 by more than 1,000 percent. Gifts from 315 donors ranged in size from $5 to $1,200, and campaign supporters, through social media and giving challenges, unlocked an additional $7,500 in challenge funds provided by the IU Foundation to support Marching Hundred activities.
"World-class education, unique programming and cutting-edge research are synonymous with the Indiana University student experience," Smith said. "What is less known is that this experience is largely dependent on private support. IU Day provides a great opportunity to celebrate IU's present and past, while looking ahead and thinking about how we, together, can ensure life-changing student experiences for future generations."
About IU Day
IU Day is a 24-hour, binge-watching, social-sharing, IU-wearing, online celebration of Indiana University and the people who make IU possible (that's you!). Maybe you're a student getting your start. Maybe you're an alumnus well on your way. Maybe you're a parent, friend or fan with a special place in your heart for "old IU." In any case, these IU connections are cause for celebration.