BLOOMINGTON, Ind. – Indiana University celebrated its third annual IU Day on Wednesday, uniting current and future students, alumni and friends in a global day of engagement, service and giving. The 24-hour event featured inspiring stories, performances and activities designed to connect the IU family by highlighting the meaningful relationship students and supporters share with IU and each other.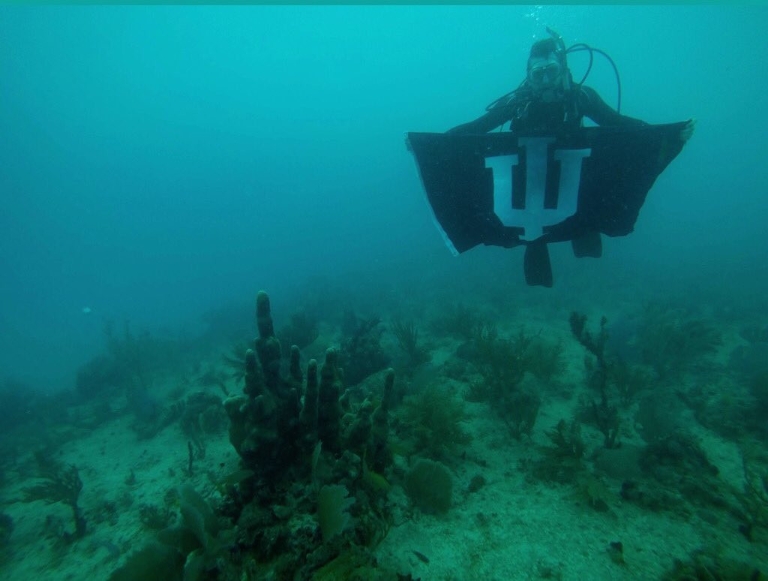 The IU Day spirit reached from India to Indianapolis and St. Maarten to South Bend, as more than 50 official IU Day gatherings on six continents brought participants together to reflect on shared passions and experiences, celebrate the vast IU network and invest in future generations of students.
The event's official hashtag, #IUday, trended nationally, with more than 9,000 mentions originating from 84 countries. Notable students and alumni – including Meg Cabot, author of "The Princess Diaries," and Olympic diving medalist Michael Hixon – were among more than 10 million people who shared in the IU Day experience.
Online engagement also unlocked more than $14,000 in digital challenge funds to support student scholarships. In total, IU Day inspired more than 3,400 gifts, which fund an array of projects and initiatives, student-led programs and scholarships in various areas of study. A sampling of these includes:
Emergency tuition relief programs.
Mental health counseling for IU students.
Increased visibility of IU's female and minority leaders and industry pioneers.
Support for the arts, including IU Cinema and IU's Marching Hundred.
Extracurricular and service-learning programs, including study-abroad opportunities.
Technology and outreach programs, including IUPUI's Girls STEM Institute and cutting-edge robotics labs.
Health-related causes, including improved surgical care in Kenya through IU's AMPATH program.
Thanks to the generosity of IU students, faculty, alumni and friends, funds raised will have an invaluable and lasting impact across the institution's seven campuses.
IU Day programming featured IU-centric videos, interactive quizzes and games, and live-streamed campus activities and performances. Students at IU Bloomington and IUPUI participated in campuswide scavenger hunts and wrote "words of wisdom" letters to future students and thank-you letters to donors.
For more information on the success of this year's IU Day, visit the IU Day 2018 results page.
Gifts received on IU Day count toward the $3 billion For All: The Indiana University Bicentennial Campaign, stewarded by the Indiana University Foundation.
For All: The Indiana University Bicentennial Campaign is taking place on all IU-administered campuses including IU Bloomington, IUPUI, IU East, IU Kokomo, IU Northwest, IU South Bend and IU Southeast. The campaign will conclude in June 2020 to coincide with IU's bicentennial year celebration. To learn more about the campaign, its impact and how to participate, visit forall.iu.edu.
Founded in 1936, the Indiana University Foundation maximizes private support for Indiana University by fostering lifelong relationships with key stakeholders and providing advancement leadership and fundraising services for campuses and units across the university. Today, the IU Foundation oversees one of the largest public university endowments in the country, with a market value in excess of $2 billion. IU is consistently ranked among the top four of Big Ten universities in annual voluntary support.