For the first time in more than a decade, international enrollment in U.S. universities and colleges decreased last academic year from the year before. While Indiana University welcomed more 6,300 students from 144 countries in the fall of 2017, it has not been completely immune to this national trend.
According to John Wilkerson, IU's director of international admissions, many factors are at play in this decrease of international students in the States. More access to higher educational opportunities for students in their own countries, increasing affordability concerns, changing immigration policies and rising interest in universities in Canada, the United Kingdom and Australia all play a role. That means that international admissions representatives in IU's Office of International Services have been adjusting and adapting to ensure IU remains a national leader in international education.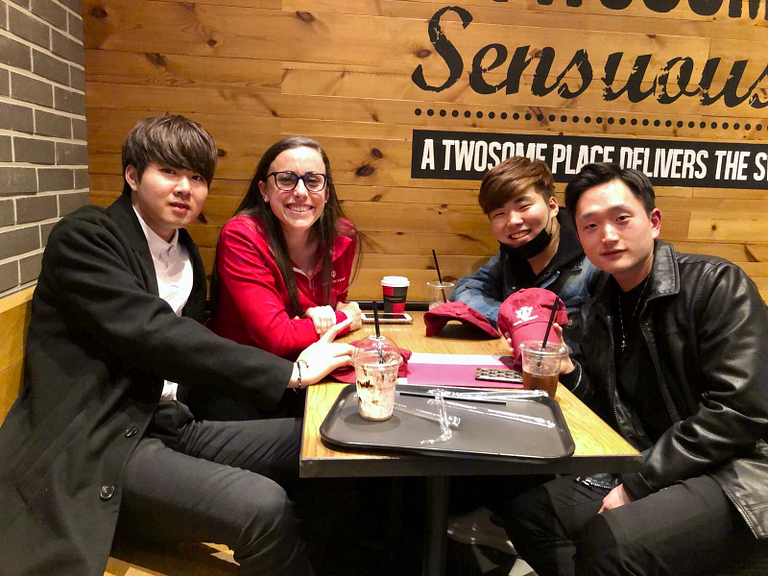 IU international admissions is made up of about 25 individuals working behind the scenes to handle the logistics of enrolling international students; five of the staff members travel the world meeting with prospective and admitted students. Logistical staff liaise with students and schools across campus, help students obtain visas, process transfer credits and more; traveling recruiters act as the faces of IU in far-flung places. The positioning of international admissions within the Office of International Services allows this staff to easily pass the baton to staff in charge of programs focused on retention and student success.
Each fall, traveling recruiters spend August, September and October visiting international high schools, attending college fairs and meeting with prospective students. Recruiters like Maria Santa take trips that last two to three weeks and include visits to as many as eight countries. While the goal of these trips is ultimately to share information about IU, Santa said recruiters also want to spread the word about the benefits of higher education.
"First and foremost, we want to make sure that we are a resource for students to understand education in the U.S., how it's different and why it could be right for them," she said. "We try to get out of the glossy pages of the brochures we bring with us and talk about what going to school in the U.S. would mean for them."
In the spring, recruiters make return trips to meet with students who have been admitted to IU. International admissions works with the IU Alumni Association's international chapters and the IU Global Gateway Network to organize events for admitted students in key markets. While IU hosted five events last year and just three the year before, the university has upped the ante to a total of eight events around the world in response to last year's decline.
In addition to hosting more events in large markets, recruiters have done more traveling this spring to smaller markets to meet with students and parents one on one. For example, on a recent trip visiting Thailand, Indonesia, Singapore, Malaysia, Vietnam and Korea, Santa met individually with more than 30 students and their parents to answer lingering questions about IU and the enrollment process. These visits followed full days of high school visits and college fairs.
While Santa said these trips are great opportunities to travel to amazing places and learn about different cultures, they can be arduous. Each whirlwind visit to a country consists of stops in multiple cities, late nights, early mornings and often a different bed each night. But even though their job can be exhausting, Wilkerson said he's consistently impressed with the excitement IU recruiters show for their work.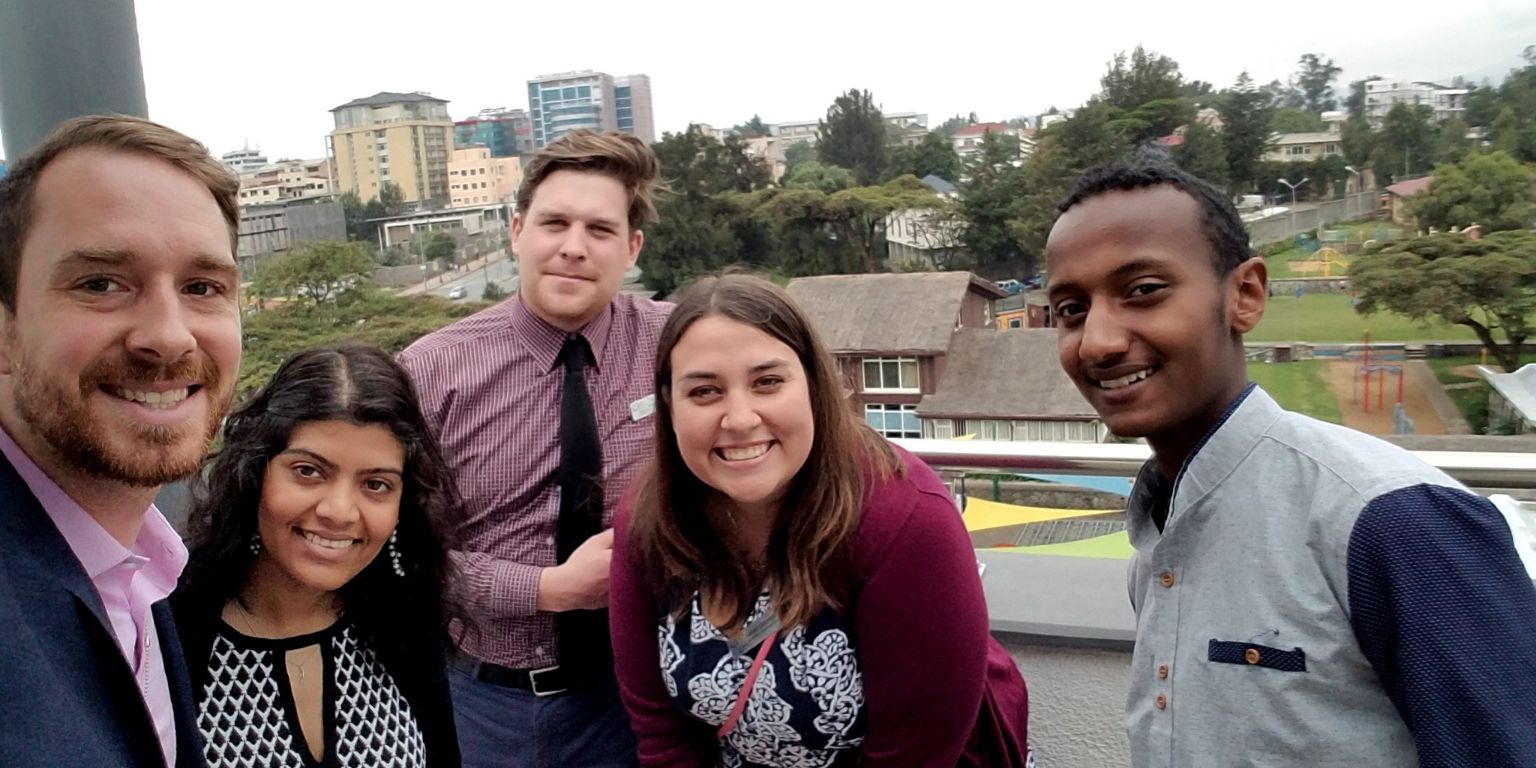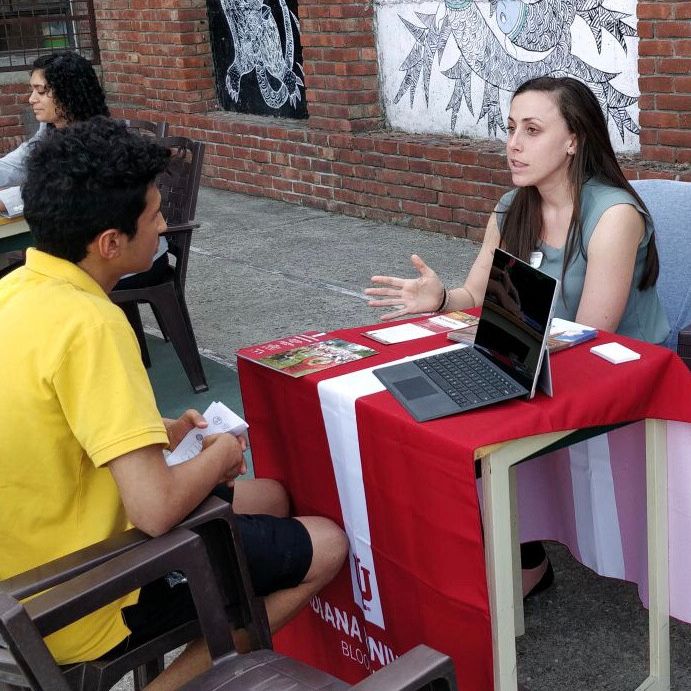 Photos courtesy of Reed Hepburn and Maria Santa
"We are very intentional about employing personalities that are engaging," he said. "Each of the recruiters is truly interested in what they're doing and is invested in the student experience. Beyond that, they are committed to the idea of access in higher education, and that makes what we do even more potent."
When they aren't physically in a student's country, recruiters still keep up constant communication with applicants and admitted students. They are also connecting these prospective students with current students who act as international student ambassadors. These ambassadors email, text and chat online with prospective students who are from their region or interested in their area of study. International admissions also facilitates webinars hosted by different departments and schools across campus.
International admissions representatives also go to great lengths to make sure they are aware of current trends and changes in global education. Many of them are involved heavily in professional organizations dedicated to international learning. Each year, recruiters rotate what area of the world they are responsible for traveling to, allowing them to develop expertise in different educational systems and have a broader sense of education around the world.
Although international admissions representatives show great dedication and effort to recruiting students, Wilkerson said they are not engaged in a hard sell. The majority of students they meet are familiar with, interested in and impressed by IU. Wilkerson believes the dedication of the university to be engaged on a global level has helped solidify its shining reputation among international communities.
Similarly, Wilkerson said that IU as an institution understands the benefit of having students bring global perspectives to campus as well. Not only does it allow American students to interact with and understand other cultures, it fulfills an expectation of employers for students to be able to navigate diverse groups of people.
"We could not be better positioned in terms of university support to address challenges that we are facing right now," Wilkerson said. "What we do is viewed by leadership as a key part of the learning mission of Indiana University, and that sets us apart from many of our peers. It's also a message that goes noticed among international students, parents and high school counselors."