It's no surprise that when IU School of Education faculty learned how the devastation from Hurricane Maria affected Puerto Rico and Latin America last fall, their thoughts were immediately with students and schools in the region.
The school has a long history of global engagement. Its Center for International Education and Development Research supports global scholarship that aims to improve education around the world. The school has hosted teachers from around the world participating in the Fulbright Distinguished Award in Teaching Program for the past four years. Education students can choose to complete their student teaching in one of 18 countries through the Global Gateway for Teachers program.
So it was almost a reflex for professor Bradley Levinson, associate professor Carmen Medina and other members of the IU community to reach out to their colleagues at the University of Puerto Rico to ask how they could help.
The answer was the IU Bloomington-Universidad de Puerto Rico Education Graduate Scholars Program, which has allowed IU Bloomington to host six postgraduate education students from the University of Puerto Rico working on their theses and dissertations from Feb. 20 until April 30. Thanks to support from IU Vice Provost John Nieto Phillips, School of Education Dean Terry Mason, the Center for International Education and Development Research, Residential Programs and Services and several faculty members, IU is providing housing, resources for research, mentorship from faculty members and, hopefully, some peace and quiet to these scholars.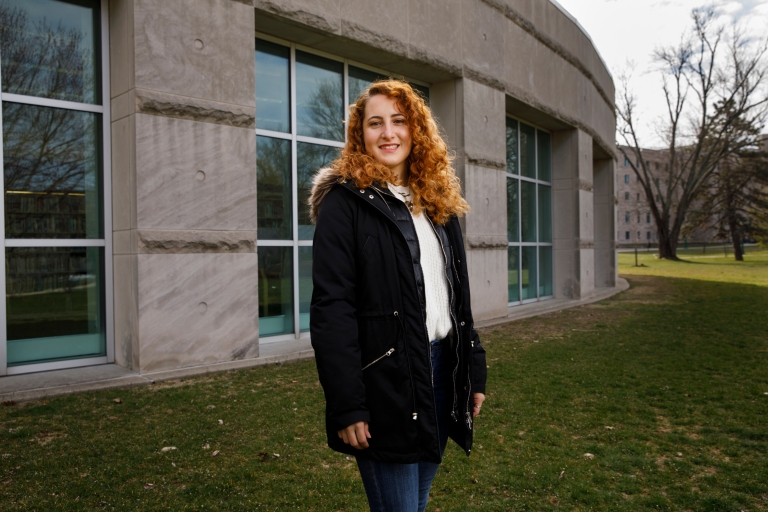 "We really want them to engage with people in the United States that actually care about Puerto Rico and communities in need," Medina said. "There has been so much media coverage on the lack of support for the island, but at the community and university level there have been many initiatives that work against rhetoric that says Puerto Ricans have no value."
Many mainland universities initially planned to offer in-state tuition to students from Puerto Rico, but IU sought a different approach after University of Puerto Rico faculty members published a letter in the Chronicle of Higher Education pointing out that these arrangements were luring the brightest students away from the region and contributing to "brain drain."
All the scholars visiting IU have completed all their coursework and will remain fully matriculated at the University of Puerto Rico while working on theses in Bloomington. Ashley Miranda Negron, who is a master's student at the university's Mayaguez campus, researches translanguaging and the use of American Sign Language as a tool for English learners. She said the program will allow her to finish her thesis before she heads to Costa Rica in June to work as a secondary education English teacher trainer for the Peace Corps.
"We have all been amazed at the enormous amount of resources available for students here," Miranda Negron said. "I have three different libraries I can walk to in three minutes from where I'm living on campus. IU leads students to success. If students don't succeed here, it's because they don't want to. In Puerto Rico, it's not about not wanting to succeed, it's about making due with the resources available."
The opportunities IU offers to students have been both a blessing and a curse, according to Miranda Negron. She said she is constantly having to choose between attending compelling lectures, participating in arts and entertainment around town, and working on her thesis. Francisco Muniz, a doctoral candidate at University of Puerto Rico's Rio Piedras campus, agrees that getting to know Bloomington has been a perk of the program.
"This fellowship has been an unforgettable experience," he said. "The hospitality here has been amazing, and the professors participating in this project are so helpful in showing us around campus and Bloomington. Getting to be at a university in the States has been invaluable since I've been living in Puerto Rico all my life."
IU has a great deal to benefit from these scholars too, according to Levinson. The scholars have been visiting with undergraduate classes, plan to speak at the Inspire Living Learning Center for students interested in education and will present their research findings before they leave campus. Levinson said that IU education scholars also have a lot to learn from Puerto Rican scholars and their response to the disaster.
"As scholars, we can learn a lot about how an island community still burdened by its colonial past struggles to rebuild its education system, and perhaps we can even share insights about these efforts with other post-disaster or post-conflict areas," he said.
Medina agrees that the overarching goal of IU's global engagement is to make Indiana and the world a better place.
"We hope this project aligns with the current commitment of IU to be a global university and work at intersection of global and local issues," she said. "The university's work in the international context is way more than recruiting students; it's about finding solutions to problems and providing better conditions for everyone."