Eighty faculty, staff and administrators from over 20 universities converged on Indiana University Bloomington last week to share ideas and discuss best practices for using data analytics  to help students be more successful in college.
The "Framing the Future of Learning Analytics and Student Success" summit was hosted by IU Bloomington's Center for Learning Analytics and Student Success. It featured "lightning round" presentations, small-group discussions, poster sessions and a keynote address by Dennis Groth, the IU Bloomington vice provost for undergraduate education.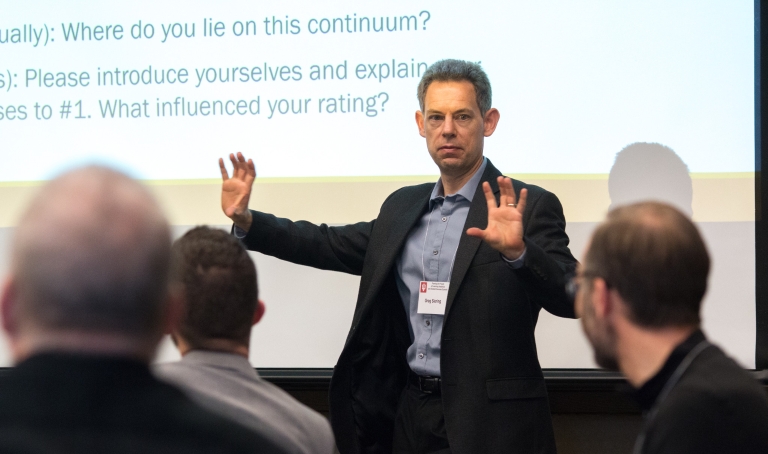 George Rehrey, director of the center and organizer of the summit, said IU Bloomington has built a solid network of faculty who use data analytics, predictive modeling and other quantitative research methods to improve the effectiveness of college-level curriculum and teaching.
"What we're trying to do is to expand that network, to build a network of communities that are trying to improve the success of students at other institutions like ours," he said.
In plenary sessions, summit participants heard from Greg Heileman, associate provost for student and academic life at the University of Kentucky, and Marco Molinaro, assistant vice provost for educational effectiveness at the University of California, Davis. Along with participants from the University of Toronto, the University of Michigan and other schools, IU staff and faculty were well represented in the lightning rounds, 10-minute presentations that briefly described a variety of learning analytics projects.
Molly Burke and Anthony Guest-Scott from the Student Academic Center described evaluations of a study-skills course and a class for students facing academic probation. Jennifer Meta Robinson of the Department of Anthropology discussed an analysis of "grade surprise" that often greets students when they start college. Maresa Murray and Sarah Young of the School of Public Health-Bloomington talked about using data to track students' movement in and out of the school. Additional IU presentations involved assessing the success of library guidance, language courses and study-abroad experiences.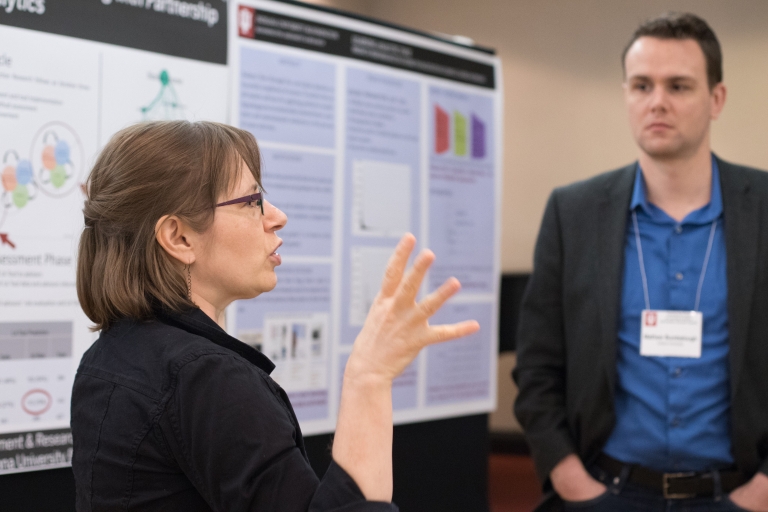 IU Bloomington began to encourage faculty  to use learning analytics four years ago, and the project took off – faculty were recognized for their work last month at an international conference in Sydney, Australia.
Rehrey said the initiative began when the Center for Learning Analytics and Student Success, part of the Office of the Vice Provost for Undergraduate Education, awarded 10 grants for IU Bloomington faculty fellows in learning analytics. The idea proved popular and grew until there now have been more than 40 faculty fellows whose studies have made use of 3.2 million data points describing the academic behavior of 110,000 students.
Faculty typically start by posing research questions about the experiences of their own students, Rehrey said. Eventually they expand their focus to include the practices and expectations of students and faculty in their respective academic departments.
"We are leveraging the main characteristics of faculty members on a research campus," he said. "They are inclined to conduct research to solve problems. That's what they've been doing their entire careers, but now their research is about student learning and success."