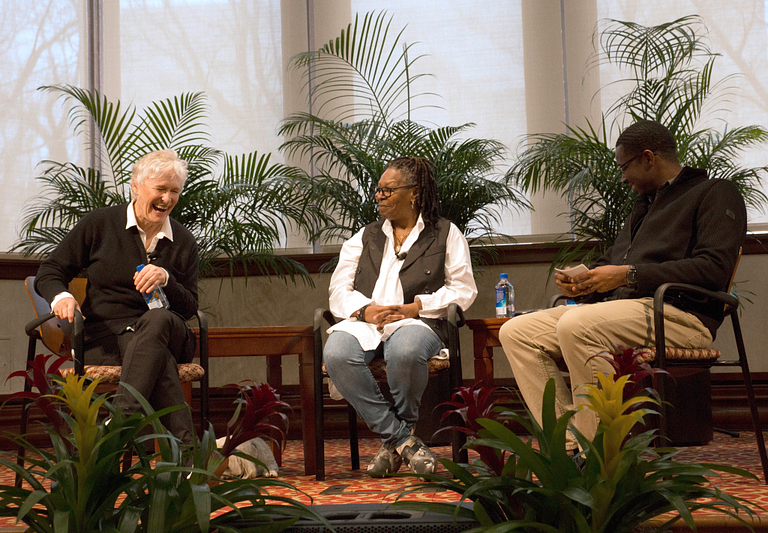 Since helping to create the U Bring Change 2 Mind College Toolbox Project on the Indiana University Bloomington campus four years ago, Academy Award-nominated actress Glenn Close has visited IU numerous times to further her mission to reduce the stigma associated with mental illness.
When Close visited the campus again Saturday, she brought along a special guest, fellow actress and friend Whoopi Goldberg, to host "A Conversation on Life, Acting and Mental Health."
"Whoopi has always been increasingly generous," Close told the crowd. "She came to the first gala for Bring Change to Mind. I was taught by my father that an act of presence is very important. You don't have to know what you are going to say, and you don't have to say anything. The fact you are there is very important, and Whoopi has always been there for me."
The duo answered questions from a group of about 300 people, mostly students. George Hutchins, a junior studying biochemistry and sociology and the president of U Bring Change 2 Mind, facilitated the discussion that started with a brief history of the College Toolbox Project.
Close started Bring Change 2 Mind in 2010 in honor of her sister, who was diagnosed with bipolar disorder. After meeting IU Distinguished Professor of Sociology Bernice Pescosolido, who serves on the Bring Change 2 Mind scientific advisory board, the two created the U Bring Change 2 Mind College Toolbox Project. The student-run pilot program is developing, testing and evaluating programs and activities for college students centered on destigmatizing mental illness.
"There is no other university doing this anywhere in the world," Close said.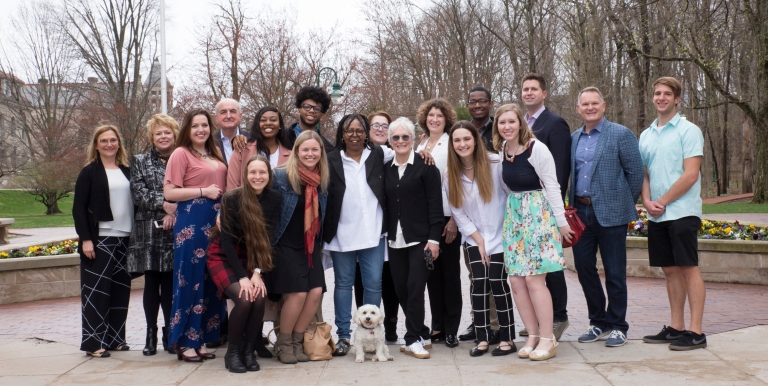 Throughout the two-hour presentation, the acclaimed actresses kept the audience laughing, nodding their heads in agreement and breaking out into applause. Many questions focused around mental illness and ways students can help move the needle when it comes to stigma surrounding the issue.
Goldberg's advice was straight-forward and simple: Put down the cellphone, watch your involvement in social media, and don't be afraid to ask for help.
"Don't get me wrong, I like social media," Goldberg said. "But you are allowing people who don't know you to define you. You take that to heart, and it makes people very anxious. Suddenly now you are being talked about in a way that has nothing to do with what you are doing.
"Don't read the comments, stop posting everything, and start trying to figure out how you feel based on how you feel, not what people are telling you you should feel."
The duo also emphasized the importance of connecting with people offline and showing empathy to others by reaching out to neighbors, friends and community members who might be struggling.
"An interesting fact is that we evolved to be empathetic in order to survive, and the thing that is most powerful between two human beings is two eyes looking into two eyes," Close said. "When it becomes about looking into all these different screens, you lose the capacity to be truly empathetic. Looking into our eyes is the most powerful thing."
Both actresses also discussed the topic of celebrities speaking out about their own mental health issues and how it is portrayed in movies, television and the media. Close spoke about the iconic character Alex Forrest, who she portrayed in the 1987 movie "Fatal Attraction." Looking back, Close said it astounds her that neither of the psychiatrists she consulted one ever mentioned the possibility of the character having a serious mental illness triggered, possibly by early childhood trauma.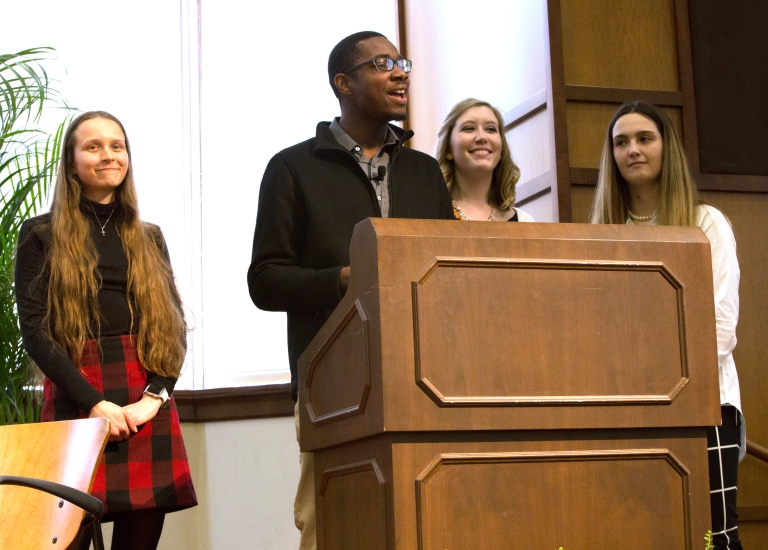 In addition to mental illness, the duo also answered questions about acting, being successful in the business, how they prepare for a role and the characters that have stuck with them, either positively or negatively.
Although Goldberg said she doesn't have a specific method for getting into character, she did speak about the one character she had a hard time shaking: Alice Adrose from "For Colored Girls." You have to be careful immersing yourself in someone else, Goldberg said.
Goldberg encouraged students interested in a career in the entertainment industry to learn their craft and take their future into their own hands.
"This is your art form," she said. "If you want to know about it, you have to learn everything that goes into marking this art."
"I assume a lot of people don't know the hard work that goes into becoming an actress and then being able to stay in a career," Close added. "It is about craft; it is about your voice and how collaborative we are."
After the event, the actresses posed for pictures with the audience and members of U Bring Change 2 Mind. For Hutchins, who became involved with the organization his sophomore year after attending a call-out meeting, the event was just another demonstration of the power of U Bring Change 2 Mind and the need for conversations around mental illness.
"To have an advocate such as Glenn Close associated with U Bring Change to Mind, and now to have Whoopi Goldberg come to campus and speak on the issue, shows me the vast extent to how important battling the shame associated with mental illness is," Hutchins said. "Mental illness is not something that discriminates by race, ethnicity, gender or sexual orientation. Mental health affects us all."