Beloved 'Sweetheart Tree' outside Chemistry Building to be replaced for safety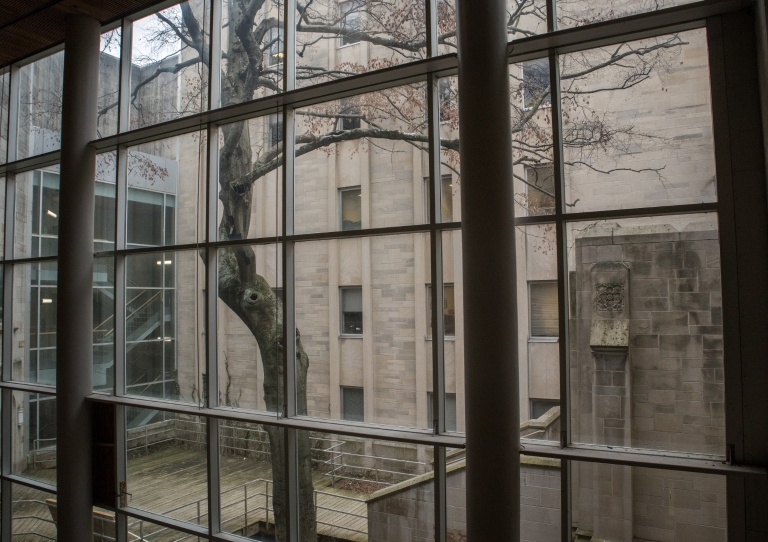 Any student who has taken a tour of the Indiana University Bloomington campus has at least heard of the "Sweetheart Tree" growing in the Chemistry Building courtyard. Many have carved their initials in the tree alongside their sweetheart's initials. But the beloved tree had to be removed recently because its declining health raised safety issues.
The American beech tree has stood outside the Chemistry Building at least since it was constructed in 1931 and possibly longer. When subsequent expansions to the building were made in 1964 and 1986, architects built around the historic tree instead of removing it. Unfortunately, these conditions and years of carving into the bark may have contributed to the deterioration of the tree.
A new American beech will be planted in the tree's place after reconditioning of the soil and other building maintenance occurs.
Grand Challenge policy seminar series to host Jeffery Talbert
Jeffery Talbert, a professor at the University of Kentucky, will speak at 3 p.m. April 26 in the Social Science Research Commons Grand Hall in Woodburn Hall. A reception, from 4 to 4:30 p.m., will be followed by a group meeting and discussion until 5 p.m.
Talbert, whose talk is titled "State Policy Options to Address the Opioid Crisis," will present an overview of the status of the opioid epidemic, review a range of state policy interventions and outcomes, and discuss lessons learned and future challenges.
His talk is part of the Addictions Grand Challenge Policy Seminar Series.
Groundbreaking ceremony scheduled for Arthur Metz Carillon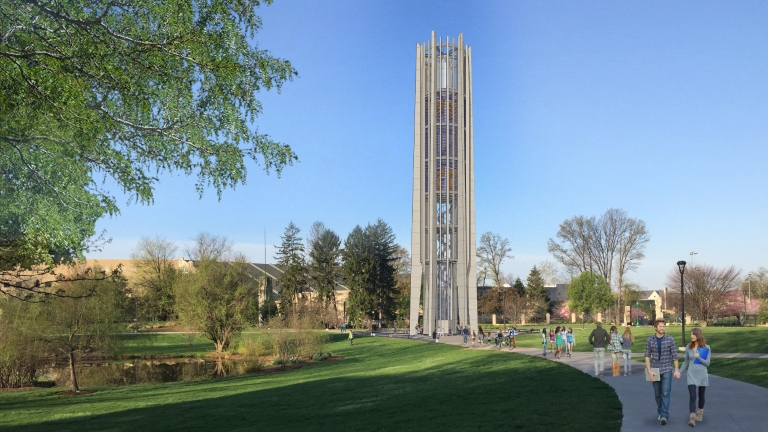 EDITOR'S NOTE: The groundbreaking ceremony has been canceled and will be rescheduled at a later date. A groundbreaking ceremony for the new location of the Arthur Metz Carillon will take place from 4 to 5 p.m. April 23 in the Arboretum.
In April 2017, the IU Board of Trustees approved a plan to relocate and renovate the carillon to the center of the Bloomington campus as an IU Bicentennial initiative. The carillon will be upgraded with four new bells, bringing the total to 65 bells and making it a grand carillon, one of fewer than 30 in the world and one of only a handful nationwide.
Conference at IU Bloomington to explore perspectives on 'Age of Humans'
Leading scholars of religion, ecology, philosophy, earth systems and other disciplines will be at IU Bloomington next month for an international conference focused on the changing conceptions of what it means to be human.
The conference, "Religious Perspectives and Alternative Futures in an Age of Humans," will take place May 17 to 20 in the Indiana Memorial Union on the IU Bloomington campus. It is open to the public, and registration information is available on the conference website.
Office of Sustainability announces Innovation Fund winner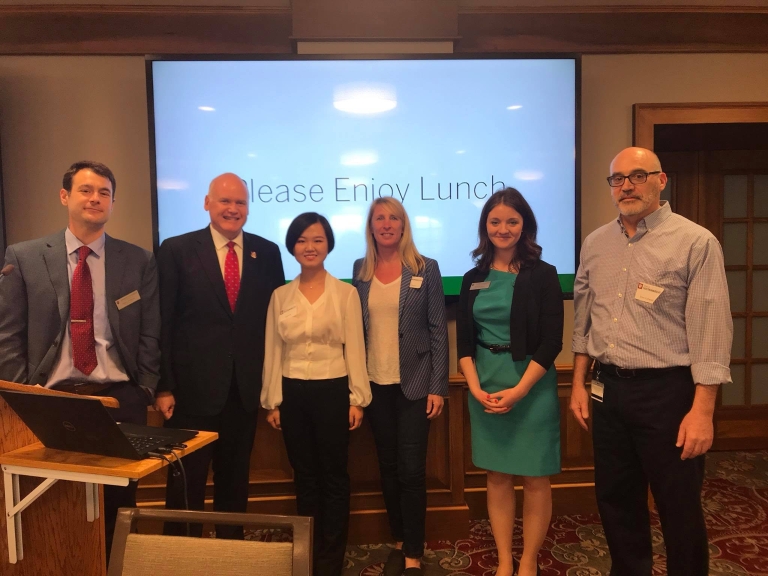 The IU Office of Sustainability has announced the winner of the Innovation Fund: "Towards Zero Waste." This initiative was proposed by the Resource Use and Recycling Working Group, co-chaired by Kelly Eskew, clinical associate professor of business, law and ethics in the Kelley School of Business; and Tom Fallwell, area coordinator for Building Services; and assisted by working group intern Jing Gu.
The Resource Use and Recycling Group proposed an innovative campus waste characterization assessment as the first step in moving the campus toward zero waste. The project will result in multiple "living lab" demonstration and test sites in campus waste operations that promote partnerships between diverse units, including facilities, faculty, Residential Programs and Services, and Athletics.
The proposal will address campus operations in a cost-effective way to ensure that IU continues to steward the resources entrusted to it, and recruit the best students, faculty and staff to the campus. The group plans to kick off its work this summer, audit several campus sites – including a football game this fall – and present data and next steps late in the fall semester.
The review committee was impressed by the proposal team's clear connection to the IU Bicentennial Priorities, plans to use campus as a lab, support from faculty and intensive work done to prepare the proposal, including requesting input from waste consultant experts.
Register by April 19 for Bloomington retreat focused on medical research, opioid crisis
Researchers and community leaders will explore issues related to opioids and addiction at this year's Indiana Clinical and Translational Sciences Institute Retreat on April 25 at IU Bloomington. The deadline to register is April 19.
The institute is a statewide research partnership among IU, Purdue University, the University of Notre Dame and numerous life sciences businesses and community organizations. It has been continuously funded by multimillion-dollar awards from the NIH since its founding in 2008.
The institute's IU Bloomington retreat, themed "Medical Science Solutions to Indiana's Opioid Crisis," will feature lectures by top scientists and government officials, as well as valuable opportunities to network with investigators from across the state. Participants also will be invited to learn more about research resources and services available through the institute.
Keynote speakers include:
Kristina Box, Indiana state health commissioner
Joshua Sharfstein, vice dean for public health practice and community engagement, Johns Hopkins Bloomberg School of Public Health
Diana Martinez, associate professor of psychiatry, Columbia University Irving Medical Center
Wilson Compton, deputy director, National Institute on Drug Abuse, National Institutes of Health
The retreat will take place from 8 a.m. to 2:30 p.m. at Presidents Hall in Franklin Hall. It is free and open to the public. More information is available on the full agenda.
Learning analytics summit aims to build network of communities focused on student success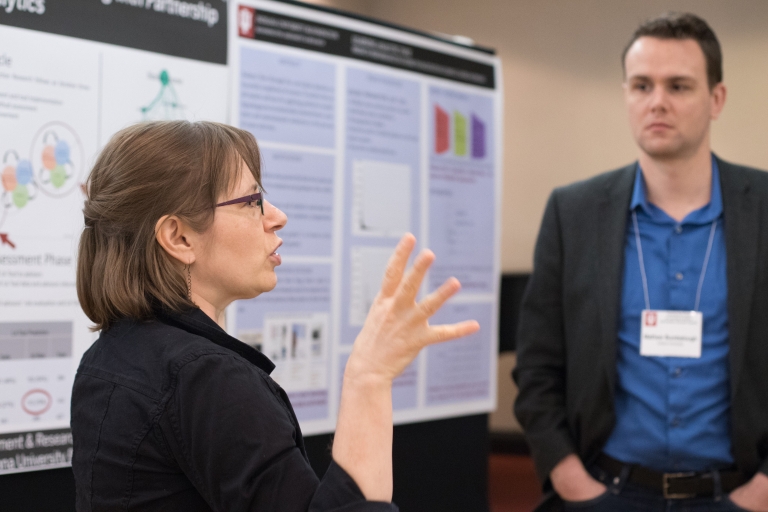 Eighty faculty, staff and administrators from over 20 universities converged on IU Bloomington last week to share ideas and discuss best practices for using data analysis to help students be more successful in college.
The "Framing the Future of Learning Analytics and Student Success" summit was hosted by IU Bloomington's Center for Learning Analytics and Student Success. It featured "lightning round" presentations, small-group discussions, poster sessions and a keynote address by Dennis Groth, the IU Bloomington vice provost for undergraduate education.
Summit participants heard from Greg Heileman, associate provost for student and academic life at the University of Kentucky, and Marco Molinaro, assistant vice provost for educational effectiveness at the University of California, Davis. Along with participants from the University of Toronto, the University of Michigan and other schools, IU staff and faculty were well represented in the lightning rounds, 10-minute presentations that briefly described a variety of learning analytics projects.