Coursework that combines her passion for civic engagement with her passion for sustainability is what brought Olivia Ranseen to Indiana University, and the opportunity IU has given her has only heightened her dedication.
Ranseen, from Nashville, Tennesee, is now a junior studying environmental management through the School of Public and Environmental Affairs at IU Bloomington. She heard about SPEA and IU through an NPR program and has been passionately working for the community since she arrived on campus.
Because of her work on numerous projects throughout the IU and Bloomington communities, Ranseen has been named a Newman Civic Fellow. Bill Brown, director of the Center for Rural Engagement, said it did not take IU Bloomington faculty long to produce a nominee.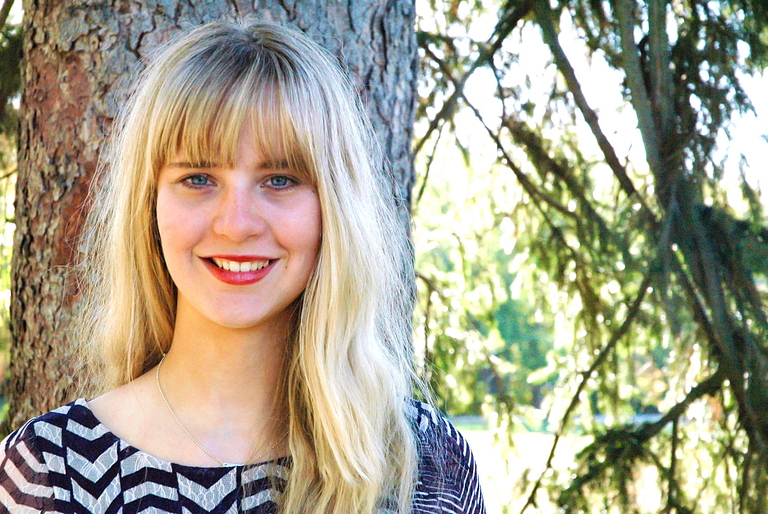 "She has such an intense passion for civic leadership but also for sustainability, and it was an immediate consensus when we read the qualifiers," Brown said.
The Newman Civic Fellowship is an award given by Campus Compact, a national coalition of colleges and universities whose mission is to promote civic education and community involvement. The fellowship is named after Campus Compact founder Frank Newman and is awarded to students who are dedicated to solving problems facing their communities. The fellowship offers training and resources to around 260 students each year to help them further their efforts.
Ranseen started her work right out of the gate her freshman year as part of the 2020 Sustainability Scholars program, which allows students to be a part of a real-world research project. She utilized her interest in theater to work with her mentor, professor Paul Brunner, on their project "The Waste Stream in Theatrical Production and a Vision for the Future." As a part of this team, she and her colleagues developed more efficient procedures for theater productions; their project was also featured in the journal Theatre Design & Technology.
"What's been awesome about IU is that I have found all of these places where my interests can intersect, and it gives me hope that I can continue to do this the rest of my life," Ranseen said.
Her work can also be seen in other areas of campus. While serving as the director of sustainability for Briscoe Quad her freshman year, Ranseen worked with Steve Akers, associate director for environmental operations with Residential Programs and Services, to bring 100 recycling bins to the dorm. As president of the Union Street Residence Hall last school year, she strived to make all events zero-waste. This lead to an ongoing effort throughout the IU community, and now Callie Walken, the current director of sustainability for the Residence Hall Association, has made all RHA events zero-waste.
"To see others take the projects that I have worked on and further them to make them incredible, that's what is really inspiring," Ranseen said
Ranseen's work goes beyond campus to include collaborations with the city of Bloomington's sustainability efforts. She worked directly with the Bloomington Food Policy Council to research and create a proposal to help local farmers better sell their goods to institutions. She is also a commissioner on the city's Commission on Sustainability.
"It's really amazing because I never pictured my work reaching such heights, but it has been amazing to be a part of all of these IU things that are also intertwined with the city," she said.
Although Ranseen is currently focusing on her studies while abroad in Chile, she already has some ideas for projects she hopes to implement when she gets home. With this fellowship, Ranseen will have the opportunity to become part of a network of fellow student-leaders, as well as continue her civic and environmental efforts throughout the next academic year.