The Office of Sustainability hosted our annual Spring Sustainability Symposium this month. We celebrated the outstanding work of our 18 interns, recognized our most outstanding intern and intern mentor, and shared a little about recent sustainability successes.
Like the Campus Catalyst Awards, the Energy Challenge and the Arbor Day tree planting, the symposium has become part of the annual sustainability calendar on campus, providing a natural platform to reflect on the accomplishments of the year, express gratitude and look ahead to the coming year.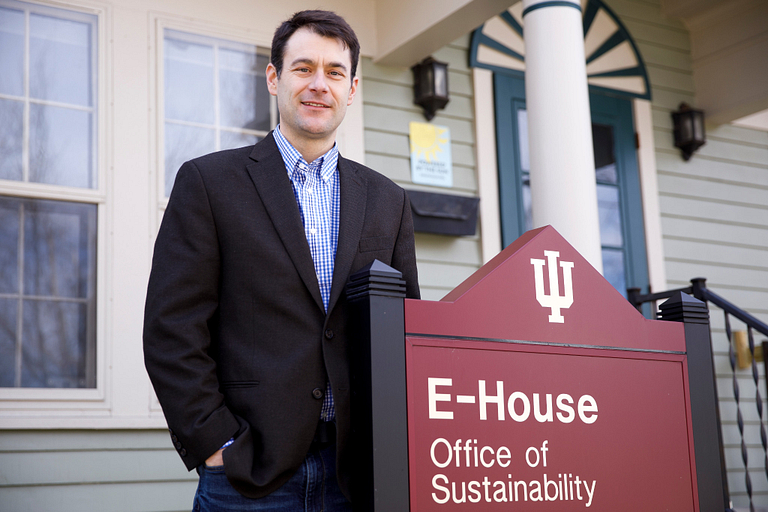 Sustainability – the quest for thriving communities that are respectful of ecological boundaries – is an enormous challenge and one that can only be accomplished collectively. The challenge is attainable, however, and the sense of teamwork and collaboration that I've seen during my four years at Indiana University makes me optimistic.
During this time, the growth in sustainability research and teaching has been inspiring. We are offering more sustainability classes than ever before across an increasing number of academic units, and an unprecedented investment in the Grand Challenges program has given rise to the new Environmental Resilience Institute.
More opportunities exist for students to work on sustainability research. For instance, the Integrated Program for the Environment and the Office of Sustainability have collaborated on the Sustainability Scholars Program, which gives 15 talented freshmen and sophomores, working closely with our world class faculty, the opportunity to conduct sustainability research on a wide range of topics, including the stewardship of the Jordan River watershed and exploring the geography of food insecurity in rural Indiana.
For upperclassmen and graduate students, we offer the Sustainability Research Development Grant program; it recently funded seven projects, including those exploring cybernetic gardens and the politics of trash management in South Asia. This work means that IU's best and brightest faculty and students are exploring and looking to strengthen the connections between healthy ecosystems and the well-being of human communities, in Indiana and beyond.
While supporting research and teaching, the Office of Sustainability's most direct contribution, when it comes to academics, is to give students opportunities to apply what they are learning in the classroom to the real world, whether on or off campus. At the heart of this is our internship program, which uses the campus as a learning lab, where our students lead change in the areas of transportation, energy, food, recycling, and more. I'm proud of all that we are doing in this space.
Additionally, because all sustainability can't be learned on campus, we have the Indiana Sustainable Development Program, a partnership between Office of Sustainability and the new Center for Rural Engagement, which sends students across the state to work with municipalities and nonprofits in sustainability, and with businesses committed to greening their practices. We are grateful for the McKinney Family Foundation and their continued commitment to this new program. Collectively, these opportunities mean that more IU students than ever before are graduating prepared to make an impact and contribute to a more sustainable Indiana.
Excellence in university sustainability involves more than just research and teaching; it includes applying best practices to campus. And working on operational sustainability happens to be good for the long-term health of the university as recognized by the university's Bicentennial Strategic Plan, which lists "sustainability, stewardship and accountability for natural, human and economic resources and relationships entrusted to IU" as a core value.
Again, IU is making tremendous strides. Our IU Bloomington sustainability rating continues to place at the gold level, according to the Association for the Advancement of Sustainability in Higher Education, giving IU the highest rating in the Big Ten Conference.
This indicates all the good work continuing to happen across campus, whether it's recent gains in reducing energy use per square foot and waste per person, or IU's continued leadership in green or LEED-certified buildings, which benefit efficiency as well as human health and productivity. Continued progress in these operations areas is a priority for the coming year; we are hosting an operations-focused sustainability planning effort in early May to ensure that we work hand in hand to meet important sustainability goals together.
All that has been achieved, and all of IU's sustainability victories in the future, will be attributed to great teamwork. As with our athletics teams, we need all sorts of participation to continue the great momentum; we need leaders, we need doers, and, most importantly, we need critical thinkers and questioners.
To that end, the Office of Sustainability will be embarking on a transformation, to ensure we have participation from the campus, the classroom and the community. Over the summer we will be working closely to capture the mission of sustainability at IU – and move beyond our office to create SustainIU. Stay tuned for more details from our office on this endeavor and how you can be integral to sustain IU.
Andrew Predmore is the IU director of sustainability.