For more than a quarter century, Indiana University Kelley School of Business professor Andreas Hauskrecht has advised the Vietnamese government and its central bank on monetary policy and macroeconomic issues.
Hauskrecht, a clinical professor of business economics and public policy, has been a senior advisor to four prime ministers and five central bank governors in the Southeast Asian country over the past 27 years. Today, he co-directs the Vietnam Initiative, a 60-member international think tank, with Anh Tran, an associate professor in the IU School of Public and Environmental Affairs and the institute's founder.
"Andreas combines both world-class macroeconomic expertise and captivating presentation style. His expertise is not only rigorous but also very practical for real-world policy. That's why Vietnamese leaders keep coming to him for advice," Tran said.
In mid-March, Vietnam's deputy prime minister, Vuong Dinh Hue, hosted a reception in the nation's capital Hanoi for Hauskrecht, publicly thanking him for his efforts. The event received extensive news coverage.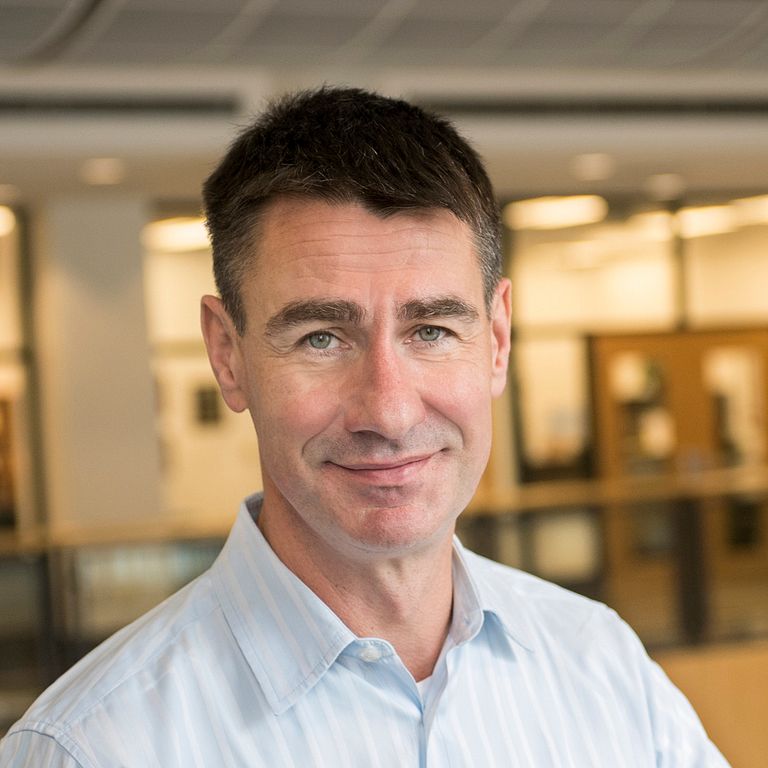 According to local media reports, Hue told Hauskrecht that Vietnamese leaders appreciate the "invaluable feedback" they receive from scholars like those at IU. He said the country's prime minister, Nguyen Xuan Phuc, wants to hear more first-hand input from the IU-based Vietnam Initiative.
"Hue proposed Professor Hauskrecht continue assisting Vietnamese agencies in the near future, particularly sharing information and experience in financial management in connecting with the U.S. prestigious professors and scholars, and the world's leading think-tanks and experts," said one report from The Voice of Vietnam.
The reception was part of a whirlwind two-week visit to Vietnam by Hauskrecht, during which he also spent seven days with students in the Kelley Full-Time MBA Program's GLOBASE program and gave numerous policy presentations, including to the International Monetary Fund's representative in Vietnam, central and national banks, and governmental officials.
He also spoke at the Ho Chi Minh Academy for Politics and at a seminar and a workshop for local commercial banking and financial securities firms, organized by the Vietnam Initiative in cooperation with Vietnam's largest bank, BIDV.
Hauskrecht, who came to Kelley in 1997 as a visiting scholar and joined its faculty in 2001, said he was humbled by the recognition for him and the institute.
"The Vietnam Initiative is really gaining momentum and is well-known and well-received. We are respected as independent minds," he said.
Members of the Vietnam Institute include fellow academics from other top U.S. universities, including the University of Chicago, Yale University and Duke University, and scholars, political scientists and policymakers from across Europe and in Vietnam.
When he began his work in 1991, the gross domestic product per capita was $73. Today, it's $2,300, and Vietnam is one of the fastest-growing economies in the world.
"It is very rewarding that after 27 years, they see that I am still adding value. It makes me happy," he said.
Hauskrecht became interested in Vietnam when an official delegation in 1990 visited Freie Universitaet Berlin, where he was teaching at the time. He went to Vietnam and was introduced to Võ Văn Kiệt, who served as prime minister of the Socialist Republic of Vietnam from 1991 to 1997.
"He and I became very close allies and friends," Hauskrecht said. "To give someone the highest respect in Vietnam is to call them 'uncle,' or 'chú.' I didn't call him by his name, but I called him 'Chú Sáu.' He was born on a Friday, the sixth day of the week, the sixth child of his parents."
Văn Kiệt introduced Hauskrecht to other Vietnamese leaders, and his successors as prime minister "basically inherited me as their advisor."
During his presentations, Hauskrecht reviewed U.S. fiscal and monetary policies in recent years and their impact on Vietnam. He offered macroeconomic recommendations to the Vietnamese government for 2018 and subsequent years. 
In addition to Vietnam, he has advised the nations of Bolivia, Ecuador, Laos and Moldova on their central bank policies.
He said his experiences "enormously" help inform his courses in macroeconomics, capital markets and finance for undergraduates, as well as his policy and international economics courses at the master's and doctoral levels.
"It's one thing to read about it in a book and understand it intellectually, but I know how complicated it is to set up a banking system and a capital market," he said. "I know how important it is to introduce the right accounting standards and the right auditing standards. I know how difficult it is to design the right monetary policy depending on a changing market environment. Basically, everything that I am teaching, I have done – either directly or through the hundreds of consultants on the ground working with me.
"For my students, it's very beneficial, because I come with the theoretical concepts. … When I teach, I give very specific examples, and they realize right away that I know what I'm talking about, because I've applied it."
George Vlahakis is associate director of communications and media relations at the Kelley School of Business.