Being a cashier at the C-Store in Indiana University Bloomington's McNutt Quadrangle can be stressful. But Residential Programs and Services Dining employee Oscar Arreaza has a simple strategy for keeping his cool: He has fun.
"I have seen many cashiers over the years stressing themselves out," Arreaza said. "What I do to avoid stressing is I always have a good time."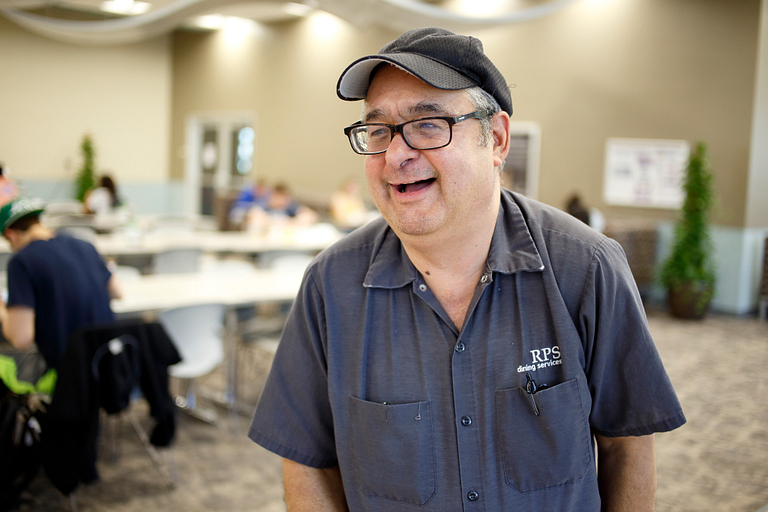 Since he began his job at McNutt in 2010, Arreaza has made it a priority to have enjoyable and entertaining interactions with students. He asks students about themselves, he remembers details like who they're dating or when their next exam is, and he's always prepared to tell a joke or two.
The students who frequent the McNutt C-Store have taken an interest in Arreaza as well. When the IU men's basketball team was playing University of Maryland, Arreaza's alma mater, they gathered at his cashier stand to playfully heckle him. He said that occasionally he'll have a long line at his register while the other registers have no line, because the students are eager to say hello to him.
The bond between Arreaza and the students he interacts with was evidenced this week when he shared with Pi Beta Phi sorority members Becca Richter and Olivia Diddlebock that his 38-year-old daughter Mariana, who lives in Venezuela, is suffering from internal bleeding and needs surgery. On Wednesday during his noon lunch break, Arreaza got emotional chatting with Richter and Diddlebock about his daughter's condition. By the time his shift was over at 4 p.m., students had banded together to raise more than $6,000 for Mariana. 
"A few girls came to me at the end of my shift and said 'Let's go. We have a surprise for you,'" Arreaza said. "We took the elevator to the second floor, and when the doors opened a crowd of students were cheering and screaming, 'We love you, Oscar.' I felt like a movie star."
A heartwarming video of the students presenting Arreaza with some collected cash and a note indicating that the Alpha Epsilon Pi fraternity would be contributing $3,000 was shared via Twitter and quickly went viral. The video, which as of 2 p.m. Friday had garnered more than 1.4 million views and 25,000 retweets, inspired more people to donate to the cause.
So far, more than $9,000 had been raised, with contributions coming from more than 700 IU students, IU alumni, and students at schools like University of Alabama, Illinois State University and Purdue University. Richter said it was important to her to be able to help Arreaza, who helped her feel more at home when she first moved into McNutt.
"When I first came to IU in August, I was very homesick and out of my element in the beginning, and Oscar was one of the first people I got to know here," Richter said. "Every time I would go to the C-Store, he would have a big smile on his face and make conversation with me before checking my items out and saying, 'Thank you my friend.' I always make it a point to only check out in Oscar's line so that I can see him and talk to him a bit."  
Arreaza, who said that joking with and caring for students comes naturally for him, is still in shock at the kindness the IU community has shown him.
"I wasn't expecting that reaction of love at all. All I've ever done is be courteous to these students," he said. "May 4 is my birthday, and these kids have surprised me with the best gift I could ask for."