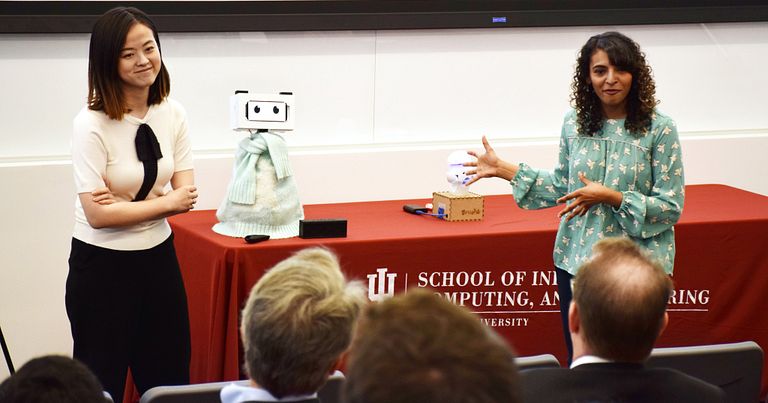 BLOOMINGTON, Ind. – The desire of two Indiana University graduate students to help children led them to create "Buddy," a robot that encourages children with cleft lip and palate to do speech therapy in the form of storytelling in their homes, among friends and family. The project won first prize at the third annual Cheng Wu Innovation Challenge on April 11, topping seven other entries to win $7,500.
Children born with a cleft lip and palate experience social stigmas because of their physical differences. They also have trouble articulating words with sounds that require rolling the tongue so it meets the roof of the mouth.
Tingyu Li and Pavithra Ramamurthy are second-year master's degree students in Human-Computer Interaction Design at Indiana University's School of Informatics, Computing and Engineering. They know some of the challenges faced by children with cleft lip and palate. Li's father and his team have provided 7,000 free surgeries to children, and Ramamurthy's sister was born with the condition.
Li's and Ramamurthy's desire to help children was the motivation to create Buddy.
"When a child is practicing in a clinical setting, she is thinking about how she is pronouncing the word," Ramamurthy said. "In a home setting, children get excited and talk really fast. That is the context Tingyu and I want to give.
"In a more comfortable surrounding where they are more at ease, they can take on the engaging activities of storytelling and visualization. Their friends are participating, their family is participating. The children are not alone. And as they go through the process, they're using the words in continuous speech."
Buddy also provides visual references to children about how to pronounce words. Ramamurthy said speech pathologists believe children will understand, articulate and practice better when they can see the enunciation very clearly and in a large format.
Li and Ramamurthy said the prize will allow them to build another prototype of Buddy. The first prototype has a 3-D printed body and an animated face shown on a smartphone. It uses voice-recognition software, which allows for real-time feedback. Li said she and Ramamurthy want to recruit developers and engineers to help bring Buddy to the public.
"Seeing a child use Buddy would be the best day of my life," Li said.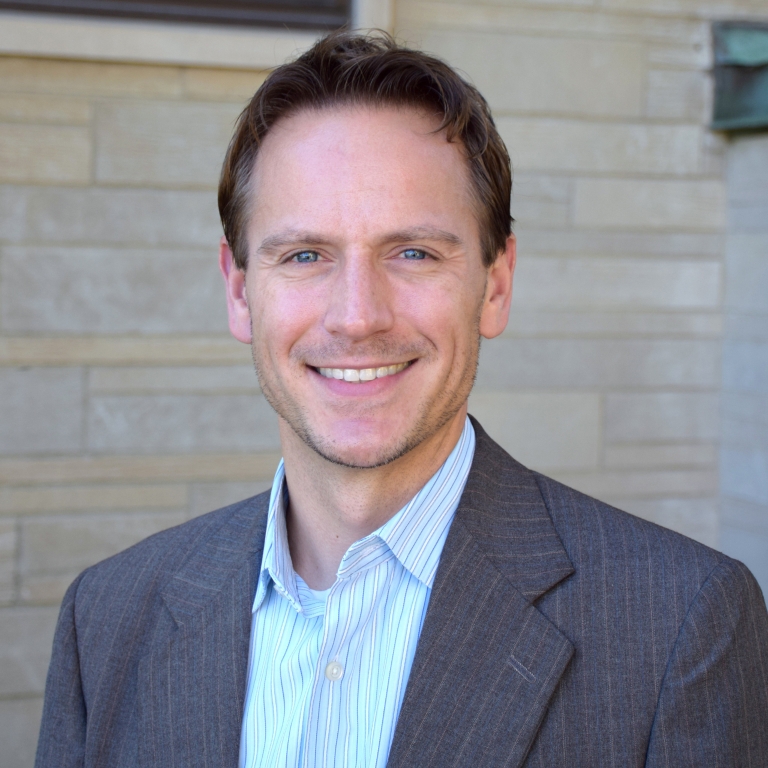 Travis J. Brown, assistant dean for innovation, entrepreneurship and commercialization at the School of Informatics, Computing and Engineering, said the Cheng Wu Innovation Challenge was launched to encourage students to use technology in innovative ways to address compelling problems.
"Freeing students from immediate commercial considerations for their technological innovations has liberated them and empowered them to come up with truly inspiring solutions," he said. "Thanks to the generosity of alumnus Cheng Wu, the challenge has become an annual event that showcases the brilliance of our students and the breadth of disciplines that comprise the School of Informatics, Computing and Engineering."
Other winning teams were:
Second place, $3,750 (tie): "Pulsar-Based Terrestrial Navigation," presented by Derek Whitley, a third-year Ph.D. student in the Complex Networks and Systems Track in the School of Informatics, Computing and Engineering, and the Cognitive Science Program in the College of Arts and Sciences.
"Pulsar-Based Terrestrial Navigation is a way to replace the use of GPS satellites and instead rely upon the radiation from a vast network of pulsars in space," Whitley said. "Currently the technology is infantile and able to track only individual pulsars at a time. The next steps would be to track multiple pulsars at a time, filter out as much noise as possible and geolocate based on that."
Second place, $3,750 (tie): "Small Donation-Big Impact," presented by Ruoxun Chen, Tian Dou, Aditya More and Marshall Robbins, all first-year master's degree students in Human-Computer Interaction Design. The project aims to educate the public about the greater impact monetary donations have to food banks versus food donations. A three-minute video of the project is available on Robbins' YouTube page.
"The 'a-ha!' moment was during an interview with Mother Hubbard's Cupboard. We were told that every dollar donated to them is equivalent to 10 pounds of food," Robbins said. "We wanted to encourage people to donate money instead of food, and we came up with the idea of visualizing the food equivalent of the donation.
"Our immediate next step is attending the CHI 2018 conference in Montréal, where we will present among several respected designers who will be able to provide great feedback on our design."