BLOOMINGTON, Ind. – Indiana University has received a $1.5 million gift from alumnus David H. Naus to establish the Naus Family Chair in Psychological and Brain Sciences, an endowed chair for a researcher in the field of substance use disorder and addiction.
The gift builds upon the existing strengths of the College of Arts and Sciences' Department of Psychological and Brain Sciences in this area. It also significantly enhances IU's own efforts to address the addictions crisis: a $50 million commitment to the Grand Challenge initiative "Responding to the Addictions Crisis." In partnership with Gov. Eric Holcomb and the state of Indiana, the program applies the resources of the university on a grand scale to reduce, prevent and treat addictions.
"Dave reached out soon after we announced the addictions Grand Challenge with an extraordinary offer to add his support for this vital work," said Fred Cate, Indiana University vice president for research. "Dave's generosity emboldens our commitment and expands our capacity to fight the opioid epidemic and other addictions today and prevent similar crises in the future."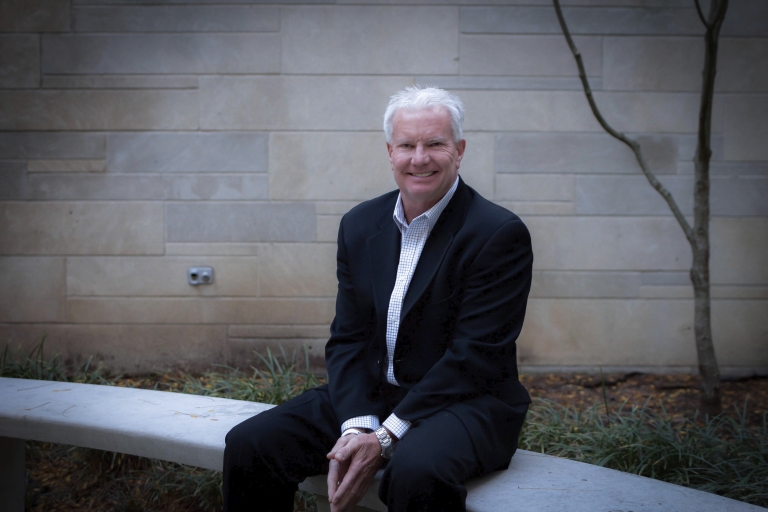 "We are grateful to David Naus for this generous gift, which will advance our ability to address addictions in Indiana and beyond," said IU Bloomington Provost and Executive Vice President Lauren Robel. "Our pre-eminent Department of Psychological and Brain Sciences is home to the oldest continuing psychology laboratory in America, where IU's world-class researchers continue to break new ground in the fields of neuroscience, concussions and animal behavior, among many other areas of foci. Addiction is one of our state's and nation's greatest challenges, and David Naus' gift will provide critical support for our efforts to tackle this growing problem."
Naus earned his bachelor's degree in psychology and economics from IU in 1977 and an MBA degree from Harvard University in 1981. He has since pursued a thriving career in commercial real estate investment, ownership and management. He formed Denver-based Equity West Investment Partners in 2003, a real estate investment firm, after serving as executive vice president of real estate investments for Equity Office Properties in Chicago, then the nation's largest owner of office real estate. In the fall, Naus was recognized by the Department of Psychological and Brain Sciences at its annual alumni celebration with its Distinguished Alumni Award, which acknowledges major achievements and success of the department's alumni.
"Addiction is such a highly misunderstood and pervasive disease, I felt compelled to act," Naus said. "Addiction is a family disease – it often emanates from family disorder, and it is a disorder that often then affects everyone in the family. It only made sense to leave a legacy in a family name; I am fortunate it is mine. I couldn't be more proud of IU and the Department of Psychological and Brain Sciences for taking the lead on this extraordinarily vital societal issue."
"Dave stands as a particular inspiration among our alumni," said William Hetrick, chair of the Department of Psychological and Brain Sciences. "We are honored and humbled by his immensely generous gift, which gives us an invaluable new opportunity to advance the science of addiction. It has, moreover, been a real pleasure to discover the great affinity Dave has for the work being done in our department. Psychology for Dave has been a lifelong intellectual passion, and his commitment to unraveling the tangled web of issues – both scientific and sociological – that has led to the current addictions crisis reflects a genuine wish to alleviate one of the most widespread and intransigent sources of human suffering."
The gift will initially be used to recruit to the Department of Psychological and Brain Sciences a new faculty member with a record of exceptional addiction-related research and teaching as well as a demonstrated ability to attract robust external funding. As a philanthropic legacy for the Naus family at Indiana University – including Naus' adult children, Nick, Christie and Charlie, as well as his brother, Jim, and sister, Nancy – it furthers one of the university's most critical missions at this time: to combat addictions and offer national leadership in confronting a pressing need.
"Mr. Naus' gift will truly improve the lives of countless individuals in Indiana and beyond," said College of Arts and Sciences Executive Dean Larry Singell. "This chair is a visionary creation, and its endowment comes at an all-too-urgent time. We are deeply thankful for Mr. Naus' generosity, and for the lasting impact on the public health addictions crisis that his generosity will have."
This gift counts toward the $3 billion campaign, For All: The Indiana University Bicentennial Campaign.
For All: The Indiana University Bicentennial Campaign is taking place on all IU-administered campuses, including IU Bloomington, IUPUI, IU East, IU Kokomo, IU Northwest, IU South Bend and IU Southeast. The campaign will conclude in June 2020 to coincide with IU's bicentennial year celebration. To learn more about the campaign, its impact and how to participate, visit forall.iu.edu.