BLOOMINGTON, Ind. – The Indiana University Maurer School of Law has inducted four new members into its Academy of Law Alumni Fellows – the highest honor the school can bestow on an alumnus.
This year's class includes one of Indiana's best attorneys, a former leader of a famed institution dedicated to advocacy on behalf of the falsely accused, a multitalented attorney and businesswoman who led one of Johnson & Johnson's biggest turnarounds, and a former minister of Taiwan's Mainland Affairs Council.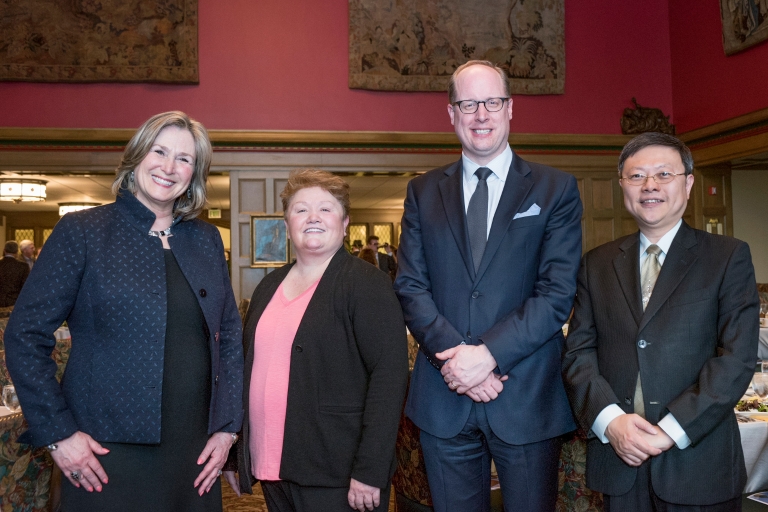 "It is truly an honor to induct four distinguished and accomplished alumni who have left their marks on their communities and the legal profession," said Dean Austen L. Parrish, the James H. Rudy Professor of Law. "These four alumni have distinguished themselves in their careers through personal achievement and dedication to the highest standards of the profession."
The 2018 Academy of Law Alumni Fellows inductees are:
Mary Nold Larimore, a senior partner at Ice Miller, where she's practiced since graduation from the law school in 1980. She is the first woman to serve in litigation at Ice Miller and the first woman from Indiana to be inducted as a fellow of the American College of Trial Lawyers. She has given back to her community in many ways, representing pro bono clients on a variety of matters before the Indiana Supreme Court. She has served on the Maurer School of Law's Board of Visitors for more than 20 years.
Jane Raley, who graduated from the law school in 1982. Raley passed away in 2014, but her legacy lives on through her exceptional work with Northwestern University Law School's Center on Wrongful Convictions, where she served as co-director for 14 years. She helped overturn 12 convictions of innocent women and men. One of them, Juan Rivera, was released from prison after nearly 20 years after DNA evidence proved his innocence. She is remembered for her tireless commitment to justice and for mentoring so many students and young attorneys who have followed in her path.
Denice M. Torres, who graduated in 1984. Torres led a distinguished executive career at Eli Lilly and Co. before joining Johnson & Johnson in 2014. She served in a number of leadership capacities within the company, including stints with Ortho McNeil Neurologics, sales and marketing for biosurgery, and Janssen Pharmaceuticals before being appointed president of McNeil Consumer Healthcare in 2011. She is credited with one of the most significant turnarounds in Johnson & Johnson's history, leading the company's remediation of quality issues and the successful return of many iconic products – including Tylenol – back to store shelves. She was named Woman of the Year by Healthcare Businesswomen's Association in 2015 and Working Mother of the Year by Johnson & Johnson in 2013. She now heads The Ignited Company and is writing a book on leadership and empowerment.
Yu-Chi Wang, who came to the Maurer School of Law from his native Taiwan, earning his LLM in 1993. He earned the school's first Doctor of Juridical Science degree in 1997, then returned to Taiwan where he became a professor in the Graduate School of Social Informatics at Yuan-Ze University and the Department of Law at Shih-Hsin University. There he became a well-known scholar in privacy and telecommunications law. In 2008, Wang began a decade of service to President Ma Ying-Jeou, beginning as secretary and spokesperson, then as a senior advisor to the National Security Council, and as minister of the Mainland Affairs Council. He was the first Taiwanese cabinet member to lead an official delegation to Mainland China since 1949. Wang has been a dedicated supporter of IU and the law school, where he serves as an inaugural member of its Global Advisory Board.
Founded in 1842, the Indiana University Maurer School of Law is the oldest public law school in the Midwest. The law school is ranked 32nd in the nation by U.S. News & World Report. It is the highest-ranked public law school in Indiana and among the top 15 public law schools nationally. The law school's programs in tax, intellectual property and international law are ranked among the top 25 in the nation.