COLUMBUS, Ind. – Indiana University has announced the acquisition by the IU Foundation of the former Republic Newspaper building in Columbus, Indiana, as a home for its new Master of Architecture degree program.
The degree program, which is based in the School of Art, Architecture + Design at IU Bloomington, is being named in honor of J. Irwin Miller, a Columbus native and industrialist who was instrumental in turning the city, now considered one of the best cities to visit, into a showcase for modern architecture. 
The announcement of the IU Foundation's purchase of the property located at 333 Second St. in Columbus was made in the Republic building itself, an architecturally important modernist building that has been designated as a nationally recognized historic landmark since 2012. The School of Art, Architecture + Design will occupy the building starting in August and begin offering courses in the new architecture degree program in the fall semester. The primary focus of the Master of Architecture program will be in Columbus, with electives offered on the IU Bloomington campus.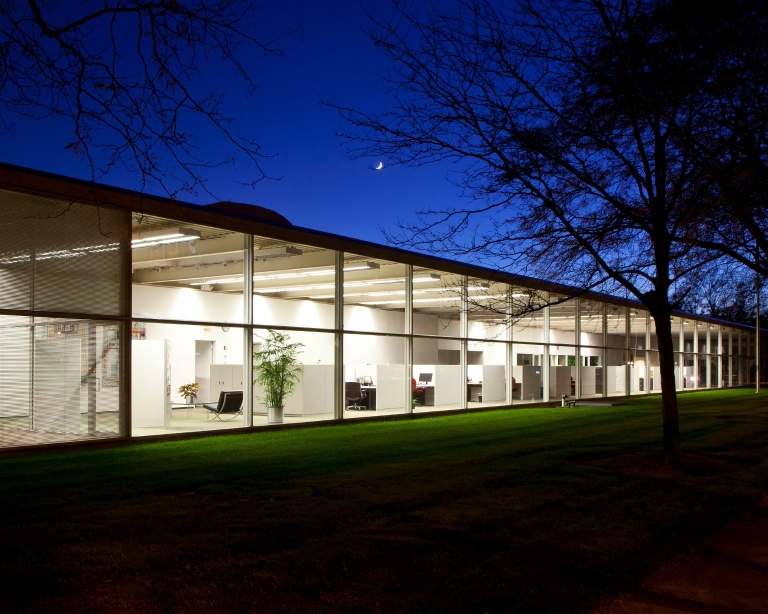 "The historic Republic Newspaper building, itself a structure that embodies excellence in design and which is situated in the heart of one of the nation's most architecturally important cities, where architectural masterpieces are part of the fabric of everyday life, is a perfect home for Indiana University's new J. Irwin Miller Architecture Program," IU President Michael A. McRobbie said. "With this building acquisition, IU Bloomington and our School of Art, Architecture + Design are once again drawing upon the great strengths and unique assets of this wonderful city to establish what will be a superb laboratory for our students to acquire the knowledge and skills needed to become civic-minded, innovative and imaginative architects.
"The program will help meet the considerable national and local need for professional architects and designers," McRobbie said. "Here in Indiana alone, the need for architects is projected to grow by 15 percent over the next decade. And it is a further step in IU's broader efforts to build a culture of 'building and making' at the university to help develop innovations and inventions that contribute to local, state and national economic development."
Construction of the glass-and-steel Republic Newspaper Plant and Offices designed by prominent architect Myron Goldsmith was part of a master plan for Columbus conceived in part by the Skidmore, Owings and Merrill architecture firm in the 1960s.
The Columbus Community Education Coalition has agreed to raise funds for renovation of the building and outfitting it for the new program.
"The Indiana University architecture program and the acquisition and refurbishment of this building fits perfectly with our vision for Columbus," said Columbus Mayor Jim Lienhoop. "We have a vision of excellence, and IU places excellence in everything it does. We are glad to see IU expand in our community."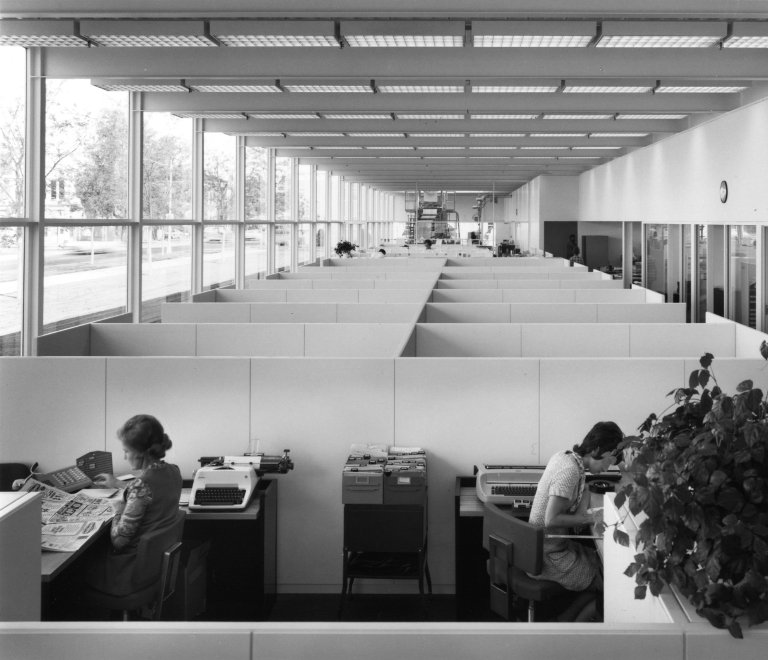 McRobbie also announced that he and IU first lady Laurie Burns McRobbie have pledged half a million dollars to endow a professorship in modern architecture in the School of Art, Architecture + Design. This latest gift is among numerous gifts the McRobbies have made to IU since 1997, including endowed professorships in the School of Informatics, Computing and Engineering and in the School of Global and International Studies.
"The generous gift from the president and first lady reflects their continued commitment to the School of Art, Architecture + Design," said Peg Faimon, dean of the school. "Their support for the J. Irwin Miller Architecture Program will help attract world-class faculty to what is an exciting new academic program that will provide an outstanding education and increased opportunities to Indiana University students." 
Columbus' revitalization through architecture was spurred by the vision of J. Irwin Miller, a Columbus native and chairman of the city's Cummins Engine Company who was instrumental in the development of Columbus, resulting in some of the city's most striking structures designed by renowned architects like Goldsmith, Eero and Eliel Saarinen, I.M. Pei, and Harry Weese.
"It is fitting that IU's new Master of Architecture program is named after J. Irwin Miller, a true visionary whose plan to revitalize Columbus helped turn the city into a work of art," said Lauren Robel, IU Bloomington provost and executive vice president. "It is our hope that his legacy of innovation will inspire our faculty and students as the program grows, spreading innovative design and beauty throughout the state."
The IU degree program will blend architecture with principles of art and design; provide students with a robust background in coalition building and community partnership; and feature a strong international component and access to courses, seminars, exhibitions and other opportunities through the School of Art, Architecture + Design.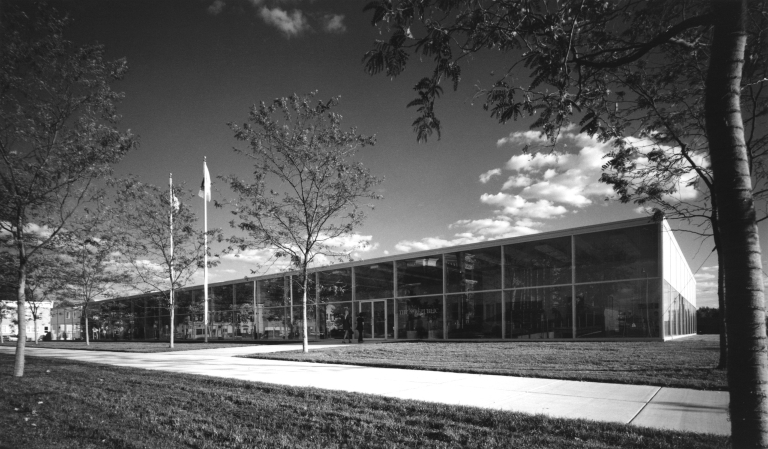 The program is being developed in collaboration with the Columbus community, including the Columbus Indiana Architectural Archives and the CivicLab, a program of the Community Education Coalition. An initial class of about 20 students is expected. It builds on the IU Center for Art and Design Columbus, which opened in 2011 in downtown Columbus to provide upper-level courses in design.
An agreement with Ball State University, which offers undergraduate and graduate architecture degrees, describes how IU's graduate program will be distinctive and spells out areas for future collaborations by IU and Ball State for the benefit of Columbus and the state of Indiana.
About the School of Art, Architecture + Design
The School of Art, Architecture + Design was established in 2016 with a merger of the Department of Studio Art and the Department of Apparel Merchandising and Interior Design. Part of the College of Arts and Sciences, it brings together innovative programs, like the Master of Architecture degree program, in a technology-rich environment that encourages collaborative learning.
About the IU Foundation
Founded in 1936, the Indiana University Foundation maximizes private support for Indiana University by fostering lifelong relationships with key stakeholders and providing advancement leadership and fundraising services for campuses and units across the university. Today, the IU Foundation oversees one of the largest public university endowments in the country, with a market value in excess of $2 billion.