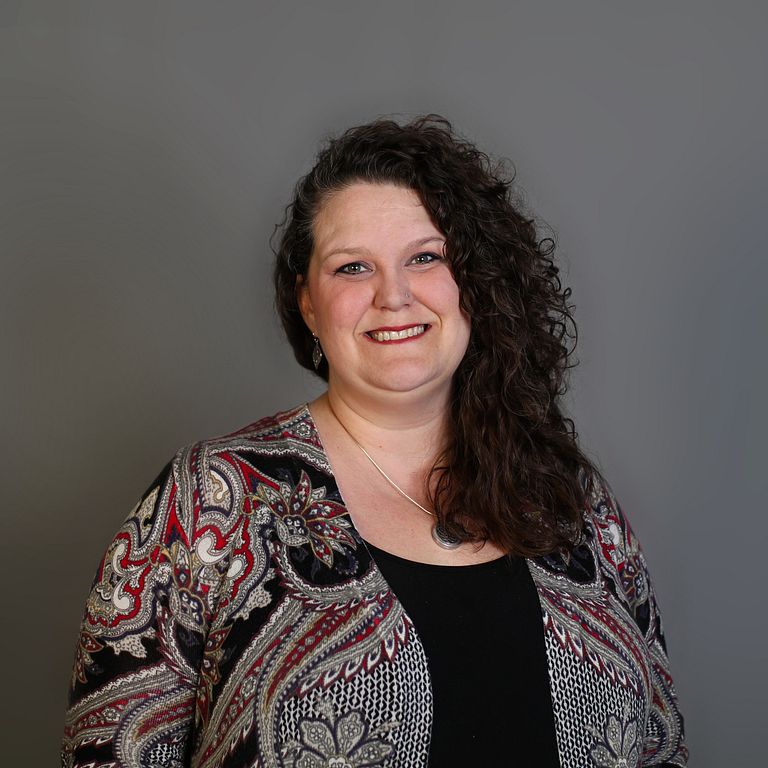 With commencement around the corner, it's easy to imagine a sea of 20-somethings beginning their journey into adulthood, beaming from under their mortarboards. Recognized less often are those students who have followed nontraditional paths. Students like Erika Thomison have experienced more in their lifetime than many of their fellow grads can imagine.
Among IUPUI's graduates will be students from low-income and other disadvantaged backgrounds. According to a fall 2016 survey, nearly 40 percent of IUPUI's undergraduates received federal Pell grants, marking them as low-income individuals. Approximately 35 percent of undergrads were also designated as first-generation students, or those without a family history of college experience and often lacking in familial support.
Thomison, who expects to graduate in May 2019, fit both of these categories and so had the odds stacked against her from the start. The Indiana native grew up in extreme poverty, sometimes having to heat water on the stove to bathe and not always knowing where her family would sleep from night to night.
Not surprisingly, no one in her family had attended – let alone graduated from – college. Thomison dreamed of breaking the poverty cycle, but it would take some time to make that dream come to life.
As a high school senior, Thomison became a mother. She and her then-husband went on to have four children, including a set of premature, special-needs twin boys.
"When I became a teen mom, I poured myself heart and soul into being a mom," Thomison said. "When I had the opportunity to reflect on the 13 years of marriage and raising my children, I found I had really lost myself in the process of parenting. I was living for them.
"After the divorce, I made an executive decision in my life and was like, 'You know what? I'm going to do this.'"
"This" was going to college. At 36, Thomison applied to IUPUI. She was accepted, but then she had to pay for it. She needed support, both financial and otherwise, if she was going to succeed in this totally alien environment.
"I started Googling scholarships for single moms just to see if I could come across anything that would help," said Thomison, who had never set foot on a college campus before freshman orientation. "I stumbled across the Nina Scholars program, and in the back of my mind, I thought, 'This is never going to happen. It's sort of a lottery. What are the odds? But why not try?' I applied, and here I am. I was accepted into the Nina Scholars program, and the rest is history."
Success as a Nina scholar
The Nina Mason Pulliam Legacy Scholars program, which is part of IUPUI's University College, provides students from disadvantaged backgrounds with the resources and financial support needed to complete their college education. Students participating in the program may, like Thomison, be adults with dependents. They may also have physical disabilities or a history of abuse or neglect. Others may lack family support or come from the public foster care system.
Through the Nina Scholars program, students receive mentoring from IUPUI staff and peers as well as take part in workshops for improved academic success, career development and personal growth. Like Thomison, many Nina scholars also benefit from the sense of community that comes with being part of the program.
"I felt like I had won the lottery. For someone else to see that value and worthiness in me that I probably never would have been able to see in myself created this accountability piece for me," Thomison said. "These people, who have never met me and don't really know anything about me other than what I have written in these couple of pages for an essay, believed in me enough to invest this incredible amount of resources and money into me and my success in life.
"I really don't think I would be where I am today – I don't even know if I would have continued with the idea of an education – without the Nina Scholars program."
Paying it back
Now Thomison is working to help other students succeed at the same level she has. She's starting close to home. One of her twins, born weighing just over one pound and suffering from cerebral palsy, is finishing his first year at IUPUI and is a Nina scholar himself.
"I want to brag for a moment," said Thomison, grinning proudly from ear to ear. "He made dean's list his first semester here and is growing in leaps and bounds."
Thomison's youngest son will finish high school next spring, giving the family a pair of graduates in the same month. He hopes to attend Purdue but is still trying to decide what his own college path will look like.
"We've had a lot of conversations about how it's really OK to wait a year and experiment and job shadow and do something that really digs into what interests you. I don't expect him to know at 17 what he wants to do with the rest of his life. I thought I knew at 37, and at 38, I changed my mind," said Thomison, who started at IUPUI planning to be a nurse. "It's okay to be a little bit nontraditional in that path as long as you continue to pursue those goals."
Mama Thomison is on track to graduate with her bachelor's degree in social work as well as a minor in psychology and a certificate in pre-art therapy. Next on her list is a master's degree in social work. After that, it's continuing to help "kids" – not only her own, but also those students younger than she is – find the resources they need to stay in school and earn their degrees.
"I have this dream of having a centralized resource center at IUPUI where students can come and sit with a social work intern or someone else to figure out whether they're eligible for community benefits," said Thomison, who is an intern with the Office of Financial Services. "I think there's room for us to be able to work with some community centers and bridge the gap on those wraparound services that students need to be able to complete their degree."
Telling her success story
Thomison speaks easily of her experiences and cannot give enough credit to the Nina Scholars program that has provided her with so much. She'll get a chance to share that story when the program receives a multimillion-dollar grant from the Nina Mason Pulliam Charitable Trust at an April 27 ceremony. She has three lessons she hopes those in attendance will take away from her address.
First: "Never second-guess yourself or your abilities. I have come through these four years surprising myself at every turn. I'm shocked at what I've been able to accomplish and complete."
Second: "The low-income, nontraditional student can be the face of a university, of a program that's successful, just as easily as this traditional picture of a student. I want people to be able to see that on the surface, we look like two totally different students, but if you dig into some of the underlying value systems, there are a lot of similarities, and there are a lot of ways that we can bridge those gaps."
And finally: "The success rates of the Nina program are indicative of what can happen when you're providing holistic supports. What they're doing works. It's an education model that works. I feel that if every student walked onto this campus and felt like somebody valued and believed in them the way that each one of the Nina scholars feels coming into the first day of classes, we would see a different outcome on this campus for first-generation and nontraditional, low-income students."