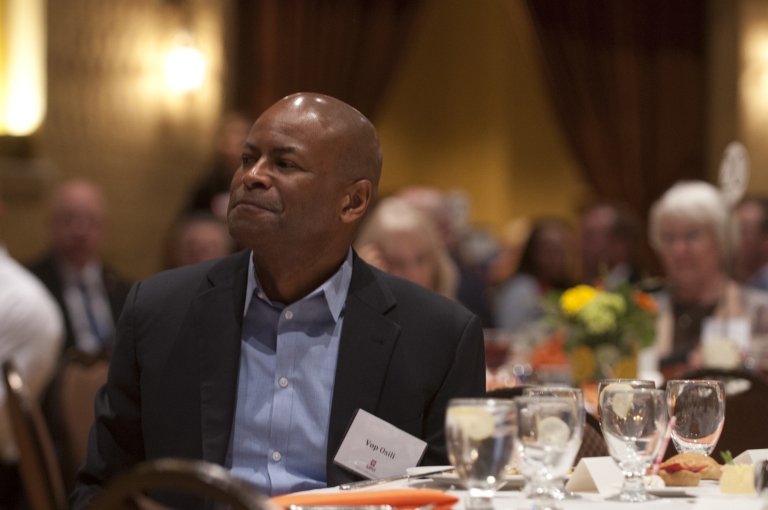 IUPUI held its 29th annual Spirit of Philanthropy Luncheon and Awards Ceremony on April 3 at the Indiana Roof Ballroom in downtown Indianapolis. IUPUI presents the Spirit of Philanthropy Award to individuals, corporations and foundations that have demonstrated dedication and commitment to the academic and cultural well-being of the campus and its faculty, staff and students through generous donations, volunteerism and other notable investments.
Sponsored by IUPUI and the Indiana University Foundation, the luncheon was emceed by Aishah Hasnie, an Emmy-nominated anchor and investigative reporter at Fox 59/CBS4.
Those honored at the 2018 IUPUI Spirit of Philanthropy luncheon, and the respective unit that bestowed each award, were as follows:
Office of Alumni Relations: Stephan A. Viehweg
Stephan A. Viehweg has provided support to the IUPUI Office of Alumni Relations for many years. He was the first president of the IUPUI Alumni Council, has served as the emcee of the IUPUI Top 100 Students recognition event since its beginning, and has volunteered for the IUPUI Alumni Leadership awards program and other alumni activities. He is associate director of the Riley Child Development Center and a faculty member of the IU School of Medicine's Department of Pediatrics and the IU School of Social Work.
Department of Athletics: Hugh A. Wolf
For decades, Hugh A. Wolf has provided distinguished service and generous philanthropic support. He has served as dean of students, as IUPUI's top administrator at the School of Education, as faculty athletic representative, as chairman of the Athletics Advisory Committee and as director of intercollegiate athletics. He has earned the Maynard K. Hine Award for alumni leadership and the Glenn W. Irwin, Jr., M.D. Experience Excellence Award and was inducted into the IUPUI Athletics Hall of Fame.
In 30 years of consecutive giving to the Jaguars Athletic Fund in support of IUPUI student-athletes, Wolf has been a significant contributor to athletic fundraising initiatives.
Herron School of Art and Design: the Hon. Ezra H. "Zeke" and Linda H. Friedlander
For nearly 20 years, the Hon. Ezra "Zeke" and Linda H. Friedlander have enthusiastically supported the visual arts. "Entangled," for example, is a sculpture created by a Herron student and commissioned by the Friedlanders, who donated it back to the school in 2005.
The Friedlanders currently serve on the dean's advisory board, are longtime members of the John Herron Society and were involved with the Friends of Herron.
Kelley School of Business: Indianapolis Transportation Club
The Indianapolis Transportation Club is a group with more than 100 years of history serving Central Indiana professionals in the transportation and logistics industries. The Indianapolis Transportation Club has awarded annual scholarships to Kelley Indianapolis students since 1987.
For 30 years, the club has offered financial support, first to students pursuing degrees in marketing and transportation, and later in supply chain management. In addition to scholarships, the club has offered students a ready-made network of well-connected logistics executives – accomplished individuals from whom students can learn much and pursue employment opportunities.
Office of Community Engagement: Elizabeth "Liz" Odle
Elizabeth "Liz" Odle has helped improve the community in numerous ways. As director of Bridges to Success, a pioneering initiative with Indianapolis Public Schools, and United Way of Central Indiana, she promoted expansion of community engagement. As principal of IPS No. 14 Washington Irving Elementary School, she provided leadership on the city's near-east side for 18 years. She spent 15 years teaching and providing educational services in special education-focused settings, spearheading inclusion services for students with behavioral and cognitive needs.
Today, Odle is director of Community School Collaboration for the Mary Rigg Neighborhood Center and also works with family, school and neighborhood engagement at IUPUI. Her work there helps implement the Coalition for Community Schools, the Indianapolis Coalition for Community School Partnerships and the Indianapolis Near-Westside Community Schools Project.
School of Dentistry: Dr. Karl Gossweiler
Dr. Karl Gossweiler is a survivor who has thrived. Born in Germany in 1930, he survived polio, World War II and the harsh postwar conditions that followed. After immigrating to the U.S. in 1955, he graduated from the IU School of Dentistry in 1961 and established a general dentistry practice in Speedway that thrived for over 50 years.
During that time, he helped establish the Westside Study Club, was president of the Indianapolis District Dental Society in 1985 and put three sons through school, all of whom attended the IU School of Dentistry and currently practice in Indianapolis.
Division of Diversity, Equity and Inclusion: Rob and Mikala Muller
Rob Muller is an esteemed alum of the Department of Journalism and Public Relations in the IU School of Liberal Arts at IUPUI. Due to severe attention deficit disorder and dyslexia, he delayed his post-high school education for years. But with the assistance of IUPUI Adaptive Educational Services, he was able to receive help in overcoming these disabilities and graduated with high honors in 2008, at nearly 40 years of age.
The staff and services at AES had a profound impact on Muller's life, igniting a desire to help others who suffer with learning disabilities. In 2011, Rob and Mikala Muller created the Charles Muller Memorial Scholarship, the first of its kind at AES. Named after Rob's father, a former IU student, its purpose is to provide support to students who have excelled academically despite learning disabilities.
School of Education: Patricia Ann Payne
Patricia Ann Payne is a veteran educator in Indianapolis Public Schools, having begun her career as an elementary teacher in 1962. Today, she serves as director of the IPS Office for Multicultural Education. In 1987, Payne was assigned to design and direct the office she now leads, and later she became director of the Crispus Attucks Museum of African/African-American Experience on the campus of Crispus Attucks Medical Magnet High School.
Adding to her numerous other awards and recognitions, Payne most recently received the 2013 Distinguished Alumni Award from Indiana University, the Sen. Julia Carson Community Service Award in 2012 and the Living Legend Award from Community Action of Greater Indianapolis in 2010.
School of Engineering and Technology: Carrier Corp.
As a longtime partner of the School of Engineering and Technology at IUPUI, Carrier Corp. continues to help provide opportunities for world-changing innovation through the establishment of the Willis Carrier Scholarship, the Carrier Graduate Fellowship, the Carrier Lab, and by volunteer engagement with – and donations to – the Minority Engineering Advancement Program.
School of Health and Rehabilitation Sciences: Bruce and Sandra Gregory
Zachary Gregory, a Doctor of Physical Therapy graduate in the Class of 2010, was beloved by all – his peers, his instructors, and the faculty and staff of the School of Health and Rehabilitation Sciences. A top student, Zach was chosen by his classmates to speak at their commencement. He passed away in 2011 while running the Chicago Half Marathon.
After his passing, his parents, Bruce and Sandra Gregory, along with friends, faculty and alumni of the DPT program, endowed a scholarship at the school in his memory. The Zachary H. Gregory Emerging Leadership Scholarship has received overwhelming community and alumni support since its inception.
It is in Zach's memory that Bruce and Sandra solidly support the Physical Therapy Fundraising Committee in events to raise awareness of the scholarship. They attend the annual Student and Donor Recognition Event to present the award to DPT students who exemplify emerging traits of academic and professional leadership.
Indiana University-Purdue University Columbus: Tom O. Vujovich
Through his dedication, insight and consistent support, Tom O. Vujovich has greatly helped shape and grow the Indiana University-Purdue University Columbus campus. Vujovich has served on the IUPUC Board of Advisors for over a decade and was chairperson from 2008-09 through 2010-11. At the request of the IUPUC vice chancellor and dean, he also served an extra year as chair. Today, he continues to serve on the board and is a strong community advocate for IUPUC.
Vujovich and his wife, Tina, have financially supported IUPUC and multiple areas of IU, including major gifts supporting the Vujovich Scholarship in Engineering and the Reach Your Dreams scholarship.
School of Informatics and Computing: Herbert Simon Family Foundation
The Herbert Simon Family Foundation provides support for organizations in hopes of creating more equitable, sustainable and vibrant communities, with an emphasis on Central Indiana. The foundation's giving focus promotes social justice in the areas of arts and culture; basic needs; education; the environment, including animal welfare; and healthy living.
In just one example of the foundation's important work, in March 2016 the foundation and the Pacers Foundation fulfilled the wish lists of teachers across Indiana by donating money to pay for 824 classroom projects, including books, iPads, microscopes, headphones and field trips to the zoo. In 2017, the foundation provided resource support assistance for students at Christel House DORS, an adult high school for students working to complete a high school diploma.
Robert H. McKinney School of Law: the Hon. Carr L. Darden and Mrs. Lundy M. Darden
The IU Robert H. McKinney School of Law recognized the Hon. Carr L. Darden and Mrs. Lundy M. Darden for their tremendous generosity and support of the school. They endowed the Judge Carr L. Darden and Mrs. Lundy M. Darden Public Sector Legal Education Scholarship, supporting underrepresented populations of McKinney School of Law students interested in state or local government.
Carr Darden is a 1966 graduate of the Kelley School of Business and a 1970 graduate of the McKinney School of Law, where he is a member of the board of visitors. He served on the Indiana Court of Appeals from 1994 until his retirement in 2012, when he was appointed senior judge by the Indiana Supreme Court.
School of Liberal Arts: Paul VeZolles and Linda VeZolles
To facilitate public understanding of economics, Paul VeZolles created the VeZolles Lecture in Economics, based at IUPUI and in collaboration with the IU Bloomington Department of Economics.
As president of Chatham Park Development, Paul VeZolles leads investment in real estate, hospitality, renewable energy and startups. He draws on 30-plus years' experience as an investment manager
Paul VeZolles completed a B.A. in economics at IUPUI. He got his M.A. in economics at DePaul University and earned the TRIUM Global Executive MBA. Today, he is studying for a master's degree in major program management at the University of Oxford's Saïd School of Business. Linda, a dedicated mother and volunteer, graduated from Columbia College and joins with Paul to create positive opportunities for individuals and communities.
School of Medicine: Michael Gadus and Liz Van Tassel
Mike Gadus and Liz Van Tassel are leaders in helping women with breast cancer live longer, healthier lives. In 2008, Mary Beth Gadus founded 100 Voices of Hope, an innovative program with the goal of annually funding a $100,000 research project in metastatic breast cancer at the IU Simon Cancer Center. When Mary Beth passed away in August 2016 after a nearly 30-year battle with breast cancer, her husband, Mike, and best friend, Liz, were determined to carry on her legacy by continuing this novel and revolutionary breast cancer research program.
100 Voices of Hope has raised $1.5 million, funding 13 research projects in metastatic breast cancer. Everything 100 Voices of Hope has made possible is due to Mary Beth's passion for research. Mary Beth's legacy inspires Mike and Liz every day and drives their commitment to the impactful program she started.
School of Nursing: Margaret H. Applegate
A three-time IU alumna – with BSN, MSN and Ed.D. degrees – Margaret H. Applegate returned to the IU School of Nursing as a faculty member in 1966, serving at the IUPUI and Richmond campuses as associate dean for the associate degree in nursing program and as assistant dean for evaluation. Retirement did little to diminish her devotion, as reflected in her volunteer efforts on the school's Archives Committee and the identification of alumni who served in the military as part of the school's 100th-anniversary celebration.
True to her commitment to ethics, Applegate developed coursework at the IU School of Nursing, an ethics forum at Methodist Hospital and ethics committees for local hospital systems. Her longtime dedication to her alma mater, her students and her profession continues in her establishment of the Endowed Professorship in Nursing Ethics.
School of Optometry: Dr. Edward and Cecilia Chow
As the first Canadian optometrist to engage in the practice of orthokeratology, and a world-renowned expert in this nonsurgical procedure that uses specially designed contact lenses to gently reshape the curvature of the eye, Dr. Edward Chow has improved the eyesight of thousands of patients in the Toronto area and beyond. Never afraid of a challenge, he treats some of the most difficult vision problems and also specializes in ocular nutrition and dry eye treatment.
He and his wife, Cecilia, have a lifelong commitment to the profession of optometry. Their son, Teddy, is a current student and highly valued member of the IU School of Optometry. The Chows established the Dr. Edward and Cecilia Chow Endowed Scholarship for incoming students who have financial need.
Lilly Family School of Philanthropy: Terra and Kevin Seidel
As a regional advisor in the Office of Mission Advancement with the American Bible Society, Terra Seidel has more than 20 years' experience in the nonprofit and philanthropic arena. She has worked extensively with the Educational Media Foundation, the National Christian Foundation, and various boards and committees.
Terra is a certified fundraising executive and holds an M.A. in philanthropic studies from the IU Lilly Family School of Philanthropy, as well as a nonprofit management certificate.
Kevin Seidel is the sector manager for mining, construction and power at Shell Oil Products USA, where he has worked for 25 years. He holds a Bachelor of Science in mechanical engineering from Purdue University. The Lilly Family School of Philanthropy recognized the Seidels for their advocacy and support of the school and its Lake Institute on Faith and Giving.
School of Physical Education and Tourism Management: Dr. William and Mrs. Katrina Engle
Dr. William Engle and his wife, Katrina, along with their family members, began vacationing with IU's Camp Brosius in the 1980s. Since that time, their contributions have helped transform the property – brick by brick and building by building.
In the late 2000s, on behalf of the IU School of Physical Education and Tourism Management, the couple served on the camp's fundraising leadership committee, helping prioritize fundraising initiatives and paving the way for future donations. Their steadfast loyalty and fundraising advocacy continue to lead philanthropic efforts by example.
Their most recent gifts supported the demolition and new construction of a two-story administrative office and lounge, fully funded through the philanthropy of guests and friends. The Engles continue to help inspire other people to give by supporting the needs of the property and programs annually.
School of Public and Environmental Affairs: Jerry and Sharon Baker
For decades, Jerry and Sharon Baker have been helping IUPUI and the School of Public and Environmental Affairs. From Jerry's 42 years of service in law enforcement, including time as lieutenant and director of training at the IU Police Department, to Sharon's 26 years as the Fairbanks Hospital director of human resources and support services, this couple has a long legacy of hard work for the greater good. They have now created a new legacy at SPEA by establishing the Jason M. Baker Public Safety Scholarship.
This scholarship supports students pursuing careers in public safety at SPEA, reminding everyone of Jason Baker's dedication to service, community and country. Annually, the Bakers bring together community and public safety professionals in tribute to all heroes of public safety at the Beyond the Badge Run and Walk, an event that raises funds to aid the scholarship.
Richard M. Fairbanks School of Public Health: Meredith Addison
A lifelong public health advocate, Meredith Addison serves as a staff nurse in the emergency department at Terre Haute Regional Hospital and as president of the Wabash Valley Emergency Nurses Association. She is a member of the board of directors for the Indiana Rural Health Association, the Homeland Security Task Force and the Indiana State Trauma Care Committee. Addison also served in the U.S. Army Nurse Corps from 1985 to 1995.
In 2016, Addison recognized the champion Indiana has in Paul Halverson, professor and founding dean of the Richard M. Fairbanks School of Public Health, and stepped up to help encourage more individuals to study public health by establishing the Addison Public Health Scholarship. The scholarship supports students enrolled in the Bachelor of Science in Public Health program, continuing her legacy of improving public health.
School of Science: W. Michael Wells and Susan L. Wells
Mike and Sue Wells, alumni of IU and loyal supporters of IUPUI and IU athletics, have had a significant impact across the university through their volunteer work and financial generosity. They have established the W. Michael and Susan L. Wells Women in Science Scholarship to support undergraduate women in the School of Science at IUPUI, providing critical funding to students with demonstrated financial need, a strong academic record and a declared major in a STEM field, thus making a real difference in a field in which women are underrepresented.
This accompanies their generous support of the School of Science and the Kelley School's Center for the Business of Life Sciences. Mike currently serves as a board member of the IU Foundation, on the School of Science Dean's Advisory Council and on the Kelley Dean's Advisory Council.
School of Social Work: Indiana Department of Child Services
The Indiana Department of Child Services comes to the aid of the state's most vulnerable children at the moments they need help the most. Across the state, the DCS works to protect children from abuse and neglect and, at the same time, helps families overcome the challenges they face.
As part of its dedication to excellence, the DCS has worked alongside the IU School of Social Work to create the Child Welfare Education and Training Partnership. This alliance provides the best social work education possible to students who will join the DCS as case managers. It also allows DCS employees to earn a Master of Social Work degree and expand their knowledge and skills to benefit child welfare in Indiana.
Division of Student Affairs: Faith Hope and Love Community
With over 18 percent of Marion Country residents and 42 percent of college students nationwide reporting some level of food insecurity, hunger is an unfortunate reality in our community. Faith Hope and Love Community is dedicated to helping local food pantries like IUPUI's Paw's Pantry tackle the growing issue of food insecurity, using every tool at its disposal, from food donations to training to networking opportunities.
Through its partnership with Faith Hope and Love Community, Paw's Pantry receives approximately $2,000 in fresh produce donations each month – the pantry's only source of fresh produce. In addition, Faith Hope and Love Community has helped Paw's Pantry make valuable connections in the Indianapolis area to help reduce food insecurity on campus.
Division of Undergraduate Education: Karen S. Jones
Karen S. Jones' late husband, Stan, was known to say, "Change at the margins will only produce marginal change." It is in this spirit that Jones continues to create decidedly significant change for undergraduates.
In Stan's honor, Karen established the Stan Jones Memorial 21st Century Scholars Scholarship. Her work not only honors her husband's legacy of commitment to the greater good, but helps bring about considerable measures to improve education in Indiana.
Karen Jones is leading the impact made on undergraduates in the 21st Century Scholars program at IUPUI. Her incentives improve retention and quality of life for students, and her actions set the model to follow in creating real-life learning opportunities. Division staff say they are honored to work alongside this change-maker in the lives of students and in the work of faculty and staff.
University Library: Claudia Dille
From her days working in her junior high school's library to her current service on the IUPUI University Library Community Board, Claudia Dille has always loved reading – and supporting libraries.
She applied her passion in earning her Master of Nursing Science degree from the IU School of Nursing and her Bachelor of Science in Nursing degree from Texas Woman's University. Dille then spent a long and successful career as a registered nurse, working in hospitals, academia and corporate pharmaceutical clinical research and holding leadership roles in state and national nursing associations.
Now retired, Dille continues to show leadership in the library's support of student engagement at IUPUI and its development of lifelong learners. Her establishment of the Claudia A. Dille Student Initiative Fund helps continue this important work.
IUPUI Campus-Wide Initiatives: J. Scott Davison
In addition to serving as chairman, president and CEO of the companies of OneAmerica and serving on numerous boards, J. Scott Davison finds time to pursue a passion for swimming. As a competitive swimmer and coach for more than 30 years, as well as a leader on the Indiana Sports Corporation board, Davison acutely understands the international and local significance of the IU Natatorium. In 2015, when the IU Natatorium began a $20 million renovation to improve the venue and further bolster the identity of Indianapolis as the country's amateur sports capital, Davison committed to personally supporting the improvement project through his own philanthropy and volunteer fundraising.
Thanks to Davison and his wife, Lorraine, along with OneAmerica and other financial supporters, the site of 13 Olympic trials and witness to 18 world records will remain the No. 1-ranked natatorium in the United States, as well as the public training ground for future Central Indiana swimmers and divers.