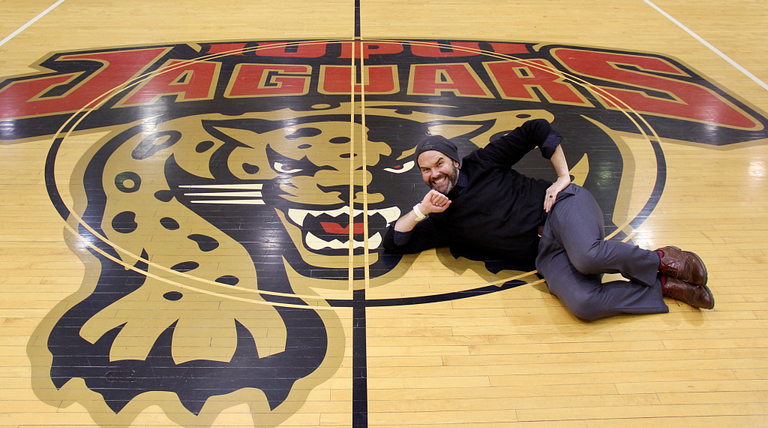 As IUPUI's 50th anniversary draws near, another claw-some event will enjoy a 20-year celebration. 
The fall of 1998 was a major, transitional year for campus: IUPUI Athletics earned NCAA Division I status and a new, fur-ocious (last pun, maybe) mascot was chosen by the student body. The Metros era officially ended when the original Jaguar logo was created by SME Branding from New York. 
Alumnus Marc McAleavey was the student who pulled the fabric hiding the new midcourt design featuring the now-familiar roaring Jaguar Nov. 13, 1998, at The Jungle. The newly dubbed Jaguars men's basketball team made a Division I statement that night by thumping West Virginia State, 85-46.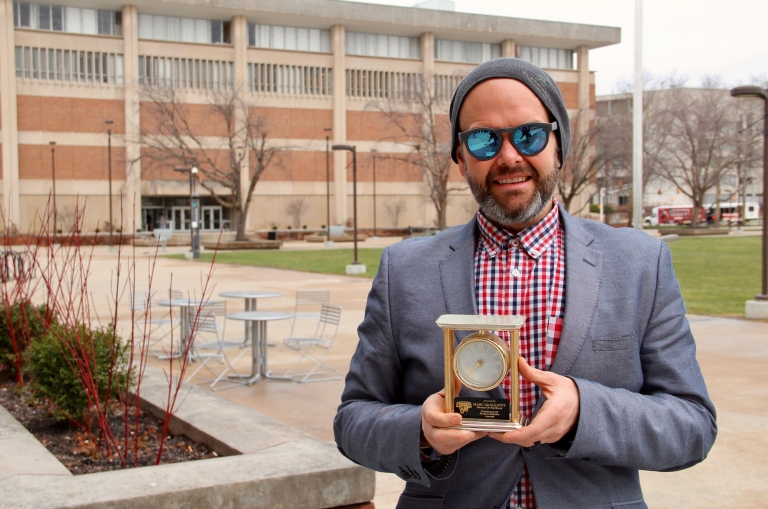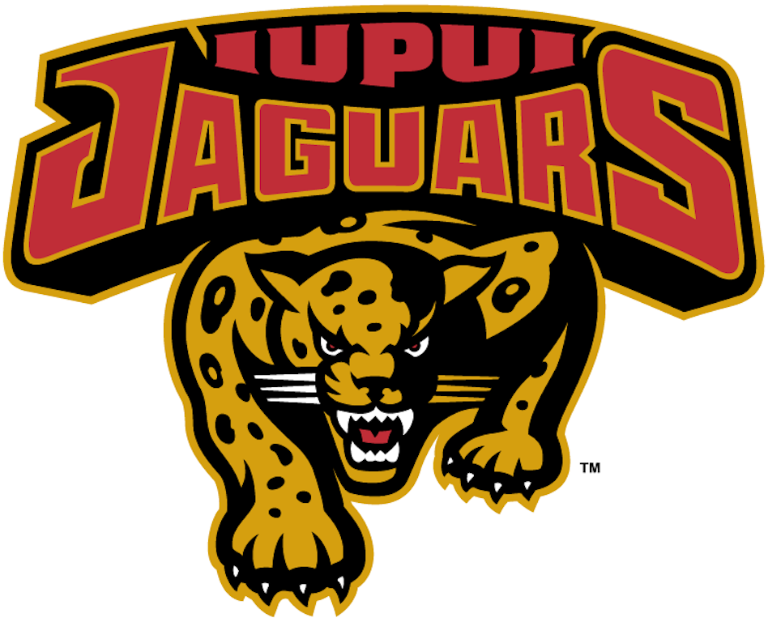 "It was awesome. I recall roaring applause," said McAleavey, who is now the executive director of Serve Indiana. "The people in the gym for that event were crazy-loyal to the campus, to the university. They were looking forward to that moment. There were a lot of media there." 
As speaker of the house for the Undergraduate Student Association, now known as Undergraduate Student Government, McAleavey was among the first on campus to know the three finalists for IUPUI's new mascot – Jaguars, Indy Hawks and River Hawks. The options were given to the student body for voting, and the Jaguars roared to victory.
McAleavey, who earned a philosophy degree in 2004 after a couple of major changes and then a master's degree in social work in 2007, has stayed connected to campus, but the nostalgia flooded back during a March 30 visit to Taylor Hall, which was where he led the first pep rally under the Jaguars brand.
McAleavey sees IUPUI's embrace of the Jaguar over the last 20 years as purr-fect (sorry).
Question: What are your recollections from that pep rally 20 years ago?
Marc McAleavey: It was in the basement of Taylor Hall. Someone asked me to lead it, so I did. They handed me a bullhorn, and I went downstairs. Both the men's and women's teams, and maybe 10 or 15 student fans, were standing there. They had snacks. I just remember shouting things. I remember Ron Hunter, the men's basketball coach, looking at me like "What is this guy doing?" 
Q: What was the vibe like on campus during the transition to Division I and the new Jaguars mascot? 
MM: The fact that we were going to Division I brought a lot of energy to the student body, and it made us rethink who we are as a campus. We were also starting to have conversations about the Campus Center. We were talking about what architects we could bring in, and we identified what corner it would be on. 
There was a small but growing group of students who were becoming engaged with campus, despite the heritage of a commuter campus. The people stayed after class and did things on campus. They were amazing and super-diverse.
Hawks, Cats and Wolves! Oh my!
Q: Was the Jaguar your top choice, too?
MM: I kind of still wanted the Metros. I thought it would be pretty cool to have a bus as a mascot. What would that look like? I thought it would be cool. It would be urban, and we never really blew up that brand. I didn't really campaign for the Metros, but that's what I voted for.
Q: What were your initial reactions to the Jaguar logo? 
MM: Oh, we loved it. They had different versions and different ways to look at the jaguar. They had the mascot. Former Undergraduate Student Association President Jake Manaloor was one of the first mascots, Jinx. 
Q: What is your reaction to the logo and IUPUI overall now, 20 years later? 
MM: I've been an adjunct faculty member for the School of Social Work, which brought me back to campus more, and I could see the development. I have these mixed feelings of jealousy and being super-proud. I couldn't even imagine going to school with all of this now. This is luxurious.
It wasn't until about 10 years after I finished here that I realized that IUPUI really shaped me. It was really great, and I love my school. When I have friends with kids looking at schools, I always pump up IUPUI as an option.