The IUPUI Office for Women and the Division of Student Affairs held its 21st Annual Women's History Month Leadership Awards reception last week and honored eighteen women-identified faculty, staff and students as outstanding leaders on campus. The program concluded a month of celebrating National Women's History month.

 This year's theme was, "Nevertheless She Persisted: Honoring Women Who Fight All Forms of Discrimination Against Women." Myra K. Selby, a partner in the law firm of Ice Miller, LLP, addressed this theme in her keynote presentation. She was the first woman and first person of color on the Indiana Supreme Court serving as an associate justice from 1995 to 1999. She also chaired the Commission on Race and Fairness on behalf of the Indiana Supreme Court.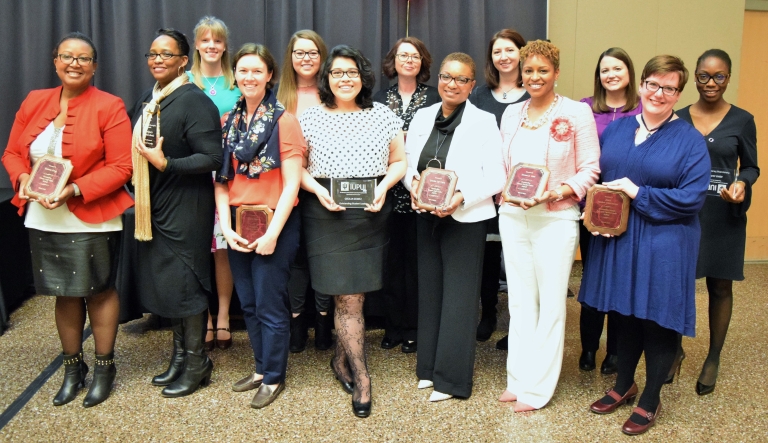 Seven faculty, five staff and six students received recognition during the event, held in the Campus Center. One of the awards from the Office for Women celebrated the "IUPUI Inspirational Woman." This year's recipient was Carolyn S. Gentle-Genitty, assistant vice president for university academic policy, director of the University Office of Transfer and associate professor in the IU School of Social Work.
Other award recipients are:
Veteran Faculty
Carrie Hagan, Clinical Associate Professor of Law, Director, Civil Practice Clinic, IU Robert H. McKinney School of Law
Joan R. Poulsen, Division Head of Science, Associate Professor, Indiana University-Purdue University Columbus
Michelle P.  Salyers, Professor of Psychology, Director of Clinical Psychology Program, IUPUI School of Science
M. Kim Saxton, Clinical Associate Professor of Marketing, IU Kelley School of Business, Indianapolis
Newcomer Faculty
Tawana K. Ware, Assistant Professor, IU School of Dentistry
Part-time Faculty Award
Janice Bankert-Countryman, Associate Instructor for Women's Studies and Communication Studies, IU School of Liberal Arts, Indianapolis
Veteran Staff
Roxanne Gregg, Director, Upward Bound, IUPUI
Monica Henry, Assistant Director, Finance and Administration, IUPUI Graduate Office
Mary Price, Director of Faculty Development, IUPUI Center for Service and Learning
Newcomer Staff
Teresa Mackin, Assistant Director of Communications and Media Relations, IU Kelley School of Business, Indianapolis
Tytishia "Ty" Davis, Assistant Dean and Director, Office of Student Advocacy and Support
Student Award Winners presented by the Division of Student Affairs
Abike Akinro, First Year Law Student, expected graduation: May 2020
Ashton Dillon, Major: Health Science, Minor: Chemistry, expected graduation: May 2019
Cecilia Gomez, Majors: Anthropology and Social Work, Minors: Spanish and Global and International Studies, expected graduation: Spring 2019
Hannah Walters, Major: Biology, Minor: Medical Sociology, expected graduation: May 2018
Holli Weed, Graduate Student: Higher Education and Student Affairs, expected graduation: May 2018
Sierra Lee, Majors: Marketing and International Studies, expected graduation: May 2018