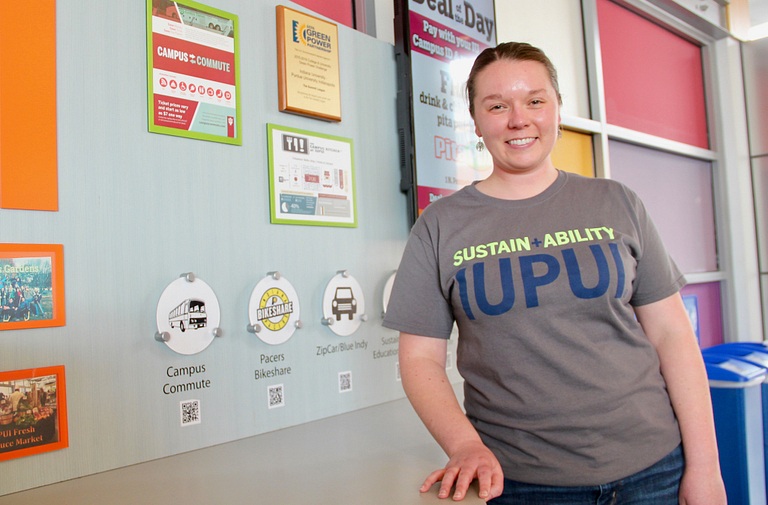 In support of Earth Month and Earth Day Sunday, April 22, Jessica Davis, director of IUPUI's Office of Sustainability, has been extremely busy.
But she wasn't too busy to perform a "mini dumpster dive" in the Campus Center. After the April 13 lunch rush, Davis chose a few bags of trash to monitor IUPUI's recycling prowess. Efforts are trending positively, but there is still much work to be done.
"Our campus recycling has gone up, and the total waste generation has gone down. That's a good thing," Davis reported. "That being said, we're still far under the national average."
In 2016-17, IUPUI's recycle rate was about 20 percent, while leading peer institutions check in at 40 to 50 percent. The national average is about 30 percent, according to Davis. 
The Campus Center serves as a hub for the Office of Sustainability's several programs. Displays on the first floor show what can and cannot be deposited in the several blue bins near dining areas. Still, as Davis' inspection proved, students, staff and faculty members are still unsure about what to recycle.
Description of the following video:
Video transcript
"Mohan Tatikonda" video on https://youtu.be/SQ1_0eDLAO4
[Words appear: IUPUI Presents]
[Jessica Davis speaks: Hey Jags, my name's Jessica Davis. I'm the director of the Office of Sustainability here at IUPUI. And we're gonna spend a few minutes going over what is recyclable and what isn't. Here on campus, we don't have the greatest recycling rate, so we could use all the help that we can get.
[Words appear: Jessica Davis, Director, IUPUI Office of Sustainability]
[Jessica speaks: And the best way to help is to have right sorting behavior. So, we're gonna go over the most frequent items that should be recycled, as well as some of those nuisance items that you may not know about. So, we're gonna start with some easy ones here, and the first one that always comes to mind is paper.
So, any paper item can be recycled. If you can rip it and it's made out of fiber, it can go in the blue recycle bin. Another paper item that a lot of folks don't think that can be recycled but actually can is this thing right here, and that is a pizza box.
So, it is made out of cardboard, it's totally fine if it's got a little bit of cheese, a little bit of grease. Completely fine to be recycled, hopefully you have eaten all of the pizza, but it's okay if there are crumbs left. So, once you're done with your pizza, go ahead and put it back together, and then you can shove it in a recycle bin and it's good to go.
Another paper item that a lot of folks get confused about is paper coffee cups. So, any of these cups, you'll notice here that they are made of a fibrous material, as well as the sleeve. So both of these are paper items, which means you can leave your coffee cup just like this and put it in the recycle bin.
But if you also look at the lid, the lid's made out of recycled plastic. So, it's got this little recycle symbol on there with a number in the middle of it. As long as it's a number one through seven, it's recyclable here on campus. So almost all of our coffee cups on campus are recyclable. So once you're done, you can keep the whole thing together and just toss it right into the recycle bin and it's easy to go.]
[Video: Recyclables are tossed into bins.]
[Jessica speaks: So, paper towels and toilet paper and tissues. I know the word paper is in paper towel. But once a paper towel has been used, and even if it's not used, it has to go into the trash can.
And that's because a paper towel is what happens to paper once it's been recycled so many times that it's reached the end of its life. So, this thing cannot be recycled any more times. So, make sure you put your paper towels, Kleenex, tissues, toilet paper, that goes straight into the trash can.
So, thanks for spending a few minutes with me. I hope you learned a little bit about recycling here on campus. All of our recyclables can go into one bin, so you don't have to sort. We try to make it as easy as possible. Have a great day.]
[Words appear: IUPUI Fulfilling the Promise, iupui.edu]
[End of transcript]
IUPUI and Marion County have unique recycling do's and don'ts. Items that couldn't be recycled 10 years ago are now fair game, but then there are items that seem recyclable but aren't. Like a cardboard box or a compost heap, Davis breaks it down for you.
Cheesy is OK
Pizza boxes are recyclable, even if Papa John's got a little overzealous on the toppings. Having remnants of cheese, grease and crumbs does not disqualify a box from being recycled at IUPUI.
Problems with plastic
Discarded plastics are a persistent problem on both land and sea. They are also the bane of recycling efforts at IUPUI. Plastic straws and utensils are too small for machines in Marion County, while plastic bags are known to clog up the systems.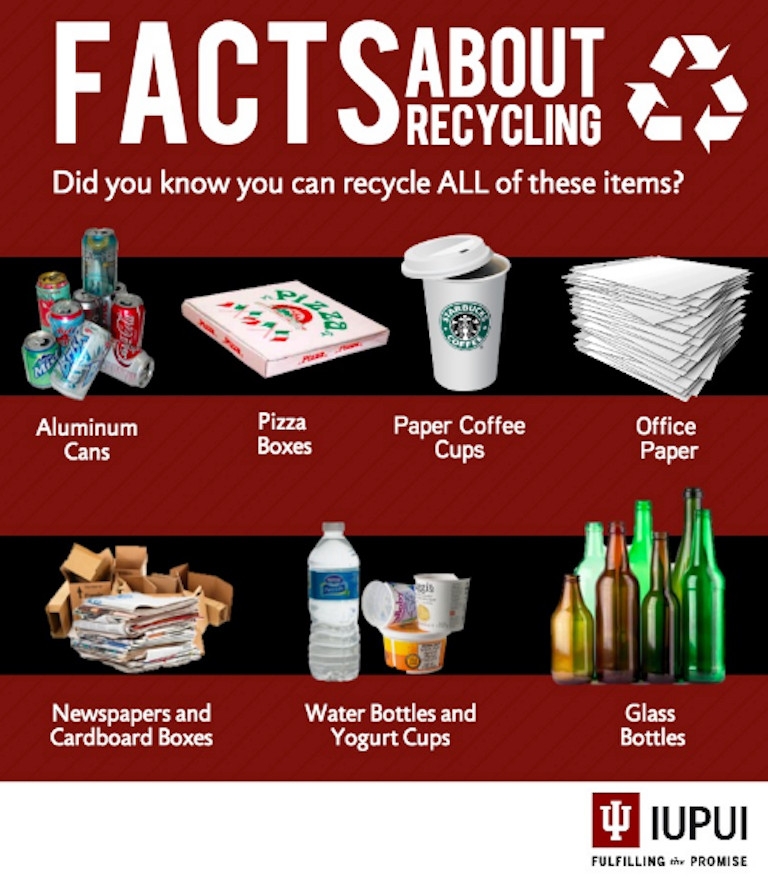 "All of our recyclables that go into a single bin get sent to a material recovery facility," Davis explained. "All of the materials are separated, but those soft plastics – like plastic bags and plastic wrap – can shut down operations and have to be pulled out. The bins for just plastic bags from grocery stores are processed separately and bailed up for reuse. So, we don't want plastic bags in our bins."
Davis recommends employing reusable bags and dropping off any plastic bags in those bins at area supermarkets.
What's your number, plastic?
IUPUI and Marion County recycle more plastics than other Indiana municipalities, Davis said. Look on the bottle or container for the piece's digits.
"As long as it's a number 1 through 7, it's recyclable here on campus," she said. "Plastics number 1 through 7 are usually rigid plastics like beverage bottles and containers."
However, there are still products that are unable to be recycled. Most crinkly snack bags and wrappers are made with a blend of plastics that defy current recycling means.
Coffee is cool
From the lids to the to-go cups to the little sleeves that keep your fingers unburned, your entire caffeinating experience can be recycled.
How to improve 
Davis said "information deficit" is the No. 1 problem with the low recycling rate followed, by Indianapolis' notoriety as a poor curbside recycling city. Bins are everywhere at IUPUI, but education is still needed.
One initiative spreading across campus, known as "deskside recycling," could significantly increase rates. The bins that fit under desks and cubicles of faculty and staff offer a larger space for recyclables and a smaller space for trash. These receptacles are in 20 IUPUI buildings and will be in all of them by 2019. 
"When you're in an office, 90 percent of what you throw away is recyclable," Davis said. "This bin setup matches the waste stream you create – larger recycle bin for more recyclables."