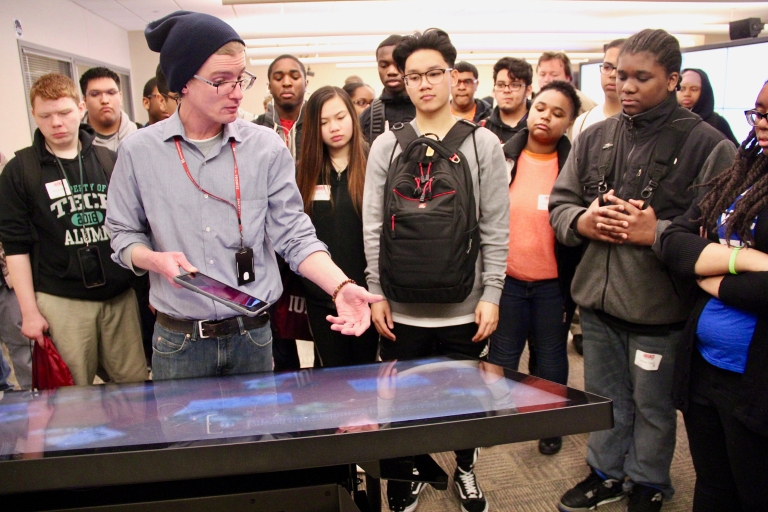 In its three-year history, the IUPUI Informatics Diversity-Enhanced Workforce program – also known as iDEW – has garnered hundreds of thousands of dollars in grant money to propel hundreds of high school students to future college degrees and jobs.
What started with 90 students in three classes at three Indianapolis high schools has grown to more than 400 students in more than a dozen classes at four high schools – Providence Cristo Rey, Arsenal Technical, Pike and Northwest. 
On April 10, 200 of the students visited IUPUI's Informatics and Communications Technology Complex along with the Campus Center, Indiana University School of Nursing, Kelley School of Business, School of Science, and School of Engineering and Technology for iDEW Day – a special event that included tours, breakout sessions and a glimpse of what they can expect in college.
Mathew Palakal, executive associate dean of the IU School of Informatics and Computing at IUPUI, has been a leader of the Informatics Diversity-Enhanced Workforce program since the beginning. The growth in students, classes and schools is positive, as is the college placement of the young men and women who have participated in the coding, design and technology classes sponsored by the program. 
"Of the students who have graduated, 100 percent of them have enrolled in a four-year college degree," Palakal said. "Eighteen of them went on to STEM fields, including some who have come here to the School of Informatics. Sixty more students will graduate this spring, and most of them will be going to a four-year college as well."
Description of the following video:
Video transcript
"Future tech gurus visit IUPUI" video on https://youtu.be/5QDX3i05eN0
[Video: An IQ-Table being used to make music]
[Words appear: IUPUI Presents]
[Words appear: Mathew Palakal, Executive associate dean, IU School of Informatics and Computing at IUPUI]
[Mathew Palakal speaks: See, the goal of this program is to instill interest in the technology field and increase them to go into academic and careers in computing, and in the informatics field. So, we have, right now, over 400 students. We are now working for the fall 2018 cohort. There are over 60 students graduating, and right now, for us, the outcome is coming out and going into college.
The survey that we have taken, it shows that over 86 percent wanting to pursue four-year colleges. For us, that's a huge success for the iDEW program.]
[Chauncey Frend speaks: Just a little bit longer. OK, that's good, that's good right there, that's plenty.
I actually worked with the School of Informatics to teach a virtual reality development summer camp for these iDEW students, and they're very bright, and they're excited.]
[Words appear: Chauncey Frend, Programmer/analyst, Advanced Visualization Lab]
[Chauncey speaks: And I think when you have a student like that if you enable them by literally putting the technology in their hands. And show them the workflows so that they can build their first virtual reality app or augmented reality app, they realize they can own the workflow.]
[Words appear: IUPUI Fulfilling the Promise, iupui.edu]
[End of transcript]
Divided into groups of 50, the students toured the Advanced Visualization Lab and Virtual Reality Theater in the Informatics and Communications Technology Complex. Tyler Jackson, user support specialist for the Advanced Visualization Lab, showcased the huge IQ-Wall and the handy IQ-Table, which promotes interactive displays for research, design applications and even music-making capabilities. 
Chauncey Frend, a programmer and analyst for the Advanced Visualization Lab, led some of the students through a hot-air balloon ride into outer space – via virtual and augmented reality, that is. A new program developed by Frend switches on fans for the wind and a heat lamp to enhance the digital hot-air balloon's burner. With headphones and an HTC Vive strapped on, users were treated to stunning graphics that revealed a forest, mountains, a castle and then planets. The experience was a feast for the senses.
Of course, not every class these students take will entail a trip into orbit, but Frend sees visits from students like those in the Informatics Diversity-Enhanced Workforce as beneficial for both them and his program. No matter what major they choose or even what campus appeals to them most, Frend and his lab could be helping the next major breakthrough from these students in the future. 
"They get a chance to try it out," Frend said, "and literally on day one of their college career, they can access these technologies. It's important to let them know as early as possible that this is available to them."