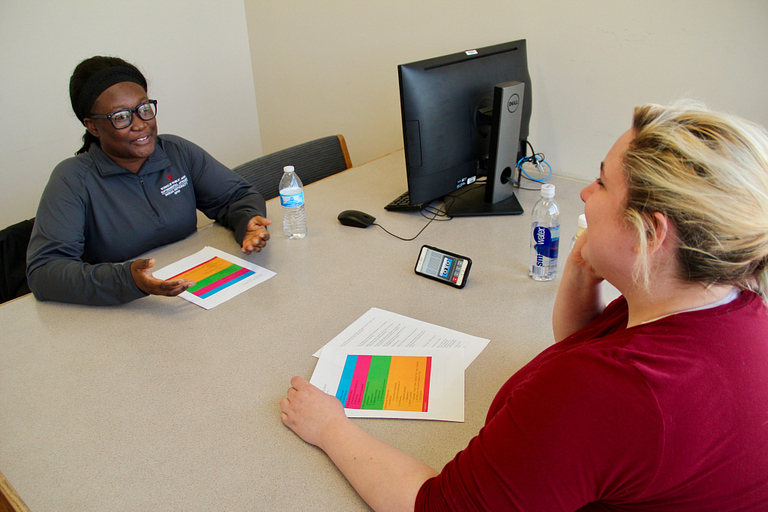 IUPUI's newest podcast tackles serious social issues while showcasing its hosts' passion for debating topics like reproductive rights, incarceration and racism.
Judith Atibil and C. Elizabeth Duff show good chemistry on "Hash It Out," which debuted in October on SoundCloud.com. The Social Justice Education scholars create an outline for each episode. Some portions are scripted, but there is also room for spontaneous debate. 
Last summer, the students did not foresee themselves as podcast hosts, let along gaining hundreds of listeners after the program got bumped up to iTunes status. Duff and Atibil only met a couple times before recording their first full episode, "Discrimination in the Doctor's Office."
"We were both so nervous and trying not to show it," Duff said. "It was nerve-wracking. But now we love it."
The final "Hash It Out" episode for the academic year will drop Friday, April 20, with a focus on labor unions to commemorate the Ludlow massacre of April 20, 1914. The podcast is expected to return for 2018-19, but the students aren't sure if they will return as hosts. No matter who is at the mic, "Hash It Out" has brought a new element to the varied programs Social Justice Education promotes.
'ROI'
"It brings the work of Social Justice to the virtual realm, especially since the rest of our programming is all physical," said Atibil, a junior studying public safety management. "It gives people more access to us."
Mobile studio
Atibil and Duff's studio is anywhere they can meet on campus due to heavy spring semester class schedules, multiple part-time jobs and the numerous hours dedicated to various other Social Justice Education initiatives. Duff utilizes a voice-recording application on her iPhone to capture each episode. The file syncs up with Google Drive. The content is then downloaded to Duff's laptop computer, where she edits each episode on Audacity. The episodes are posted about twice a month and clock in between 30-45 minutes, on average.
Moving the podcast outside of a campus communications studio lab to different parts of campus made the student hosts more relaxed, they said.
"We are both flexible and not linear. We needed the mobility," Duff said.
Different takes
While both students share a passion for social issues, their viewpoints aren't identical. The "Are Prisons Obsolete?" post in February offered lively discussion.
"We're pretty liberal, but Elizabeth is an abolitionist whereas I'm a reformist," Atibil explained.
The topics are brainstormed at the beginning of each semester, concentrating on hot issues in the news as well as subjects of personal interest.
Recommended listening
The students attach reference material and articles of inspiration to each episode for their listeners. 
"It's really fun to sit down and just blurt it out to each other," Duff said.
'Hash It' upcoming
Although she is graduating in May, Duff will be returning to IUPUI as a graduate student in museum studies, and she sees the podcast continuing and growing in audience and accessibility. Transcripts for the hearing-impaired are a goal. She also hopes "Hash It Out" will receive more audience interaction and feedback.
Both students are proud of what they've established. Passion for the issues made up for the lack of podcasting experience.
"I think it's one of the coolest experiences I've had," Duff said. "I just showed up with no knowledge. I get sappy about it, but we've built this program from the ground up. We started from not knowing how to record, where to record, how to edit, how to do anything. Now we're on iTunes and have hundreds of listeners. I love it, and I had no idea I'd enjoy it as much as I do.
"It's my baby now."