April 28 traffic closures
Several street closures will be in effect from 6 a.m. to 1 p.m. Saturday, April 28, due to the 2018 Komen Indianapolis Race for the Cure. The following campus streets will be closed to vehicular traffic during this event:
New York Street: Total closure from White River Parkway to West Street
Blackford Street: Total closure from Vermont Street southbound to the canal
University Boulevard: No southbound traffic south of Michigan Street
Those who need access during this time to the Natatorium, NIFS, NCAA, Herron School of Art and Design, track and field facilities, or the State Museum should park in lots north of New York Street. Anyone parked south of New York Street during this event should expect to leave their vehicle there until 1 p.m.
Those who need access to the IUPUI campus before and during this event should use the following suggested routes:
West Street/MLK exit from I-65 (Exit 114)
Michigan Street from the east
10th Street from the west 
Please note that there will be several street closures around campus as well. 
Be part of the fun with Jagapalooza
Jagapalooza, the annual IUPUI end-of-year celebration, will take place from 5 p.m. to midnight Friday, April 27. Lot 71, located on the south side of North Street between Blake and Blackford streets, will be closed beginning 5 p.m. Thursday, April 26, to allow for setup. The lot is expected to reopen on Saturday morning. EM permit holders will be able to park in Gateway Garage, located on the east side of Blackford Street at North Street. As a reminder, EM permits are always allowed to park in any ST surface space. Help be part of the tradition. The event is open to all IUPUI students, faculty and staff. 
Submit to Special Collections and Archives Caption Contest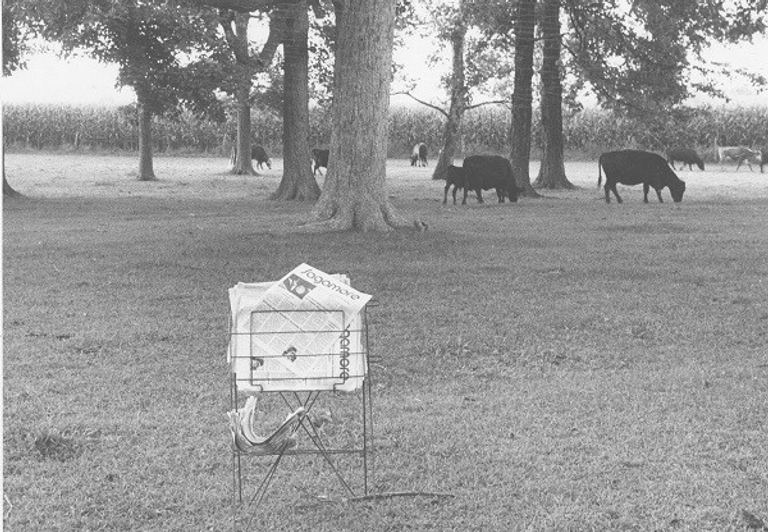 "The newspapers! Sir, they are the most villainous, licentious, abominable, infernal – Not that I ever read them! No, I make it a rule never to look into a newspaper." –Richard Brinsley Sheridan, The Critic
Zounds! These words, spoken by Sir Fretful Plagiary in Sheridan's 1779 comedy, seem ripped from today's headlines – or Twitter feeds. We read of stormy affairs, trompe l'oeil, lies, fakery and more. Still, newspapers continue to report valuable information to educate the public. Beyond the titillation of salacious stories about the high and mighty, we read and learn of important matters that touch our lives. We become informed. Newspaper people, we salute you! 
The cattle in this month's Caption Contest photo, then, must have been the best-informed herd around. They had a supply of The Sagamore, the longtime IUPUI student newspaper, to keep them abreast of the news. One wonders why these rural ruminants liked to read about Indiana's urban university. Perhaps the grass was greener at IUPUI?
We salute Jim Oppold on winning last month's Caption Contest with his caption: "One way to avoid potholes…." He wins our Fabulous Prize!
Moove your hides and enter your captions without delay.
Registration open for IU Online Conference
Registration is now open for the statewide IU Online Conference, which will take place Nov. 9 in Indianapolis.
The conference hosts are seeking proposals from IU faculty, administrators, advisors, success coaches and staff across the state who are innovators and collaborators in the online space. Proposals are due by Friday, June 1.