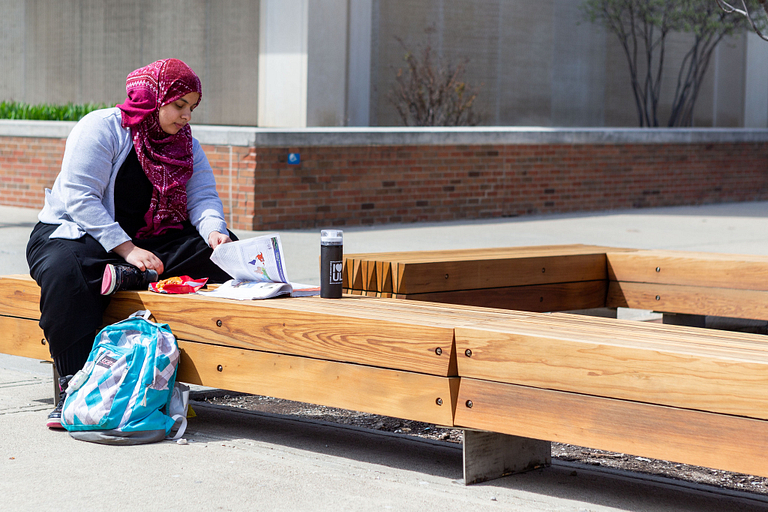 Material that once helped house IUPUI students' cars may be parked underneath you right now.
Hundreds of redwood boards that were part of the Vermont Street parking garage have been reworked into several large butcher-block standing tables and more than a dozen U- and L-shaped benches. The wood was artfully reclaimed and reworked into the furniture this winter. The pieces were installed in two phases in March and April outside of Lecture, Taylor and Cavanaugh halls.
The first wave of the reused redwood can be found on the Fritts Clinical Care Center in the form of attractive accent pieces. The furniture project gives the wood a more utilitarian purpose.
"The goal was to not only reuse the material, but reuse it thoughtfully," said Adam Thies, Indiana University's assistant vice president for capital planning and facilities, "in a way that had aesthetic qualities and complemented the architecture of that part of the IUPUI campus."
The trio of buildings – Cavanaugh, Lecture and Taylor – are some of the oldest on campus, built in a modernist style. The redwood furniture, designed by People for Urban Progress, was meant to blend in and last for years to come.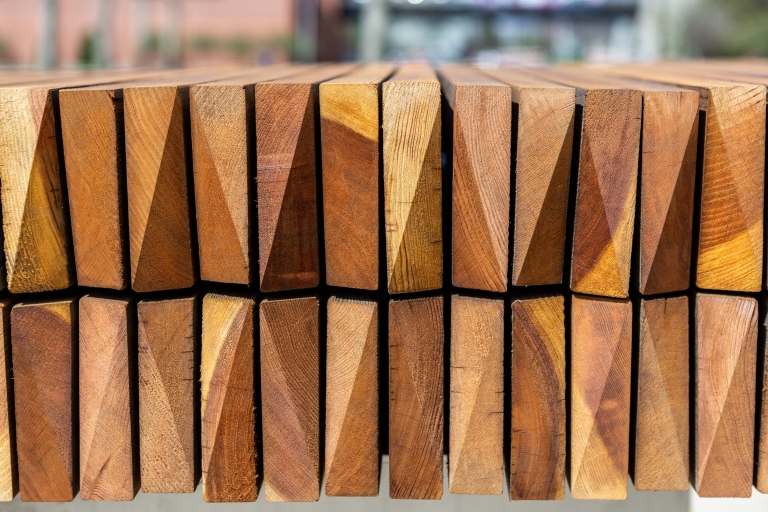 The wood that was exposed to the elements for 35 years as part of a garage should last for 35 more as furniture. The six-foot boards were cleaned up, sanded and run through a planer for new life. The combination of durability and aesthetics should make the new furniture a positive addition to the campus landscape. 
"Redwood is rot-tolerant, repels water well and doesn't check," Thies said. "It doesn't crack at the end as other woods do. It doesn't warp. We anticipate the pieces to have a long life, and if there is an issue, they can be reworked." 
Emily Wren, IUPUI associate vice chancellor for campus facility services, said more furniture should be on its way for the quad east of Lecture Hall and behind Taylor Hall. And as more parking garages get updated and stripped of their redwood slats, more of this refurbished furniture could find its way into spaces north and south of Michigan Street. 
"They are really heavy and stay in place," said Wren of the new furniture. "No other campus in America will have this kind of redwood furnishings. The wood is a quality not available for such purposing anymore. If you put redwood on a garage today, it wouldn't be like this."
Wren said that materials like the surplus redwood from parking garages would usually be auctioned off. She is glad the idea was proposed for reuse – both for beautification accents and to give students new outdoor spaces to study.
"The whole goal in campus landscaping," Wren said, "is to create a sense of place – something perhaps unusual to get students to linger. We call it 'stickiness.' We want them to stand near tables and sit on benches to continue their learning that starts in the classroom." 
After his astronomy class, IUPUI senior Alex Rutan stopped near one of the new redwood benches to send a text before heading back home. He said the new campus furniture fits in well and the computer science major was happy to hear the wood was repurposed.
"It's a cool design," Rutan said. "I like the idea that it's recycled and had already been used."