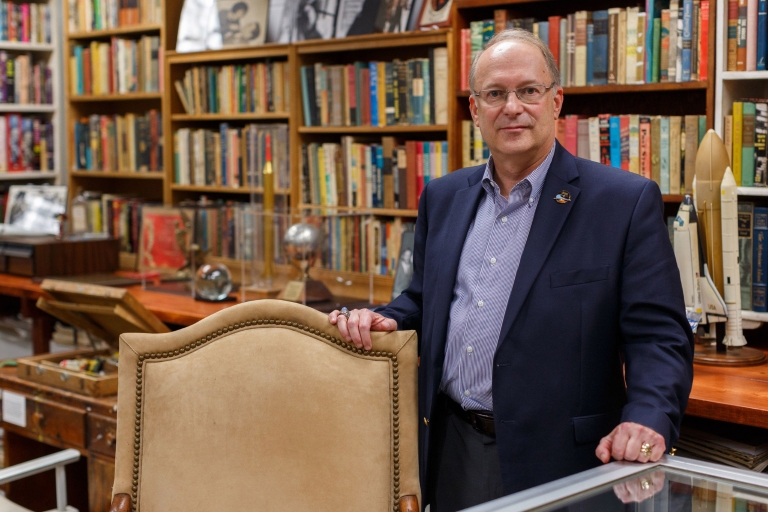 INDIANAPOLIS – The Center for Ray Bradbury Studies at IUPUI, one of the most extensive single-author archives housed at a university, has received a $50,000 grant from the National Endowment for the Humanities.
On April 9, the NEH announced $18.6 million in grants for 199 humanities projects across the country, including a number of humanities collections and reference resources grants.
The grant will allow the center to prepare a preservation plan and operational procedures that will help it to eventually expand into a museum and archive with gallery space, all open to the public.
"Ray Bradbury's archives are a treasure not only for this campus but for all scholars and fans of Mr. Bradbury and his work everywhere," said Thomas J. Davis, dean of the IU School of Liberal Arts at IUPUI, which hosts the Center for Ray Bradbury Studies. "This generous grant will eventually allow more people to study and enjoy his life's work and personal items."
The center was founded in 2007, and the collection, housed in Room 121 of Cavanaugh Hall in the heart of the IUPUI campus, spans the lifetime of the science fiction master (1920-2012). His literary works, art, correspondence, manuscripts, photographs, audiovisual materials and more are all preserved – nearly 15 tons of materials in all. His home office has also been meticulously recreated with its original contents.
"He kept everything – everything was a memento to life for him," said Jonathan R. Eller, director of the Center for Ray Bradbury Studies and Chancellor's Professor of English. "All his life, he was learning and observing. When he was beginning to dream about human beings going to outer space, the moon and Mars, that was his dream before it was popular. His dreams became our dreams through books like 'The Martian Chronicles.'"
Bradbury's work continues to inspire millions today, from astronauts to statesmen to children. Literary and Hollywood legends such as Herman Wouk, Steven Spielberg, Charlton Heston, Gregory Peck and Walt Disney, among many others, wrote letters to Bradbury during his lifetime – those are also housed in the collection.
The NEH grant will allow for the hiring of two graduate interns – at least one from the School of Liberal Arts' Museum Studies program – devoted to coordinating all the work required to expand into a museum and gallery.
"We will be learning best practices for preservation and for inventory and accessioning, as well as the kind of activities that a gallery or archive or museum does to make sure the public has access to these items," Eller said. "Once we've benefited from this grant, a lot of doors will open."