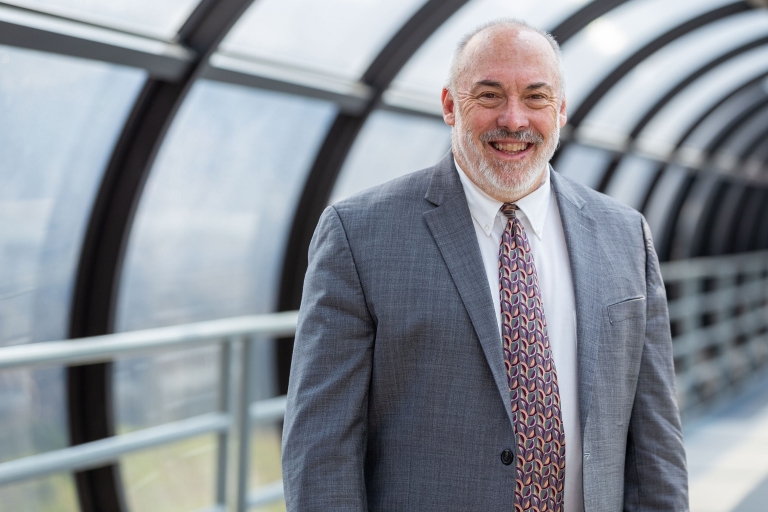 INDIANAPOLIS – IUPUI Chancellor Nasser H. Paydar has bestowed the prestigious appointment of Chancellor's Professor upon Patrick Sullivan, professor in the Indiana University School of Social Work at IUPUI.
The Chancellor's Professorship is the most distinguished appointment an individual faculty member can attain at IUPUI. With it, the chancellor recognizes senior faculty members who have extensive records of accomplishment and leadership in teaching, research and service. Recipients retain the title throughout their appointments at IUPUI and comprise a special group of mentors and advisors for colleagues.
"Professor Sullivan is an outstanding educator with a long record of distinguished work as a teacher and scholar," Paydar said. "His appointment as Chancellor's Professor honors the impressive level of scholarship and service Professor Sullivan has achieved at IUPUI, across the state, and in his profession more broadly."
Chancellor's Professors are faculty who have consistently contributed at a high level to the development of IUPUI as an academic community of exceptional quality and integrity, and to their disciplines through the creation and application of knowledge. Through their leadership and service in their departments, in their schools and across campus, they have reinforced and advanced IUPUI's mission and vision.
Sullivan is a well-respected scholar and expert in the area of strengths-focused social work practice and its application to multiple treatment realms such as mental health and addictions. He is one of the originators of the social work model called the "Strengths Perspective," which is considered one of the most profound changes in the field during the past century.
He was intimately involved with the development of the model as a graduate student at the University of Kansas; a decade later, he arrived at IUPUI as an associate professor. While a professor in the School of Social Work, he also became the director of the Division of Mental Health and Addictions in the Family and Social Services Administration. There, he oversaw the implementation of the Hoosier Assurance Plan, a legislative mandate to provide care for adults with serious mental illness, a chronic addiction or both; and for children and adolescents with a severe emotional disturbance.
At IUPUI, Sullivan has received multiple teaching awards, including the IUPUI Trustees Teaching Award five times. He is director of the School of Social Work's Center for Social Health and Well-Being and was interim director of the Master of Social Work program. He is also one of the school's most prolific writers, having published nearly 100 journal articles and book chapters, and he has done more than 150 state and national presentations.
"When I was interviewing for my position here, I was attracted to the mission of the school, which to me emphasized all three key aspects of academia: teaching, research and service," Sullivan said. "I have tried to take each of these seriously in my career."
Sullivan, an avid sports fan, has also served as chair of the IUPUI Athletics Committee. He was on the IUPUI Academic Progress Rate Committee and the IUPUI Michael Carroll Awards Selection Committee and was chair of the Gender Equity Subcommittee NCAA Certification Self-study. He was also inducted into the National Sprint Car Hall of Fame for decades of work as an announcer and writer at race tracks around the country.