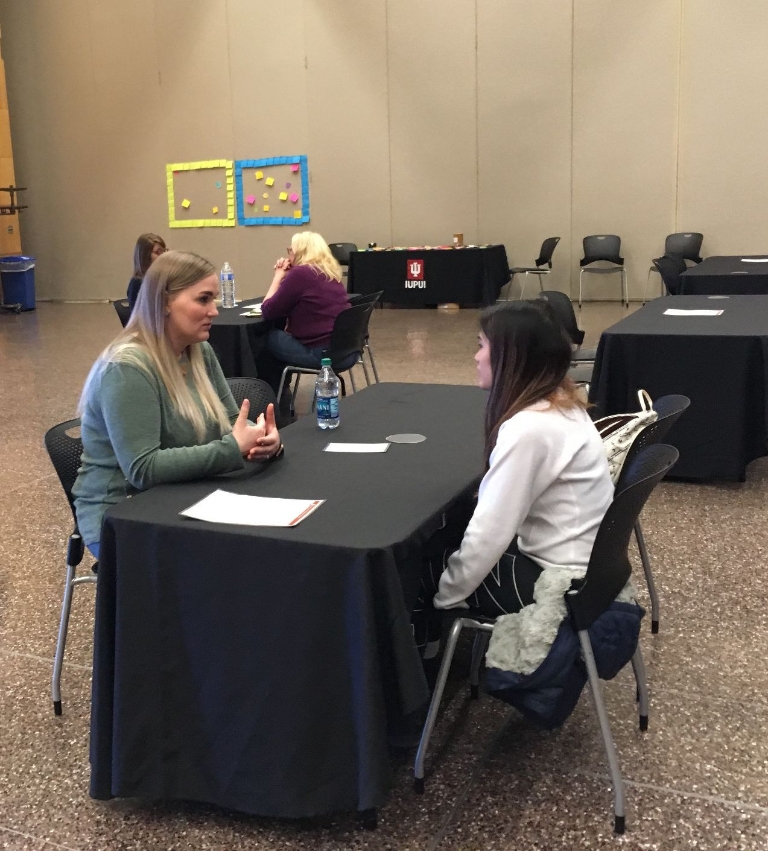 INDIANAPOLIS – The Human Library at IUPUI, a campus-funded Welcoming Campus Initiative, was designed to provide a safe place for conversations around difficult subjects and help advance understanding among a community of diverse people.
Responses to the event, which took place April 2 in the Campus Center, captured the positive reactions of both "books" and "readers," said Andrea Copeland, associate professor and chair, Department of Library and Information Science at the Indiana University School of Informatics and Computing at IUPUI, and lead organizer of the event.
Among responses from participants:
"This was a wonderful experience! Loved it!
"It's wonderful to take the time to slow down, connect and learn from one another."
"A great experience and opportunity to learn, to listen, and to be introspective."
"Unexpected, educational, thought-provoking, great experience overall!"
"Excellent opportunity to engage in dialog and to learn about people's lives. I learned so much, thank you!"
The IUPUI Human Library featured people as "books" who could be checked out by readers. "Usually, the knowledge vessel is a book. In this case, the knowledge vessel was a human," Copeland said.
About 30 people volunteered to be books, including a recovering addict, an individual who was a survivor of the 1994 Rwanda genocide, a person who was overweight and chose to have bariatric surgery, a rape survivor, a person who became deaf at age 30 as a result of a neurological disorder, a transgender individual, and a Palestinian immigrant who is Muslim.
"Conversations people get to have around difficult topics is what's so valuable about a human library. It really creates a safe place for that," Copeland said.
The event drew people from Columbus, Muncie, Franklin College, and Eli Lilly and Company who want to have human libraries in their community and came to IUPUI to witness the one here, Copeland said.
As the number of human libraries in Central Indiana grows, Copeland said, it would be possible to build a book depot, a sort of shared library, making it easier to facilitate hosting human library events and enable really good books to reach more people.