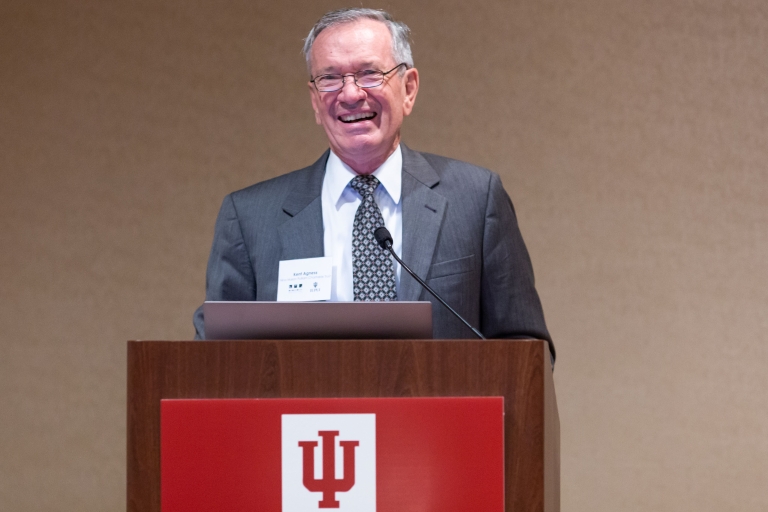 INDIANAPOLIS – The Nina Mason Pulliam Legacy Scholars program at IUPUI has received a $3 million endowment from the Nina Mason Pulliam Charitable Trust. The largest single grant in trust history, announced today at University Tower, will guarantee sustained financial support of the program, which benefits underresourced students.
"During her lifetime, Nina Mason Pulliam sought to help people build bridges to a better life for themselves and their families," said Kent E. Agness, a trustee with the Nina Mason Pulliam Charitable Trust. "With this endowment, the trust is ensuring the life-changing benefit of an education will be available to generations of people who otherwise might not have the opportunity to go to college."
The Nina Scholars program, which is part of IUPUI's University College, provides nontraditional students from various backgrounds with the resources and financial support needed to complete their college education. Students participating in the program may be adults with dependents, have physical disabilities or have involvement in the public foster care system.
"Thanks to initiatives like the Nina Scholars program, IUPUI is able to provide the support to students that allows them to succeed today and in the future," Chancellor Nassar H. Paydar said. "We are proud to help all of our students develop the knowledge and skills that help them to remain in school, to graduate and to contribute their talent and knowledge to the Indianapolis community and beyond."
According to a 2017 survey of IUPUI students, more than 30 percent of its undergraduates received federal Pell grants, marking them as low-income individuals. About 30 percent of undergraduates were also designated as first-generation students, or those without a family history of college experience and often lacking in familial support.
Through the Nina Scholars program, IUPUI students receive proactive and academically focused mentoring. They also take part in courses and workshops, following a unique curriculum that addresses these students' specific challenges in life and school and improves academic success, career development and personal growth.
Since 2001, nearly 80 percent of Nina Scholars at IUPUI have graduated or are still enrolled. More than a third have earned advanced degrees or are currently enrolled in a graduate program.
Paydar was joined at the event by Agness and Jay Gladden, associate vice chancellor for Undergraduate Education and dean of University College at IUPUI. Erika Thomison, a student in the program who expects to become her family's first college graduate with a degree in social work, spoke at the event about the impact the Nina Scholars program has had on her college success.
About the Nina Mason Pulliam Charitable Trust
The Nina Mason Pulliam Charitable Trust seeks to help people in need, especially women, children and families; to protect animals and nature; and to enrich community life primarily in metropolitan Phoenix and Indianapolis. The trust has awarded more than $292 million in grants and student scholarships since its inception in 1997.