Emily Lines, an Indiana University alumna who has been living in Berlin, Germany, for six years, feels a bit more at home in Europe thanks to the IU Europe Gateway, which has helped her connect with other alums in Europe and with a former professor.
When the gateway supported a conference organized by IU faculty, there was one person in particular Lines was eager to meet among the researchers and scholars who came from all over the world: Fritz Breithaupt, a professor of Germanic studies at IU who was among the presenters invited to participate.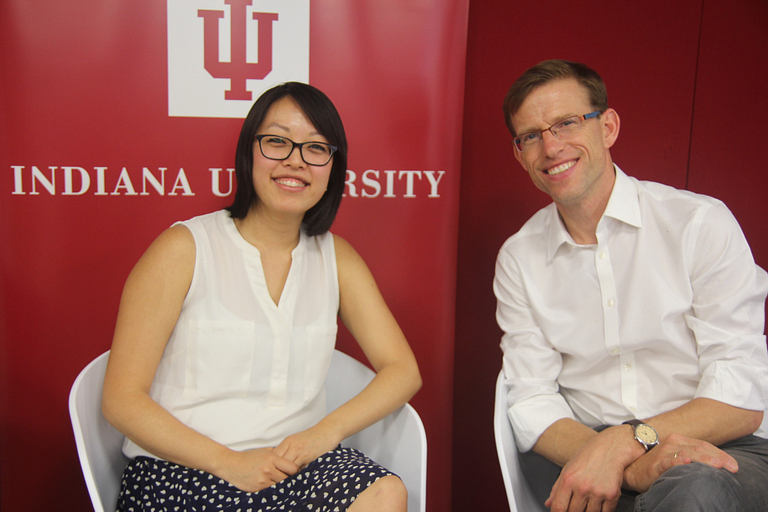 "I had not seen (Breithaupt) since my time at IU, and I was really happy to find out that he would be in Berlin," said Lines, who was enrolled in Breithaupt's German Literature and Culture course at IU Bloomington as an undergraduate 10 years earlier.
The IU Europe Gateway is one of four in IU's Global Gateway Network, which provides resources to faculty, staff, alumni and students in the form of research funding, logistical support for events and on-the-ground connections and knowledge within the region.
Breithaupt remembers having Lines in his class.
He said Lines stuck with the course even though it was a challenge and approached learning the language by figuring out the grammar first before speaking.
"In the beginning of the semester, I would not have guessed that I would meet her in Germany again, almost 10 years later," he said. "At the end of the semester, I could have seen it."
Lines proved to be such an outstanding student that Breithaupt agreed to write her letters of recommendation for her applications to graduate programs. After earning a degree in international studies and Germanic studies at IU, Lines was ultimately accepted to and attended the University of North Carolina at Chapel Hill, which allowed her to study in Berlin at both Humboldt University and the Freie Universitat Berlin, one of IU's primary partners in Western Europe, where she completed the TransAtlantic Master's Program.
Lines is currently working on earning a Ph.D. in sociology on science communication at the University of Bielefeld. She also works part time for Population Europe, which is a network of European demographic research centers throughout Europe and is also supported by the Max Planck Institute for Demographic Research. 
Lines still appreciates Breithaupt's support in helping her succeed and was able to tell him so in person when she saw him in Berlin at the IU Europe Gateway office.
"It was nice to personally thank him for his impact on my life and to let him know where I am now," she said. "Without his support, I would not have been able to come back to Berlin through my master's program."
For Breithaupt, reconnecting with Lines after so many years was a rewarding experience. 
"As a professor, you always want to know what happens with each student five, 10, 15 years down the road," he said. "You know that some students will never use much of what you taught them, and that is just fine. It is not about that. As a professor, you learn to appreciate students as individuals with lots of potential. Seeing a student develop is great. In Emily's case, I met a self-confident, cosmopolitan person who is ready to conquer the world. Meeting her this way was a huge treat and reward."
"This opportunity made me more thankful for the IU Europe Gateway since it organized this event and brought professors that I was lucky enough to have during my time at IU over to Berlin," Lines said.
Seeing Breithaupt again isn't the first time the gateway made Lines feel more at home in Berlin. It has also helped her connect with other alumni in Germany.
She has participated in numerous gateway events, including the dedication ceremony to open the IU Europe Gateway office in 2015. She's been in the audience for several conferences and took part in an IU alumni association event at the gateway for several students who were studying business at IU.
"There are other alumni out there that have come all the way over here and have made a life in Berlin," said Lines, who is now president of the IU Alumni Association's Germany Chapter. "It's really nice to meet those people and see that I'm not alone. There's always a little bit of home here."