EVANSVILLE, Ind. – The rising Health Science Center in downtown Evansville, a collaboration of the University of Evansville, the University of Southern Indiana and Indiana University, has received a $15 million gift from William and Mary Stone to officially name the facility the Stone Family Center for Health Sciences.
"This gift is transformational for our health sciences programs," said University of Evansville President Tom Kazee. "Not only will it contribute directly to UE's physical therapy and physician assistant programs housed at the facility, but the effects of the Stone family's generosity will be felt by all health science students at the University of Evansville."
Through this gift, each university partner will develop and sustain world-class health education programs that will benefit Evansville and the southwestern Indiana region.
"Bill and Mary Stone have made a transformational gift not only to the new center for health sciences, but to the city of Evansville and the region," said USI President Linda L.M. Bennett. "All three universities have dreams about the collaborative potential of the space downtown, and now this gift will help us to bring those dreams to life. On behalf of the University of Southern Indiana, I thank the Stones for their generosity and commitment to their hometown of Evansville."
All monies for the gift will be used to support the respective health sciences programs developed and implemented in the center by the three partner institutions.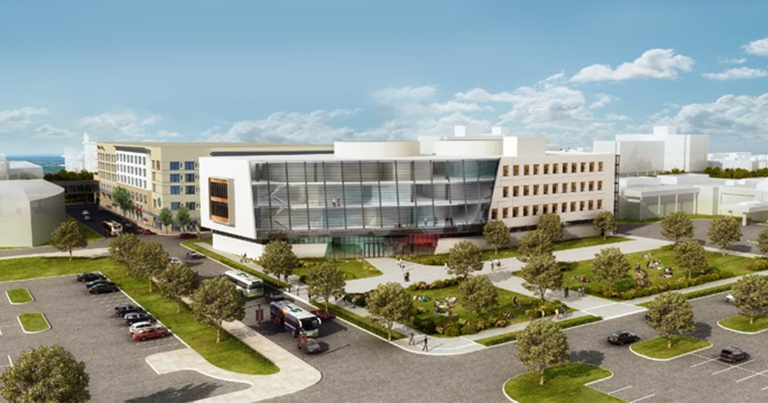 "With this magnificent gift to support our collective vision, Bill and Mary Stone are doing much more than adding their name to a building. They are helping to create a healthier, more vibrant community and leaving an indelible imprint on Evansville and the families who call the city and surrounding area home," said IU President Michael A. McRobbie.
"Indiana University is committed to fostering continued excellence in health sciences education and research, advancing health- and medicine-related opportunities for students, and collaborating with our partners at the University of Evansville and the University of Southern Indiana to transform the future of health care in the region," he added.
Bill and Mary (O'Daniel) Stone are Evansville natives and 1973 graduates of Memorial High School. Bill founded Connecticut-based SS&C Technologies Inc. in 1986 and has remained chairman of the board and CEO since inception. SS&C has a large Evansville office and has 22,500 employees located in North America, Europe, Asia and Australia.
"We remain committed to our hometown," said Bill Stone. "Evansville is where Mary and I grew up and where we have extended family and friends. SS&C has a large and growing office here, and we look forward to helping this community grow in size, wealth and health. The health center is one key to unlocking the capabilities of southwestern Indiana."