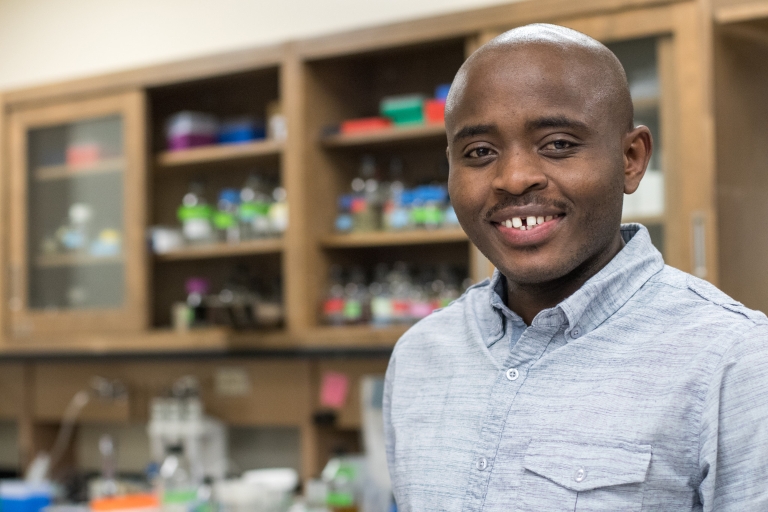 Gabriel Muhire Gihana considers graduate education at IU a "unique privilege."
Born and raised in Africa, where advanced academic research opportunities can be limited, Gihana is now a Ph.D. student studying cell biology in the IU Bloomington College of Arts and Sciences' Department of Biology. Recently, he was awarded both IU's Alfred Parson Mower Fellowship and a dissertation fellowship from the IU College of Arts and Sciences.
But the Rwanda native said he wouldn't have found his passion for research without help from others along the way. This guidance has inspired him to help others from similar backgrounds access educational opportunities in the U.S.
"I had fully funded scholarships from high school to college," Gihana said. "Otherwise, I wouldn't be here at all. I was blessed in the sense that I could do well in my classes, so people wanted to see me move forward.
Gihana's path to a Ph.D. began in high school, where his principal helped him obtain a scholarship to complete his education at a difficult financial time. He also received a merit-based scholarship to complete his undergraduate studies in the U.S. from a partnership between the government of Rwanda and California Baptist University in Riverside, California.
After his sophomore year, professor Dennis Bideshi encouraged him to pursue academic research. Gihana then attended a summer research program at MIT and later met a recruiter from IU at a research conference. Attracted to the programs and the resources at IU, Gihana decided it was the right fit.
But after arriving in Bloomington in 2013, he noticed a lack of African students in the biology graduate program. A former classmate and Rwanda native at California Baptist, Vincent Mwumvaneza, made a similar observation at the University of Illinois.
In response to this relative lack of African students in U.S. graduate research programs, the duo decided to give back.
"It comes down to two things," Gihana said. "First, African college students lack information; many simply don't know these programs exist. Secondly, they lack exposure. Those who apply and can do all the tests are not prepared because they haven't been exposed to research. We decided to come up with a solution that would provide information and exposure."
They call their solution Afrisnet, or African STEM Network, a website under development geared toward African students or professionals who are interested in graduate or doctoral programs in STEM fields. The goal is to provide resources, information and assistance to African students seeking academic opportunities or internships.
Already, Gihana and Mwumvaneza have started to help African students with graduate school and internship applications. One student has since gained admission into a master's program in civil engineering at Michigan Technological University. Two other students landed internships through Communicating for Agriculture Programs, an organization that matches young adults with rural "work and learn" opportunities.
"At its core, we want to use the website to create a STEM community," Gihana said. "People can register, network and write blogs, but a big part of the website will be a page with detailed guides on writing application documents and other information."
Among the advocates of Gihana's mission are Soni Lacefield, associate professor in the Department of Biology, in whose lab he conducts research.
"Gabriel has been a fantastic addition to my laboratory group," she said. "He serves as a role model for the younger graduate students and undergraduates in the lab. Afrisnet will be a great resource for students trying to find opportunities to further their education or secure a job."
Another supporter is Armin Moczek, professor in the Department of Biology. He has been involved with Afrisnet since the early development stages, assisting with initial start-up funds and logistics. Moczek worked with Gihana for several years during his time as a graduate student.
"Right now, many extremely talented people do not have access to careers in science, largely because of lack of communication, logistical challenges and infrastructure limitation," Moczek said. "When I learned about Afrisnet , it struck me as an excellent opportunity to increase the accessibility of STEM careers for highly talented and motivated African students. I see great potential in this project and am simply happy I can lend a hand."
After the site is complete, Gihana and Mwumvaneza plan to spread the word about Afrisnet through social media and contacts in Africa. Gihana also hopes to go back to Africa one day and conduct workshops and research training with students.
"African students are smart, but they lack access to modern research opportunities," Gihana said."We want to encourage and support these students in every way we can. We don't take any fees from the students; this is about us giving back. Through Afrisnet, we wish to contribute to the advancement of research and scholarship in Africa."