The Bloomington Early Music Festival, an annual series of concerts and educational programs celebrating historically informed performance, will commemorate its 25th year this month. The festival and Indiana University's Historical Performance Institute at the Jacobs School of Music will partner with national nonprofit historical performance organization Early Music America, featuring numerous performances and events at venues throughout Bloomington from May 18 to 27.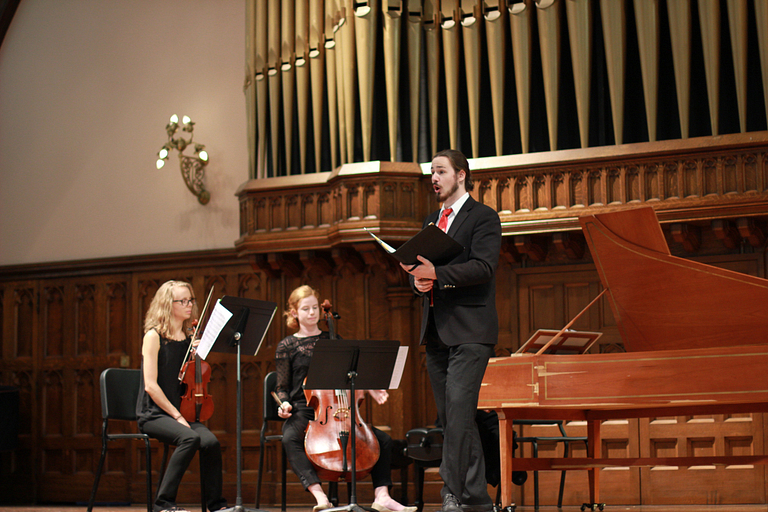 Dana Marsh, director of the Historical Performance Institute, said the upcoming collaboration is a first for all involved.
"Typically, Early Music America has held its annual meetings and large-scale events on the East and West coasts as a presence adjacent to the biennial Boston Early Music Festival and the Berkeley Early Music Festival and Exhibition," he said. "This year, Early Music America brings its mission to the heartland, and Bloomington was chosen as an ideal inaugural location for its new project."
Alain Barker, president of the Bloomington Early Music Festival and director of the Jacobs School's Project Jumpstart entrepreneurship program, sees exciting new directions developing in the historical performance field.
"The conversation about what it means to study and practice historical performance is evolving," he said. "Part of this involves a rethinking of the field's identity in a broader cultural context. The whole notion of early music is opening up to more of a cross-cultural conversation than ever before."
This year's festival begins with an international conference now in its third year, "Historical Performance: Theory, Practice and Interdisciplinarity," presented by the Historical Performance Institute at Jacobs and convened by Marsh.
The gathering will draw performers and scholars from a dozen countries, who will bring the most current cutting-edge research to Bloomington. The opening concert of the Bloomington Early Music Festival's 25th year will feature world-renowned fortepianist Robert D. Levin, of Harvard University and the Juilliard School of Music, at 8 p.m. Friday, May 18.
Early Music America's Young Performers Festival and Emerging Artists Showcase performances will also highlight this year's festival. Student groups from the Jacobs School, University of Southern California, Oberlin College Conservatory of Music, Peabody Conservatory of Music and Case Western Reserve University were selected to perform. Showcase concerts at the festival will be live-streamed via IUMusicLive. With the exception of the academic conference seminars, all performances and exhibitions are free and open to the public.
Students and other young artists will benefit from many activities, including intensive sessions in entrepreneurship as well as discussion forums to develop a vision for the founding of a national network of student-led, collegiate Early Music America chapters; an "Early Music, Late Night" open-mic event; and a series of community events that coincide with local bicentennial celebrations.
Through the festival's partnership with the city of Bloomington's bicentennial, audiences can experience the city's culture in a way that reflects two centuries of its most cherished musical traditions, re-created with old-timey dance and musical performances led by multi-instrumentalist Grey Larsen.
Additionally, through a hands-on workshop, attendees can learn the legacy of local fiddler Joe Dawson (1928-2012). IU's Archives of Traditional Music will present Dawson's field recordings along with a display at the Monroe County Historical Society to help shine a light on the way music helps tell the story of a community.
Other concerts include offerings from the Bloomington Bach Cantata Project, Costanoan Trio, Mélisande McNabney (harpsichord), Adriana Ruiz (soprano), Rachell Wong (violin), the Festival Sacred Music Project, HPI goes POP, Les Ordinaires, Rumore Terrible and Voyage Sonique. The closing Festival Orchestra Concert will provide a live-streamed show, directed by renowned Jacobs-trained violinist Ingrid Matthews, with harpsichord soloist Jory Vinikour.
WFIU Public Radio, the festival's primary media partner, will participate in the live-streaming of selected concerts and will feature many recordings from the festival through its nationally syndicated program "Harmonia."
Organizers said the new collaborations for this year's festival will bring greater national attention to Bloomington in the field of early music.
"Through a careful process of planning this festival over the past two years, all three collaborating organizations have emerged with a shared vision that has the potential to create new models of interaction in our field – models that can be applied elsewhere locally to benefit communities throughout the country," Marsh said.
Jennifer Piurek is is director of communications and special projects for the Office of the Provost and Executive Vice President.