A regular participant in intramural sports at IU, Shayan Khokhar is familiar with campus workout locations such as Wildermuth Intermural Center and the Student Recreational Sports Center.
But his recent trip to the racquetball courts at the WIC wasn't to work up a sweat but rather to work out the bugs on some high-tech exercise equipment. For the past three years, Khokhar has played a lead role in creating a knee-brace-based fitness tracker and mobile app that provides users real-time feedback on their form as they perform squats during a workout. The first beta test of the project took place April 12.
Two days later, Khokhar and four others were honored as recipients of the IU Bloomington Provost's Award for Undergraduate Research and Creative Activity. His honor in the category of Natural and Mathematical Sciences was a recognition of his work on the knee brace project, called "MuscleMemory," under the mentorship of Katie Siek, an associate professor and member of the Proactive Health Lab in the IU School of Informatics, Computing and Engineering.
Building upon an earlier version of the device created at the lab, Khokhar significantly enhanced the fitness tracker, which previously only provided feedback through three physical lights on the side. Khokhar proposed a wireless upgrade since users were trying to see the lights by bending or twisting during workouts – actions that could potentially cause injury. A mobile app allows users to view feedback on their phone screen without breaking form.
"Originally, I was just generally interested in wearables," Khokhar said. "But since I started the project, I've learned so much: how to work with embedded systems and Arduino (circuit boards); mobile app development; PHP and JavaScript languages. Really, it's been as much about building my skills as getting to a finished project."
With regular input from Siek, Khokhar used online tutorials and other materials to teach himself mobile app and wireless sensor coding languages. He also gained a third useful new skill – sewing – since integration of the sensors into the brace required special electrically conductive thread.
The project also taught him to overcome obstacles. He had to partially rebuild the app, for example, after the development platform he had been using to create it was discontinued. Later, he rebuilt the program from scratch simply because he realized his skills had improved so much that he no longer liked the first version. The project has since reached the point that others in the Proactive Health Lab are looking to arrange a real-world test of the knee brace at a local gym.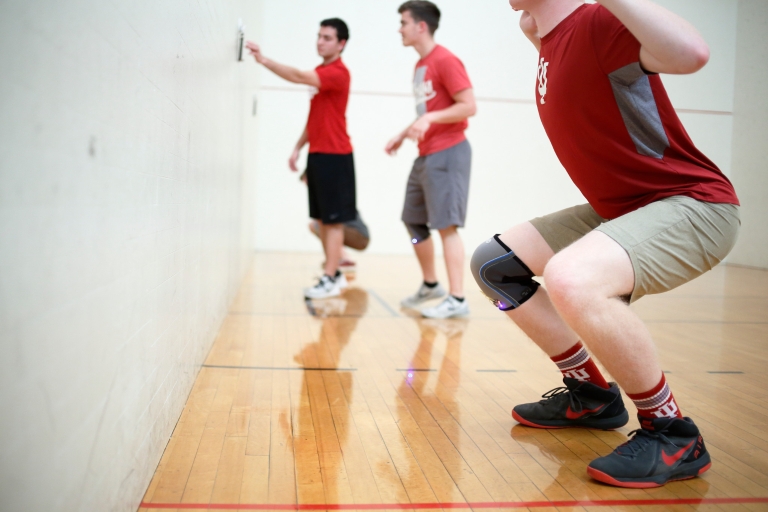 An early riser, Siek said she first met Khokhar when he showed up at her 7 a.m. office hours to discuss potential research opportunities. She said he quickly identified the knee brace's major weakness and proposed an enhanced version using wireless technology. He also continued to regularly show up at 7 a.m. for guidance on the project.
"I explained how much he would need to learn to work on the project," she said. "He just smiled and said that he had time to learn."
That willingness to learn – combined with some serious technical skills – have not gone unnoticed outside IU. Last summer, Khokhar landed a highly competitive software development internship with online retailer Amazon. During the interview, Amazon employees asked questions about his work on MuscleMemory. Later, on the last day of the three-month internship on the company's main campus in Seattle, Khokhar's supervisors offered him a full-time position upon graduation.
Khokhar said he is excited to work for Amazon because the company keeps teams small, sets ambitious goals and encourages strong relationships with managers and mentors. In many ways, the culture doesn't sound unlike another he has experienced.
"I've really enjoyed my time at IU," Khokhar said. "Everything it's had to offer, including my undergraduate research experience, has been great. The professors especially are so easy to work with … I just sent Katie an email and she set up the perfect project. There are so many majors and opportunities here, you can really find your own niche and succeed."
Meet the four other recipients of the Provost's Award for Undergraduate Research and Creative Activity
The Provost's Award for Undergraduate Research and Creative Activity was created in 2010 to recognize undergraduates who collaborate on, or spearhead, excellent or original academic work. Students are nominated by professors and then selected by a committee of administrators and faculty. The awards were presented by IU Bloomington Provost and Executive Vice President Lauren Robel in the University Club President's Room of the Indiana Memorial Union.