While many community members may know the centuries-old Wylie House as a fascinating place to explore Bloomington history, students are now getting the chance to get a deeper look at the Wylie House's on-site education center, a structure that has only been around since 2009.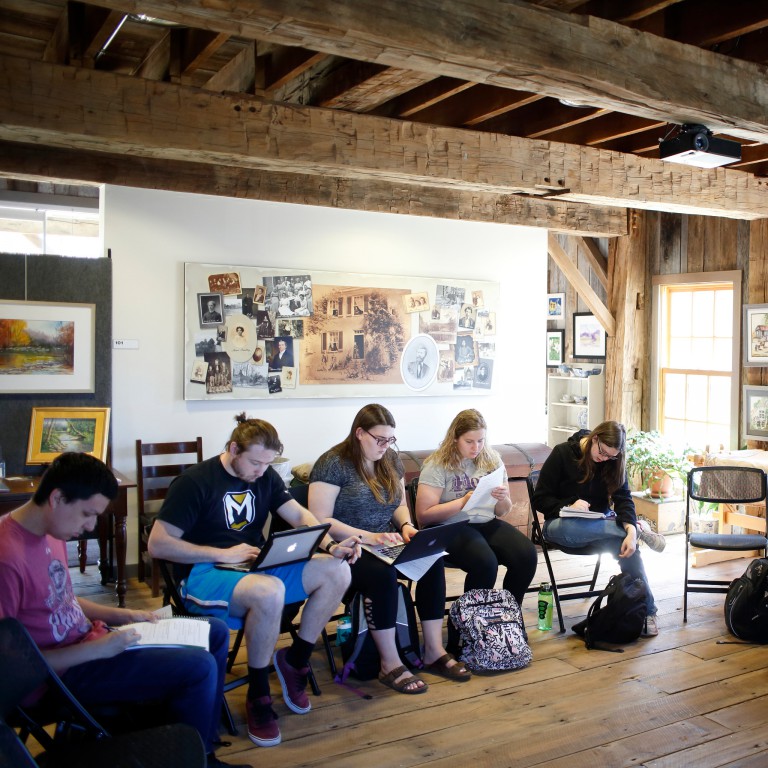 Photos by Eric Rudd, IU Communications
"When I came, this building had just been built, and the idea was that this would be used as an education center that would allow for more research and smaller classes to come and spend time here," said Carey Beam, director of the Wylie House Museum, a house built in 1835. "And so that was my charge, to make this more academically viable."
This academic viability grows with each year at the museum, the former home of Andrew Wylie, the first president of Indiana University. Wylie lived there with his wife Margaret and 10 of their 12 children before his cousin and IU professor Theophilus Wylie moved there. The museum is part of IU Bloomington Libraries and now houses archival collections related to the Wylie family.
Each semester, Beam typically hosts at least five different kinds of classes, some with different sections, at the education center to study primary source materials such as letters, diaries, books and pieces of furniture.
History of fashion professor Ashley Hasty has been taking her classes to the Wylie House for four years. She said the visit to the education center marks a transition from frustration to understanding in her students. It's hard to conceptualize details when reading about a garment online, but the visit ties these concepts together.
"Seeing things in person, they really come around," she said. "They think it's so cool to look at it, and they think it's easier to see in person. It gets them away from doing everything online."
Professor Sarah Knott has taken three of her history courses to the Wylie House to do primary source research. She said the opportunity for students to look at documents in person adds a sense of tone and emotion to correspondences that otherwise appear bare-bones.
In one case, a student in Knott's history of birth class read a mourning letter from a Wylie woman who had lost a child. Seeing the letter handwritten in purple ink made the experience more poignant than the basic transcribed copy students would read otherwise.
"What I've found is that it's possible to pull out a series of letters from the Wylie House correspondences in tandem with the transcriptions," Knott said. "Students get a really tangible sense of the difference between working with digitized or transcribed materials and with real letters that someone has written."
Beam said that having students do this kind of research at the education center is just as valuable to her as a professor as it is to them.
The Wylie House has over a thousand letters in its archive, so getting more pointed research on one specific topic or letter through a student researcher is interesting to her as well.
"When students are doing that research, they get to dig into things that I don't have time to dig into," Beam said. "I may have read those letters or looked at them quickly, but I'm not evaluating the dynamic between the family in a way that relates to motherhood to get to know them a little bit better and tell stories about the house."
These letters and artifacts reveal glimpses into the daily lives of local community members who may have lived in close proximity to today's students and professors, but their lives often feel removed from those of today's Bloomington residents.
Being able to interact with these materials helps students understand how intricate and fascinating the Wylies' stories are, Knott said.
"Part of my agenda is to help us see the past in its own light and help us recognize the incredible complexity of the past. It was not a simple time, and it was a world that in fact had knowledge that we've lost. And I think the field trips help in that process more than any other part of the course."