Last year, a record-setting 8,001 students – with record-setting academic quality and diversity – began their first year at Indiana University Bloomington. They were welcomed with a variety of events sponsored by the Office of First Year Experience Programs, in collaboration with campus partners, to help them feel at home and find their way. In August, the incoming class will encounter an even more robust set of events and programs: our new Hoosier Experience series.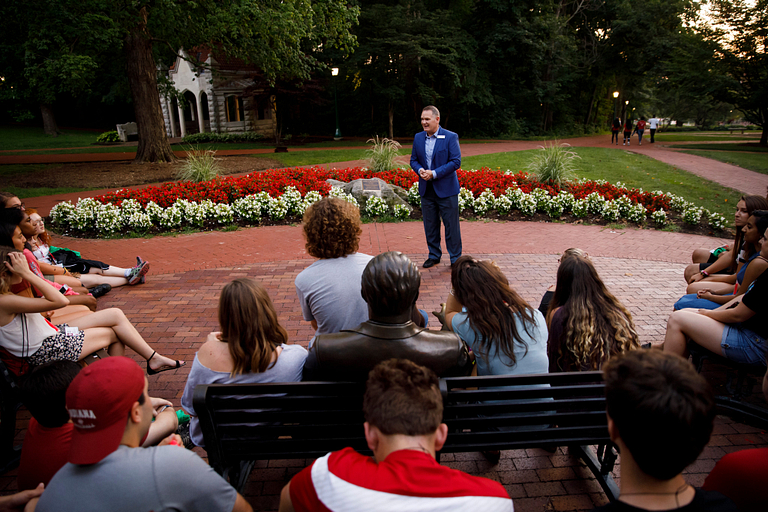 While First Year Experience's existing programming and promotions have made a positive impact on first-year students for several years, we know that a student's first year is also shaped by experiences supported or originated by partners throughout campus. A consultancy project last fall offered insight into creating a more cohesive, campuswide experience for first-year students. The resulting Hoosier Experience will serve as a guide to make the most of their first year at IU Bloomington, including concerts, guest speakers, internships and service trips.
The Hoosier Experience will connect first-year students with IU's unique programs, events and opportunities, helping them develop a sense of belonging throughout the year and across the campus. The new series will be organized around four IU Bloomington strengths: academics and careers; equity and inclusion; arts and humanities; and local and global. By participating in activities within each theme, students will be introduced to the many leadership, service, research and learning opportunities that IU offers, all in an effort to support students' success in their first year and throughout their four years.
The first theme, academics and careers, responds to students' increasing demand for proven outcomes. IU has personalized advising and career coaching that not only help students find their passion but also lead to life-changing opportunities through field experiences, internships, networking events and alumni mentoring.
Today's students are also looking for institutions that actively cultivate diversity, equity and inclusion. Learning and living among people from different backgrounds enriches students' experience and prepares them to engage and succeed in the modern world. Events like CultureFest and the Arts and Humanities Council's "Remixed" series help students understand each other and the world – beyond the classroom.
Another longstanding IU strength is our commitment to the arts and humanities. The Hoosier Experience will provide a platform to promote world-class campus and community events such as First Thursdays and the Lotus Festival, in addition to the many performances, museums, speakers and exhibits that make up IU's artistic landscape.
The final theme, local and global, encapsulates IU's mission to serve our community and our world. By teaming up with campus partners such as the recently launched IU Corps and the new Center for Rural Engagement, the Hoosier Experience will help students find transformational service opportunities where they can make an impact in our community, region and state. Beyond Indiana, students can explore the globe through our 70 languages offered and more than 300 study abroad opportunities.
By touching on these four areas of excellence, the Hoosier Experience will highlight what IU does best while giving students the cohesive framework they need to create a boundary-crossing first year. Expanding on First Year Experience's stellar work to celebrate and showcase even more campus units and assets, this campuswide collaboration will guide students toward meaningful engagement not only as freshmen but throughout college and in their careers and lives.
The Hoosier Experience will also help students demonstrate their engagement to graduate schools, employers and future colleagues. Students who participate in a benchmark number of Hoosier Experience programs will earn an e-certificate that may be promoted on transcripts, resumes or LinkedIn profiles.
We are excited to launch the Hoosier Experience series and to welcome the fall semester's students with a comprehensive array of opportunities. Every moment of a student's first year contributes to their sense of belonging at IU, and we hope this collaborative series helps connect those moments more effectively than ever before.
Thank you to all of our campus partners for offering such inspired and diverse programming. We look forward to even more future collaborations to create and promote amazing, uniquely IU experiences for our students.
David B. Johnson is IU Bloomington vice provost for enrollment management.